As prison officials continue to discover contraband in the possession of inmates, Prisons Director Gladwin Samuels is urging ranks to desist from "malfeasance," noting that no effort will be spared in bringing down corrupt officers to assure the nation's safety and security.
In a release issued yesterday, Samuels related that over the course of two days, cigarettes and marijuana were found in the possession of two inmates.
He stated that on August 14, prisoner Shay Hyman, who is on remand for five counts of robbery, was discovered with cigarettes in "what appeared to be a sealed pack of corn curls".
On August 15, another discovery was made. This time, murder accused Sherwyn Clarke, also known as "Cash Money," was found in possession of 225 grammes of marijuana concealed in the soles of his sneakers.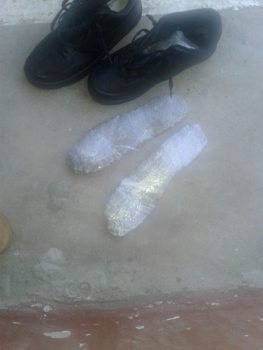 It was indicated that the marijuana may have been placed in the sneakers before being taken to a shoemaker, who secured it in place by sewing and pasting the bottoms of the footwear.
The release said that Clarke had not been wearing those shoes when he left the prison, but rather, received them from a family member while at court.
"That discovery was only made due to the experienced observation by the rank who conducted the search and his loyalty to the job," the statement read.
Samuels pointed out that the movement of illicit items, including drugs, cigarettes and cellphones continue to be a challenge for the Prison Service, and that while some may say that officers are "colluding" with inmates, he noted there have been times that those involved in these activities have been charged and prosecuted.
Even with these challenges, it was noted that it was due to the "diligence" of the prison officers that the discoveries were made, and that investigations show that family members and some prisoners are "deeply involved" in the supply of contraband.
In a bid to fight this movement, one of the strategies being employed by the prison service is to search everyone who enters the facility. It was noted, however, that this tactic has its limitations.
"Especially when staff members search other staff members, given the pervasive nature not only of corruption but also of the tendency for employees to protect their co-workers," the release said.
"Albeit the likely involvement of some staff, they are several Prison Officers who are committed to their work even though they are exposed to risk and temptation on a daily basis, they continue to execute their task in a very professional manner…I would like to commend the officers for a good job done and also take this opportunity to once again advise all ranks to desist from all forms of malfeasance. Lives are at risk and the security of this nation is at stake and No efforts would be reserved in bringing those corrupt officers down," the statement related.
Earlier this month, three workers of Cevons Waste Management Inc were held for attempting to smuggle marijuana and cigarettes into the Lusignan Prison. One was charged and pleaded guilty.
Comments

Despite the AFC's claim that it was not involved in the selection of a Guyana Elections Commission (Gecom) Chairman, its two senior leaders, Khemraj Ramjattan and Raphael Trotman, had advised President David Granger that he could utilise the constitutional proviso and make a unilateral appointment.

The National Assembly last evening approved over $8 billion in total budgetary allocations for 16 constitutional agencies even as the government's failure to properly account for cuts to requested expenditure drew criticism.

Opposition MPs were yesterday reprimanded by Speaker Dr Barton Scotland for their raucous behaviour on November 2nd, when they staged a protest that drowned out most of President David Granger's address to the National Assembly.

Ex-policeman Lloyd Roberts, who was accused of murdering Ryan Sergeant, the teen who was fatally shot outside of the Rio Inn nightclub last year, was yesterday freed after a court found that there was insufficient evidence for him to stand trial.

Although some municipal workers continued protest action yesterday over the nonpayment of their salaries for October, the Mayor and City Council (M&CC) has said that it has completed its payroll.