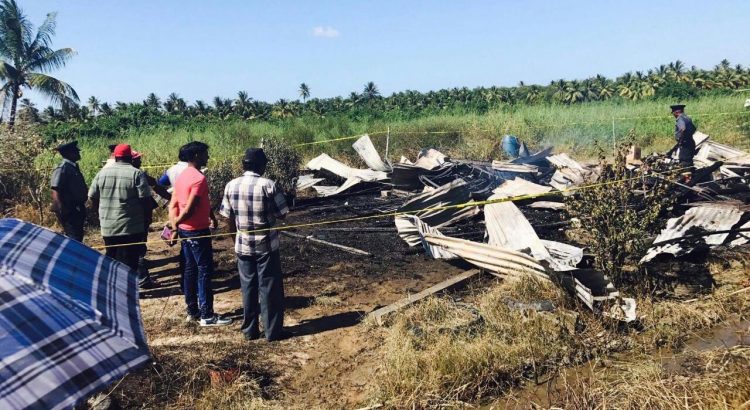 A West Coast Berbice man died after he reportedly set his one-storey house ablaze sometime around 11.20 am yesterday.
Dead is Bisram Baldeoram, 52, of Cotton Tree Village, West Coast Berbice.
According to information gathered, Baldeoram and his wife had a dispute hours before the fire. Stabroek News, was told that the couple fought and the wife left the home and headed to Georgetown to a relative's house.
Baldeoram then ventured to a friend's house where he voiced his frustrations and reportedly said that he was going to set his house on fire with himself inside. The man's friends did not pay much heed to him, since they said that he would regularly rant about killing himself after disputes with his wife.
The man around 11 am then returned home. Some twenty minutes later, neighbours saw smoke emanating from the kitchen of the one-storey wooden structure.
The fire service was immediately summoned. This newspaper was told, that the Blairmont Estate fire truck was the first to arrive and render assistance, after which fire tenders from the Onverwagt Fire Station arrived on the scene and took over.
However, the fire service was unable to save anything and the man died in the fire.
A source at the fire service told Stabroek News, that  the house had one exit and Baldeoram supposedly used a table to block the door, so as to prevent anyone from entering.
A neighbour told Stabroek News, that the man is a known alcoholic. She noted that she has a baby. As such, when the fire started she left home and went to a relative's house, so as to avoid the smoke.
The fire service has since launched an investigation.
Comments

The legal team for former New Building Society (NBS) manager, Maurice Arjoon, who was wrongfully dismissed, have levied on the bank's assets in a bid to recoup the $59,033,000 pension owed to him by the financial institution.
An alleged inebriated farmer of 54 Strath Campbell Village, Mahaicony, ECD, died at about 3 pm  yesterday at Chance Village, Mahaicony, after a vehicle he was reportedly not given permission to drive, crashed into a utility pole.

MELBOURNE,  (Reuters) – Rafa Nadal's Australian Open quarter-final curse struck again on Tuesday, an injury forcing the top seed to retire in the fifth set against Croatia's Marin Cilic.

Several hundred more sugar workers are expected to be laid off from the Skeldon, Rose Hall, and East Demerara estates by next month and the Guyana Agricultural and General Workers Union (GAWU) yesterday urged that the decision be reviewed.

The commencement order establishing the Telecommunications Agency was signed last Friday, in anticipation of the liberalisation of the telecoms sector, Minister of Public Tele-communications Cathy Hughes announced yesterday.