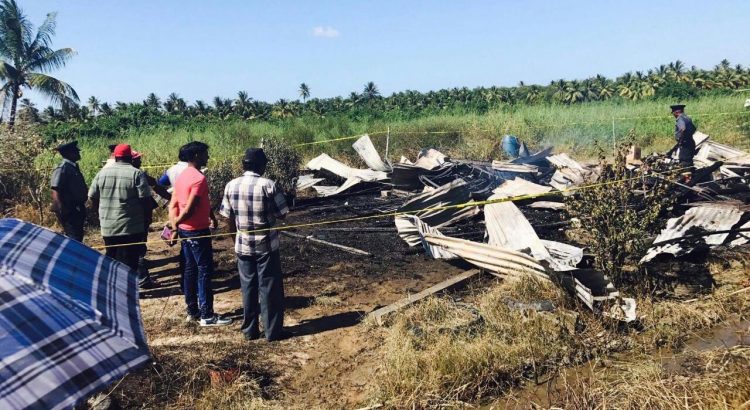 A West Coast Berbice man died after he reportedly set his one-storey house ablaze sometime around 11.20 am yesterday.
Dead is Bisram Baldeoram, 52, of Cotton Tree Village, West Coast Berbice.
According to information gathered, Baldeoram and his wife had a dispute hours before the fire. Stabroek News, was told that the couple fought and the wife left the home and headed to Georgetown to a relative's house.
Baldeoram then ventured to a friend's house where he voiced his frustrations and reportedly said that he was going to set his house on fire with himself inside. The man's friends did not pay much heed to him, since they said that he would regularly rant about killing himself after disputes with his wife.
The man around 11 am then returned home. Some twenty minutes later, neighbours saw smoke emanating from the kitchen of the one-storey wooden structure.
The fire service was immediately summoned. This newspaper was told, that the Blairmont Estate fire truck was the first to arrive and render assistance, after which fire tenders from the Onverwagt Fire Station arrived on the scene and took over.
However, the fire service was unable to save anything and the man died in the fire.
A source at the fire service told Stabroek News, that  the house had one exit and Baldeoram supposedly used a table to block the door, so as to prevent anyone from entering.
A neighbour told Stabroek News, that the man is a known alcoholic. She noted that she has a baby. As such, when the fire started she left home and went to a relative's house, so as to avoid the smoke.
The fire service has since launched an investigation.
Comments

Despite the AFC's claim that it was not involved in the selection of a Guyana Elections Commission (Gecom) Chairman, its two senior leaders, Khemraj Ramjattan and Raphael Trotman, had advised President David Granger that he could utilise the constitutional proviso and make a unilateral appointment.

The National Assembly last evening approved over $8 billion in total budgetary allocations for 16 constitutional agencies even as the government's failure to properly account for cuts to requested expenditure drew criticism.

Opposition MPs were yesterday reprimanded by Speaker Dr Barton Scotland for their raucous behaviour on November 2nd, when they staged a protest that drowned out most of President David Granger's address to the National Assembly.

Ex-policeman Lloyd Roberts, who was accused of murdering Ryan Sergeant, the teen who was fatally shot outside of the Rio Inn nightclub last year, was yesterday freed after a court found that there was insufficient evidence for him to stand trial.

Although some municipal workers continued protest action yesterday over the nonpayment of their salaries for October, the Mayor and City Council (M&CC) has said that it has completed its payroll.