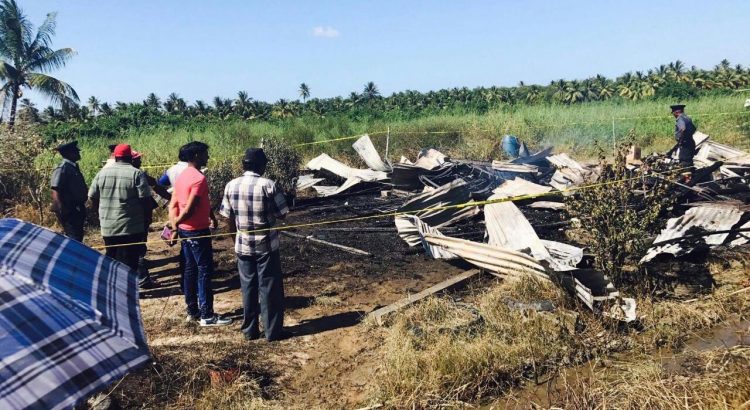 A West Coast Berbice man died after he reportedly set his one-storey house ablaze sometime around 11.20 am yesterday.
Dead is Bisram Baldeoram, 52, of Cotton Tree Village, West Coast Berbice.
According to information gathered, Baldeoram and his wife had a dispute hours before the fire. Stabroek News, was told that the couple fought and the wife left the home and headed to Georgetown to a relative's house.
Baldeoram then ventured to a friend's house where he voiced his frustrations and reportedly said that he was going to set his house on fire with himself inside. The man's friends did not pay much heed to him, since they said that he would regularly rant about killing himself after disputes with his wife.
The man around 11 am then returned home. Some twenty minutes later, neighbours saw smoke emanating from the kitchen of the one-storey wooden structure.
The fire service was immediately summoned. This newspaper was told, that the Blairmont Estate fire truck was the first to arrive and render assistance, after which fire tenders from the Onverwagt Fire Station arrived on the scene and took over.
However, the fire service was unable to save anything and the man died in the fire.
A source at the fire service told Stabroek News, that  the house had one exit and Baldeoram supposedly used a table to block the door, so as to prevent anyone from entering.
A neighbour told Stabroek News, that the man is a known alcoholic. She noted that she has a baby. As such, when the fire started she left home and went to a relative's house, so as to avoid the smoke.
The fire service has since launched an investigation.
Comments

An outgoing passenger at the Cheddi Jagan International Airport, Timehri was last night caught attempting to smuggle just over 60 ounces of raw gold which was concealed in her suitcase, acting Police Commission David Ramnarine has confirmed.

Significant damage was recorded in the south of Dominica, as seen in this photo.

President David Granger yesterday called on the international community to ensure that Venezuela is not allowed to thwart the processes of judicial settlement of a long-running border controversy with Guyana.
The $550 million Doppler Weather Radar Monitoring Station, which was commissioned in 2009 with the intention of giving citizens ample warning of severe weather conditions, has been down for two weeks and the Hydrometeorologi-cal Service is waiting to procure a needed part from Germany so that it can be fixed, according to a source.

A Guyanese man who murdered his wife last December on a Richmond Hill, New York  street, nearly decapitating her with a kitchen knife, has been sentenced to 21 years in prison, prosecutors said yesterday.