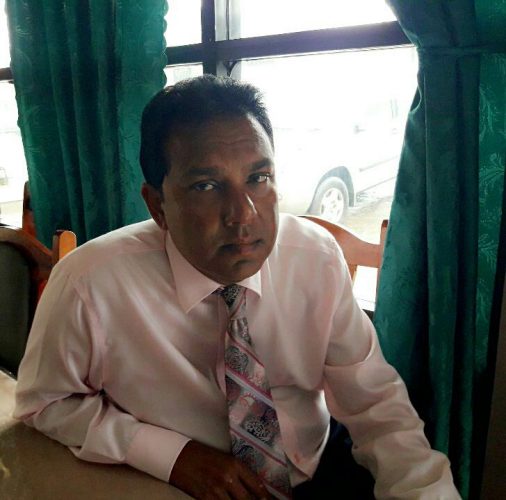 Well known Berbice attorney Chandra Sohan was arrested on Friday after he allegedly struck a pedestrian in a hit and run accident along the Williamsburg Public Road.
It is alleged that after the accident Sohan, 52, of Lot 47 Palmyra Village, drove home, where he was eventually arrested on Friday night. He was then taken to the Central Police Station in New Amsterdam, where a breathalyser test was administered.
A police statement yesterday said that it was found that his blood alcohol level was "exceedingly" above the legal limit.
Sohan was still in custody up to yesterday afternoon.
This newspaper was told that charges are likely to be laid on Monday.
The accident occurred around 7.40 pm on Friday.
Stabroek News has learnt that Sohan has said that he was proceeding west along the road in his vehicle, PJJ 6060, when a male pedestrian walked into his path, resulting in the collision.
However, Stabroek News was told that the attorney allegedly failed to render assistance to the injured man.
The man, who has been identified to this publication as Dale Roach, suffered a fractured leg and a fractured jaw. He is presently admitted at the Georgetown Public Hospital in a serious but stable condition.
Persons from the area told this publication that Roach has no fixed place of abode and would usually wander the roads at all hours of the day and night.
Prior to his current private practice, Sohan had served as a magistrate.
Comments

Despite the AFC's claim that it was not involved in the selection of a Guyana Elections Commission (Gecom) Chairman, its two senior leaders, Khemraj Ramjattan and Raphael Trotman, had advised President David Granger that he could utilise the constitutional proviso and make a unilateral appointment.

The National Assembly last evening approved over $8 billion in total budgetary allocations for 16 constitutional agencies even as the government's failure to properly account for cuts to requested expenditure drew criticism.

Opposition MPs were yesterday reprimanded by Speaker Dr Barton Scotland for their raucous behaviour on November 2nd, when they staged a protest that drowned out most of President David Granger's address to the National Assembly.

Ex-policeman Lloyd Roberts, who was accused of murdering Ryan Sergeant, the teen who was fatally shot outside of the Rio Inn nightclub last year, was yesterday freed after a court found that there was insufficient evidence for him to stand trial.

Although some municipal workers continued protest action yesterday over the nonpayment of their salaries for October, the Mayor and City Council (M&CC) has said that it has completed its payroll.