The National Task Force Commission (NTFC) for the Rehabilitation, Restoration and Renewal of Guyana is planning to embark on an exercise later in the year to relocate the homeless, addicts and mentally ill from the streets, according to Chairman Major General (rtd) Joseph Singh.
"Now that the Hugo Chavez Centre at West Berbice is up and running, they [therapists and psychiatrists] will be working very closely with the Ministry of Social Protection to see to what extent persons can be relocated there," Singh told a press conference last Friday, when he gave an update on the NTFC's work.
"We also have the Phoenix House dealing with the rehabilitation of addicted persons and other agencies like the Night Shelter for those who need a proper place rather than living on the pavement," he added.
Singh informed that the exercise is expected to commence towards the end of the year since it calls for careful management and an "all hands on deck" approach.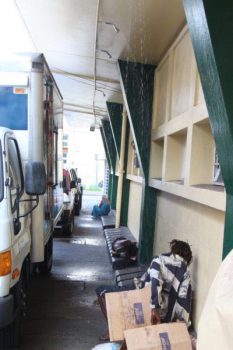 "Because in the past persons have been removed from the pavement and taken to the Night Shelter, cleaned up and given all the necessary stuff and the next day they are back on the pavement. They actually have a godfather or a godmother who looks after the welfare of those people on the pavement. It is highly organised," he explained.
He noted that a pilot programme will be undertaken in Georgetown and it will inform what happens elsewhere
According to Singh, accessing data on the homeless is one of the challenges that the NTFC's faces in addressing the situation. "If I ask the local [Neigbourhood Democratic Council] how many persons are homeless in their community, will they be able to tell me? It has to start in data collection and that is one of the challenges we have…we need to document and that is where agencies like the University of Guyana come in," he said.
"Before you launch that programme, you have to be assured that the doctors, psychiatrists, people collecting those persons and bringing them to the screening area, the persons at that area, everything is in place, so that as people are screened they are then assigned to wherever it is, whether it is the Hugo Chavez Centre or Night Shelter. A lot of preplanning has to be done…," he added.
The NTFC was set up by Cabinet in September, 2015, to aid with the transformation of Guyana under the then new government. In addition to welfare management of the homeless, addicted and mentally ill, its mandate also includes addressing drainage, solid waste management, traffic management and sustainable physical infrastructure renewal, which were among areas identified as being of concern.
Meanwhile, when asked what challenges the committee has been facing as it seeks to carry out its mandate, Singh said that that the biggest one is attitude. "I think we are dealing with attitudes, we are dealing with getting people to get out of this mindset that this is my turf and I need to guard it zealously and [instead] recognise the needs for integrated planning and proper consultation," he said.
Comments

An outgoing passenger at the Cheddi Jagan International Airport, Timehri was last night caught attempting to smuggle just over 60 ounces of raw gold which was concealed in her suitcase, acting Police Commission David Ramnarine has confirmed.

Significant damage was recorded in the south of Dominica, as seen in this photo.

President David Granger yesterday called on the international community to ensure that Venezuela is not allowed to thwart the processes of judicial settlement of a long-running border controversy with Guyana.
The $550 million Doppler Weather Radar Monitoring Station, which was commissioned in 2009 with the intention of giving citizens ample warning of severe weather conditions, has been down for two weeks and the Hydrometeorologi-cal Service is waiting to procure a needed part from Germany so that it can be fixed, according to a source.

A Guyanese man who murdered his wife last December on a Richmond Hill, New York  street, nearly decapitating her with a kitchen knife, has been sentenced to 21 years in prison, prosecutors said yesterday.