The Commission of Inquiry (CoI) into African ancestral land ownership began hearings yesterday with a significant portion of the first day's proceedings being dedicated to questions pertaining to the allocation of lots in the controversial 'Pradoville 2' Housing Scheme.
The CoI, chaired by Reverend George Chuck-A-Sang, with Berlinda Persaud, Professor Rudolph James, David James, Paulette Henry, Lennox Caleb, and Carol Khan James as commissioners, heard testimony from several witnesses at the Guyana Lands and Surveys Commission (GL&SC).
The CoI is tasked with examining and making recommendations to resolve all the issues and uncertainties surrounding the individual, joint or communal ownership of land acquired by freed Africans and other matters relative to land titling.
Alluding to the fact that there have been instances where politicians worldwide have transferred lands to themselves, Commissioner Rudolph James went on to reference 'Pradoville 2,' located at Sparendaam-Goedverwagting, and asked whether the application had passed through the hands of Michael Hutson, who was on the witness stand at the time.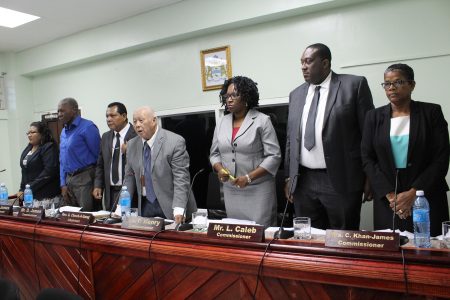 Hutson, the Manager of Land Administration at the GL&SC, related that the application had not passed through him, and added that the government holding company National Industrial and Commercial Investments Limited (NICIL), through which the transaction was done, has the tendency to "intermeddle" in the affairs of the GL&SC.
"We have a situation where one of the overlapping jurisdictions or anomaly is that there is a private company, NICIL, which intermeddles…it is still in existence and it is still holding on to large plots of land that used to be the bauxite mining lands. They're still holding on to them and privatizing them, functioning as a private land administration agency to the government," Hutson stated.
"And it's our view that based on order #36 of 2004, NICIL should have only kept lands that had infrastructural development on it for privatization and should have reverted all other lands under the authority of the commissioner of lands and surveys," he added.
Hutson related to the commission that discussions on the issue are currently ongoing.
Meanwhile, Rene Duesbury, Manager of Surveys at GL&SC, told the tribunal that he was satisfied that all statutory requirements were followed in relation to its allocation.
Duesbury also stated that the request for land at Goedverwagting came in from NICIL, but noted that his department did not survey, but merely did a conveyance of the plan, which he pointed out is "nothing new."
Asked if he was satisfied that the statutory requirements were followed in that instance, Duesbury responded yes, and recalled that he had been called by the commissioner several times to confirm that the plan was finished.
He also recalled seeing a draft plan in relation to the Goedverwagting scheme. Asked if the lands in that area are ancestral lands, Duesbury said he can only make such a pronouncement based on documentation and he had not seen any.
Director of Operations at the Central Housing and Planning Authority (CH&PA) Denise Tudor told the commission that she could not say if there was a breach in the protocol in the access of the lands, although she admitted that the application for the lands did not follow the normal procedure.
She stated that the records for Pradoville were not done in the usual manner and so the documentation was not in her department.
Tudor, under examination by commission counsel Darren Wade, said she is unaware of former President of Guyana Bharrat Jagdeo being allotted two plots of land and reiterated that she does not know anything of that allocation as it did not go through the normal procedure.
The manager went on to outline the steps that such an allocation would usually follow, and stated that in the case of Pradoville, none of that was done. Tudor noted that the transfer documents should have been signed at the CH&PA, and payments should have also been made through the organisation.
She said that based on her limited knowledge on the matter, there is no documentation to confirm the transaction and no application in the system. She did, however, note that at least three persons with lots in the area were previously allocated lots in other schemes and they were subsequently refunded.
The allocations in Pradoville 2 by Jagdeo and members of his Cabinet and other officials are now the subject of a criminal investigation.
Land Authority
Commissioner of the GL&SC Trevor Benn told the tribunal that one of the biggest issues with land management in Guyana is the confusion that surrounds which agency holds authority.
He stated that the GL&SC is empowered to oversee all public lands and has responsibilities for leasing and surveying those lands. However, he also related that there are currently around 15 agencies that deal with land locally, which he acknowledged causes confusion among citizens, who do not know where the authority lies.
Benn related that since his tenure as commissioner and CEO, the commission has been "inundated" with complaints from the public about land management anomalies, such as instances where more than one party was allocated a house lot.
"…Currently we have certain powers vested in the Minister of Indigenous Affairs through the Amerindian Act, which may or may not contradict with the State Land Act and the Guyana Lands and Surveys Act. We have the MMA, and you have Forestry and GT&T and so on and so on. So, the opportunity is ripe for us to review all of these acts and to delineate very clearly the areas of responsibility of individual agencies," Benn stated.
He went on to advise that the acts related to land management be reviewed. Benn noted too that the issue of ancestral lands is not within any organisation's ambit and that there is no mandate for GL&SC to address ancestral lands, but rather public lands, which he said seems to suggest that ancestral lands fall under that umbrella.
Layers of ownership
Hutson had been asked if he was aware of any instances in which leases were issued to more than one persons.
He admitted that there are cases where the GL&SC may have issued titles to more than one individual and explained that such is the case because they operate with a paper-based system, and so from time to time mistakes are made. He also said that there are times when the records are illegible because the material they were written on was fragile.
He offered that the records of the commission need to be digitised as that is the only way they will be able to see overlaps.
He related that the system has the capacity to accommodate 1,200 lease applications a year, but stated that about 5,000 express interest in lease lands annually.
Hutson also explained that one portion of land may carry licences for different activities, such as mining or forestry or agriculture. He described this system as the land bearing "different layers of ownership," which he stated is accommodated under the legislative framework.
He added that rather than the layered model currently employed, that the model of unique ownership, which is employed by Brazil, is the better model.
"So in that way it limits the possibility of conflicted rights and ownership. Imagine one person has rights for forests, another for mining, and one for agriculture. They're running on one another, massive confusion. So it is likely that the model of unique ownership; reserving the right of mining to the state…and the owner of the property will get some kind of royalty from the minerals," Hutson shared.
He also testified that among the issues faced by the GL&SC in allocating lands to applicants is that they are lacking in infrastructural capacity to make more lands available to satisfy the demand as there is a lot of unoccupied land that is impassable.
In addition to this, because the stock sheets are not up to date, applicants cannot clearly identify what portion of land they want when the application is sent in.
Asked by Commissioner Khan-James how squatting is treated by the GL&SC, Hutson said that notices are issued for trespassing. He noted that there is a monitoring and enforcement unit, but added that the commission did not take the steps necessary to equip that unit to evict squatters. He added that prosecution is not used as the main model for dealing with those illegal occupants.
In terms of monitoring and evaluation, Hutson said that the decision was taken years ago to focus on the processing of new applications, rather than the monitoring of lease holders, because as a semi-autonomous body responsible for its own revenue, the activity was not profitable.
'Under threat'
Meanwhile, the hearing also heard testimony from Winston Felix, of Canje, Berbice, who identified himself as the Chairman of the community council.
Felix raised concerns that ancestral lands in Berbice are under threat and reported that thousands of acres of land are about to be transferred to private owners. He referred specifically to New Forest and Harambee in his testimony.
Felix claimed that he had documentation to show that the occupants are entitled to the land, including the names of the individuals and the amounts paid by them.
Asked why he believes the lands are ancestral lands, he related that it is because they were occupied by the descendants of former slaves. He stated that some received titles, while others got leases.
This prompted Commissioner James to point out that the claim that they owned the land and yet took out a lease were inconsistent.
Felix said that the land in Harambee was formally leased in 1970 and while he first said that it was believed to be a 20-year lease, he later stated that it was initially thought to be a 99-year lease.
Noah Yahshurah, leader of the Descendants of Enslaved and Manumitted Africans of Guyana, testified afterward. Yahshurah called on the commission to direct the registrar of the counties to produce the transports for the ancestral lands, while stating that Friendship is the only one of 200 villages for which the transport can be produced.
Comments

Bharrat Jagdeo The PPP/C is committed to constitutional reform, says Opposition Leader Bharrat Jagdeo.

Ray Lengend Ray Lengend who went on a fire-bombing spree of mosques throughout southeast Queens, this week pleaded guilty to the crimes against Muslims who the 45-year-old Guyanese man claimed in 2012 had been "trying to take over his life", according to the Times Ledger in Queens, New York.

BEIJING/SEOUL, (Reuters) – A small earthquake near North Korea's nuclear test site on Saturday was probably not manmade, the nuclear proliferation watchdog and a South Korean official said, easing fears Pyongyang had exploded another nuclear bomb just weeks after its last one.

Damaged electrical installations are seen after the area was hit by Hurricane Maria en Guayama, Puerto Rico September 20, 2017.

Colin Firth'Loving' premiere, 69th Cannes Film Festival, France – 16 May 2016 ROME, (Reuters) – British actor Colin Firth, who has often played the role of a quintessential Englishman in his many films, has become an Italian citizen, Italy's Interior Ministry said.