On the second day of the Commission of Inquiry (CoI) into African ancestral lands and other matters, four witnesses made cases for the return of lands they feel they are rightly entitled to, which were either taken by the state or occupied by private owners.
Opening the hearing yesterday was Hemraj Kissoon, the Managing Director and Chairman of the Abary Cattle Ranch and Company Limited. Kissoon testified that over 2,000 acres of land, some leased, and others granted "on her majesty's pleasure", were taken from the ranch from the eastern side of the conservancy, under the dealings of the Mahaica, Mahaicony, Abary (MMA) scheme when the conservancy was built. They currently possess 7,784 acres of land.
In the latter part of the 1950's, Kissoon said, the government conducted surveys for the MMA scheme, following which, farmers would be informed of the fate of their lands. Kissoon related that the MMA and government had written to farmers informing them that they would be compensated if land was lost, either with alternative land holdings or by payment.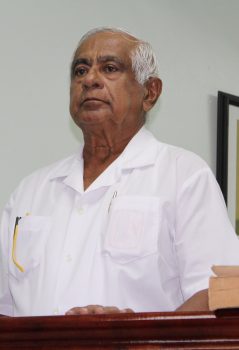 He said that to avoid problems, provisional leases were granted so that in the aftermath, it could be determined what land losses resulted to the farmers from the construction of the conservancy. In 1989, he recalled, farmers paid $3 million for a survey of the land to be done, headed by overseas trained surveyor Leroy Charles, who supervised surveyor Aubrey Charles. That survey was to determine what land was lost to the conservancy and the canal, and following this, farmers were in receipt of a document outlining their losses.
It was then that it was decided that action would be taken to demarcate the land left to them based on what was presented in the survey.
Responding to Commissioner Carol Khan-James, who questioned why the farmers would pay such a hefty sum of money to survey land they owned only for it to be taken away, Kissoon said that they had not known then that the lands would be taken, but had been of the opinion that the survey was needed for the demarcation of the property.
"I want the commission to know that our land holdings is in documents written by law. Where second depth is concerned, where DHMP (on Her Majesty's pleasure) is concerned…I'd like it to be noted too that the things that I'm saying here it is noted, directed, and it's in the MMA book, farmer's report, with the MMA report, with the engineer's report documented. All that is there. What I'm saying here that they should accede to and don't take advantage on the farmers," Kissoon told the commission.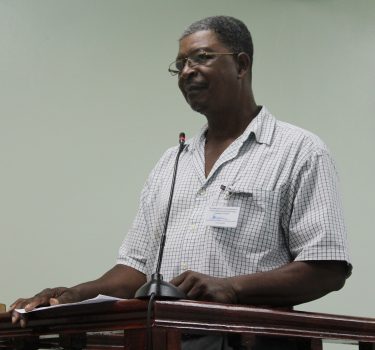 "I'd like the commission, if they can visit it, because seeing is believing. He say if you do the infrastructure; you will get it. If you do that; you will get it. It's like little children. You promise them the sweet and they can do everything but when the time come you don't want to give them the sweet, what you think you doing? It's written by law to do all of that and yet it is not there."
Kissoon related that before the MMA scheme, the Abary ranch had its own drainage and irrigation system established, which ran from the Berbice River to the Abary Creek. He said that a sluice was built to drain the land to prevent flooding. Relating that the organization has occupied the lands for approximately 108 years, Kissoon stated that the MMA took away the lands without giving reason.
He stated that they are in possession of titles for the land, including free hold titles, lease hold titles, and land under the DHMP, which were granted "at her majesty's pleasure".
Asked by attorney Darren Wade, who is standing in for commission counsel Ayana McCalman, whether the organization had ever applied for prescriptive rights, Kissoon said that such had never been done.
Asked what he wanted to see come out of the inquiry, Kissoon stated that he wants the decision to take their lands to be revoked and opined that the DHMP land should be converted in transported land. He also put in a request for prescriptive rights.
Reparations
Meanwhile, Clinton Valentine, a civil engineer and part-time farmer of the Paradise Housing Scheme, representing the village's cooperative society, told the Commission that he wants GuySuCo to pay reparations to the village.
Valentine, representing the Paradise Multipurpose Co-op Society, said he was there to present a case for the repossession of farmlands in the villages of Enmore, Enmore/Hope, Foulis, Paradise and Bachelor's Adventure.
The land in question covers 2,195 acres.
Valentine said that the lands were purchased by their ancestors in 1834, when a licence of occupancy was granted, and shortly afterwards, were annexed by the government because the villagers refused to pay drainage and irrigation costs.
He further stated that the lands were given to Bookers to plant sugar cane, and then subsequently handed to GuySuCo, which ceased cultivation 30 years ago. He said the lands have been abandoned since.
"We want GuySuCo to take up the responsibility because they were using our lands for so long…there was no compensation given to us, so that can be part of reparations," Valentine stated, telling the commission that among the co-op's requests are for the entity to provide machines to aid in the rehabilitation of the land and to construct an access bridge over the canal they built.
"If ever there was a case for reparations, this one should .. lead. This one should take the cake," he stated.
Commissioner Khan-James questioned Valentine on whether he knew if the licence had been revoked, and whether GuySuCo could have possibly been granted one, as she pointed out that these licences were usually based on conditions.
She noted that at the time, only the Queen would have had the authority to revoke licences, but expressed that clarity would have to be sought on how such a situation was treated after Independence.
Witness Thomas Trim made his case for portions of land in De Kinderen, East Bank Berbice, which he said was the property of his great grandfather.
Trim, who said he has occupied the lands for 40 years, related that the property has been in his family's name since 1923, when it was transported, but was not aware of legal title being passed down to the heirs.
Trim's chief concern is that a man, who he identified as Charles Galloway, is claiming ownership of the lands at De Kinderen, and to avoid confrontation with him, he said he allowed him to occupy two of the five lots.
Asked whether an application was ever made for prescriptive rights, Trim said that he is not aware of such, but said he does not believe that Galloway is entitled to the land as he claims.
Kenny Collins, meanwhile, appeared before the commission to appeal for an "extra depth of land" at Kildonan, which he claims that his fore parents occupied.
Collins said that he holds a lease for the 2nd depth of land, but it is the third depth which he is requesting rights to.
The witness told the commission that his fore parents had planted the land years ago, and that he recalls others planting thereafter. As such, he was making a request for it to be returned to the heirs so that they could be cultivated, noting that all heirs of the village would come together to "resuscitate" the land.
The CoI, chaired by Reverend George Chuck-A-Sang, with Berlinda Persaud, Professor Rudolph James, David James, Paulette Henry, Lennox Caleb, and Carol Khan James as commissioners, is being heard at the Guyana Lands and Surveys Commission.
The CoI is tasked with examining and making recommendations to resolve all the issues and uncertainties surrounding the individual, joint or communal ownership of land acquired by freed Africans and other matters relative to land titling.
It was incorrectly stated yesterday that Darren Wade was counsel for the commission. Wade is in fact standing in for attorney Ayana McCalman and attorney Sherwin Benjamin is the Administrative officer of the CoI.
Comments

Fifteen city councillors voted yesterday in favour of accepting the recommendations of the parking meter renegotiation committee, which would see a reduction in parking fees to $150 per hour, exemptions for religious organisations and schools, and Smart City Solutions (SCS) giving up on their claim to garage parking.

A GDF rank was yesterday remanded to prison over three armed robbery charges and alleged possession of an unlicensed gun and ammunition.
Minister of Natural Resources and Leader of the Alliance for Change (AFC), Raphael Trotman on Monday praised ExxonMobil for investing in the oil sector here and said it is now resulting in other important companies wanting to do business here.

The city lance corporal, who on Sunday allegedly shot and killed Marlon Fredericks, a mentally-challenged vendor, after he reportedly attempted to flee custody is to be charged with manslaughter.

Former Magistrate and Univer-sity of the West Indies (UWI) lecturer Christopher Arif Bulkan was yesterday sworn in as a temporary Appellate Judge by President David Granger who said that the appointment is part of efforts to ensure that justice is dispensed in an efficient and timely manner.