President David Granger yesterday met with Baroness Valerie Amos, now Director of the SOAS-University of London, former Leader of the House of Lords where they discussed, among other issues, Guyana's 'green' development pathway.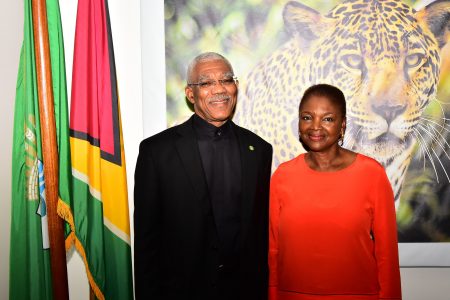 A release from the Ministry of the Presidency said that the President  told Baroness Amos that the preservation and sustainable management of the environment is central to Guyana's development, despite the country's future as an  oil-producing nation. The President also briefed Baroness Amos on his plans to establish Protected Areas in all of the Regions of Guyana.
Baroness Amos said, like the President, she too has a deep interest in mitigating the effects of climate change. She said, according to the release,  that it is commendable that Guyana is taking up a lead role in the fight against climate change and has already begun taking steps to protect its biodiversity.
The former Leader of the House of Lords, who assumed the position of Director for the SOAS –University of London (formerly known as the School of Oriental and African Studies) in 2015, was born in in Dry Shore on the Essequibo Coast and lived in Wakenaam until she was nine years old.
Comments

Despite the AFC's claim that it was not involved in the selection of a Guyana Elections Commission (Gecom) Chairman, its two senior leaders, Khemraj Ramjattan and Raphael Trotman, had advised President David Granger that he could utilise the constitutional proviso and make a unilateral appointment.

The National Assembly last evening approved over $8 billion in total budgetary allocations for 16 constitutional agencies even as the government's failure to properly account for cuts to requested expenditure drew criticism.

Opposition MPs were yesterday reprimanded by Speaker Dr Barton Scotland for their raucous behaviour on November 2nd, when they staged a protest that drowned out most of President David Granger's address to the National Assembly.

Ex-policeman Lloyd Roberts, who was accused of murdering Ryan Sergeant, the teen who was fatally shot outside of the Rio Inn nightclub last year, was yesterday freed after a court found that there was insufficient evidence for him to stand trial.

Although some municipal workers continued protest action yesterday over the nonpayment of their salaries for October, the Mayor and City Council (M&CC) has said that it has completed its payroll.