President David Granger yesterday met with Baroness Valerie Amos, now Director of the SOAS-University of London, former Leader of the House of Lords where they discussed, among other issues, Guyana's 'green' development pathway.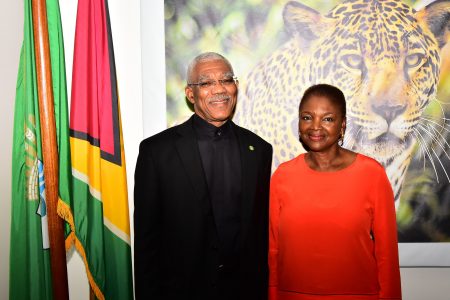 A release from the Ministry of the Presidency said that the President  told Baroness Amos that the preservation and sustainable management of the environment is central to Guyana's development, despite the country's future as an  oil-producing nation. The President also briefed Baroness Amos on his plans to establish Protected Areas in all of the Regions of Guyana.
Baroness Amos said, like the President, she too has a deep interest in mitigating the effects of climate change. She said, according to the release,  that it is commendable that Guyana is taking up a lead role in the fight against climate change and has already begun taking steps to protect its biodiversity.
The former Leader of the House of Lords, who assumed the position of Director for the SOAS –University of London (formerly known as the School of Oriental and African Studies) in 2015, was born in in Dry Shore on the Essequibo Coast and lived in Wakenaam until she was nine years old.
Comments

The legal team for former New Building Society (NBS) manager, Maurice Arjoon, who was wrongfully dismissed, have levied on the bank's assets in a bid to recoup the $59,033,000 pension owed to him by the financial institution.
An alleged inebriated farmer of 54 Strath Campbell Village, Mahaicony, ECD, died at about 3 pm  yesterday at Chance Village, Mahaicony, after a vehicle he was reportedly not given permission to drive, crashed into a utility pole.

MELBOURNE,  (Reuters) – Rafa Nadal's Australian Open quarter-final curse struck again on Tuesday, an injury forcing the top seed to retire in the fifth set against Croatia's Marin Cilic.

Several hundred more sugar workers are expected to be laid off from the Skeldon, Rose Hall, and East Demerara estates by next month and the Guyana Agricultural and General Workers Union (GAWU) yesterday urged that the decision be reviewed.

The commencement order establishing the Telecommunications Agency was signed last Friday, in anticipation of the liberalisation of the telecoms sector, Minister of Public Tele-communications Cathy Hughes announced yesterday.