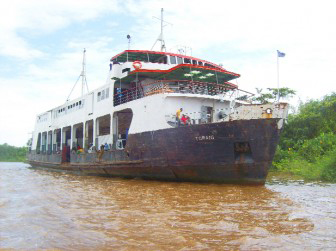 Efforts by the government are underway to salvage the decades-old MV Torani, which capsized in the Mazaruni River and questions have been raised as to how this happened to the moored vessel.
A source from the Ministry of Public Infrastructure (MPI) confirmed yesterday with Stabroek News that the vessel that plied the Essequibo route was moored in Region 7 before it capsized and is currently sunk in the river waiting to be moved.
The source confirmed that vessel had been parked at the stelling after it was put out of commission and was awaiting a decision from the Transport and Harbours Department of the Ministry on its future.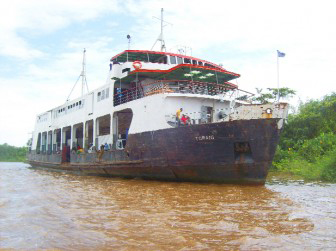 Questions were raised in the public on how a parked vessel could suddenly capsize.
In an advertisement     in yesterday's Stabroek News, the Harbour Master stated that the vessel had sunk  close to the left bank of the Mazaruni River in the vicinity of the Timehri Docks.
It added that the wreck is approximately 100 metres. It is not fully submerged.
The starboard half of the vessel is still visible at all ties.
The MV Torani was commissioned in 1958. It last experienced serious mechanical issues in 2012 but was fixed and sent back to ply its route.
However, some three years ago the vessel experienced severe mechanical issues again and was towed to the Mazaruni Stelling where it waited.
Efforts to contact the T&HD for comment on the capsizing proved futile since the General Manager Marcelene Merchant is on leave. Stabroek News was also unable to get a comment from Minister within the Ministry of Public Infrastructure, Annette Ferguson and Minister of Public Infrastructure, David Patterson.
Comments

The leadership of the Alliance For Change (AFC) is to formally write A Partnership for National Unity (APNU) on a revision of the Cummingsburg Accord which birthed the coalition and saw it winning the 2015 general elections.

The Education Ministry is probing a complaint against a teacher of the Bishops' High School, who is accused of sexually grooming and molesting female students during the 10 years he has worked there.

The Special Purpose Unit (SPU), which was set up to spearhead the divestment and privatization of GuySuCo assets, yesterday moved one step closer to selecting an accounting firm to provide a valuation of assets belonging to the sugar company.

Four men were yesterday taken before a city magistrate on a charge that they stole over $2 million in cash and valuables during a violent robbery at the Stabroek Market.

While the police force remains silent on the investigation into the murder of school teacher Kescia Branche, her father said that the family can only remain patient and hopeful that one day justice will prevail and his daughter's killer/s will be apprehended.