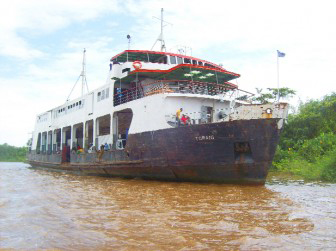 Efforts by the government are underway to salvage the decades-old MV Torani, which capsized in the Mazaruni River and questions have been raised as to how this happened to the moored vessel.
A source from the Ministry of Public Infrastructure (MPI) confirmed yesterday with Stabroek News that the vessel that plied the Essequibo route was moored in Region 7 before it capsized and is currently sunk in the river waiting to be moved.
The source confirmed that vessel had been parked at the stelling after it was put out of commission and was awaiting a decision from the Transport and Harbours Department of the Ministry on its future.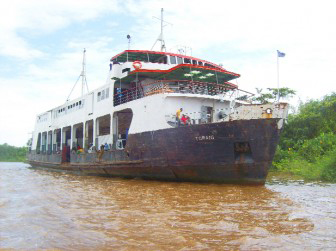 Questions were raised in the public on how a parked vessel could suddenly capsize.
In an advertisement     in yesterday's Stabroek News, the Harbour Master stated that the vessel had sunk  close to the left bank of the Mazaruni River in the vicinity of the Timehri Docks.
It added that the wreck is approximately 100 metres. It is not fully submerged.
The starboard half of the vessel is still visible at all ties.
The MV Torani was commissioned in 1958. It last experienced serious mechanical issues in 2012 but was fixed and sent back to ply its route.
However, some three years ago the vessel experienced severe mechanical issues again and was towed to the Mazaruni Stelling where it waited.
Efforts to contact the T&HD for comment on the capsizing proved futile since the General Manager Marcelene Merchant is on leave. Stabroek News was also unable to get a comment from Minister within the Ministry of Public Infrastructure, Annette Ferguson and Minister of Public Infrastructure, David Patterson.
Comments

Bharrat Jagdeo The PPP/C is committed to constitutional reform, says Opposition Leader Bharrat Jagdeo.

Ray Lengend Ray Lengend who went on a fire-bombing spree of mosques throughout southeast Queens, this week pleaded guilty to the crimes against Muslims who the 45-year-old Guyanese man claimed in 2012 had been "trying to take over his life", according to the Times Ledger in Queens, New York.

BEIJING/SEOUL, (Reuters) – A small earthquake near North Korea's nuclear test site on Saturday was probably not manmade, the nuclear proliferation watchdog and a South Korean official said, easing fears Pyongyang had exploded another nuclear bomb just weeks after its last one.

Damaged electrical installations are seen after the area was hit by Hurricane Maria en Guayama, Puerto Rico September 20, 2017.

Colin Firth'Loving' premiere, 69th Cannes Film Festival, France – 16 May 2016 ROME, (Reuters) – British actor Colin Firth, who has often played the role of a quintessential Englishman in his many films, has become an Italian citizen, Italy's Interior Ministry said.