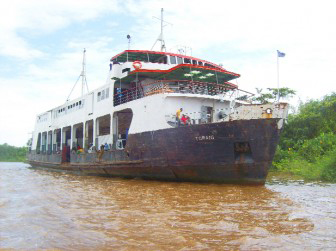 Efforts by the government are underway to salvage the decades-old MV Torani, which capsized in the Mazaruni River and questions have been raised as to how this happened to the moored vessel.
A source from the Ministry of Public Infrastructure (MPI) confirmed yesterday with Stabroek News that the vessel that plied the Essequibo route was moored in Region 7 before it capsized and is currently sunk in the river waiting to be moved.
The source confirmed that vessel had been parked at the stelling after it was put out of commission and was awaiting a decision from the Transport and Harbours Department of the Ministry on its future.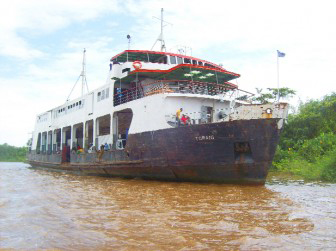 Questions were raised in the public on how a parked vessel could suddenly capsize.
In an advertisement     in yesterday's Stabroek News, the Harbour Master stated that the vessel had sunk  close to the left bank of the Mazaruni River in the vicinity of the Timehri Docks.
It added that the wreck is approximately 100 metres. It is not fully submerged.
The starboard half of the vessel is still visible at all ties.
The MV Torani was commissioned in 1958. It last experienced serious mechanical issues in 2012 but was fixed and sent back to ply its route.
However, some three years ago the vessel experienced severe mechanical issues again and was towed to the Mazaruni Stelling where it waited.
Efforts to contact the T&HD for comment on the capsizing proved futile since the General Manager Marcelene Merchant is on leave. Stabroek News was also unable to get a comment from Minister within the Ministry of Public Infrastructure, Annette Ferguson and Minister of Public Infrastructure, David Patterson.
Comments
CJIAC wishes to advise departing passengers effective Sunday, February 18, 2018 at approximately 14:00 h that the Immigration and Security operations will be relocated to the former Greeters Hall to facilitate the ongoing airport expansion project.

In keeping with its commitment to release petroleum and other agreements, the government today released the one with Canadian miner, CGX.

(Trinidad Guardian) Trinidad and Tobago has an ISIS cell. The official confirmation came yesterday from Prime Minister Dr Keith Rowley, who was grilled by Opposition MPs on the recent threatened plot to disrupt Carnival 2018 and the causes.

City Hall is currently executing works at the Le Repentir Cemetery under a contract valued at over $100 million without any evidence of public tendering.

Whether Guyana becomes "immensely rich or just another Trump-hole" from oil revenues depends largely on its ability to attract specialty experience and competencies in industry and sectors here, says business website Bloomberg.