Residents of Lima Sands, Essequibo (Pomeroon-Supenaam) will benefit from improved water quality, following steps by the Guyana Water Incorporated (GWI) to reduce the presence of iron in their water supply through the use of a product called SeaQuest.
Lima Sands gained a constant source of water supply from the utility earlier this year, a GWI release said.
This was as a result of the completion of a new well worth approximately $117 million. Previously, residents were tapping water through a creek or via rain water harvesting.
Since the completion of the well, GWI said that customers have been receiving water with an unusually high iron content.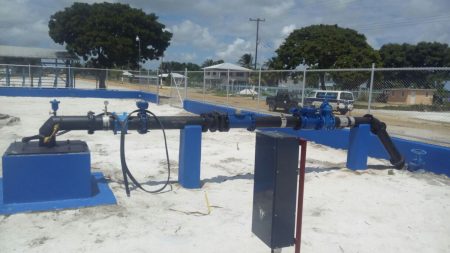 The Essequibo Coast is known for the prevalence of high iron concentrations in water and GWI has implemented SeaQuest to significantly lower its presence in a number of villages.
GWI said that SeaQuest is dosed into water at pump stations to help mitigate discoloration.
The total cost of using SeaQuest at the Lima Sands pump station is some $3.6 million. With the required equipment and materials being mobilised, residents of Lima Sands are expected to benefit from clear, odourless water before the end of this month.
GWI said that the well serves approximately 650 households, with a distribution network that comprises 14km of transmission and distribution lines and service connection installations.
Initially, six pump stations along the Essequibo Coast benefitted from the implementation of SeaQuest at a cost of $22 million, GWI said. This required the importation of SeaQuest, mixing it, purchasing tanks and pumps and the delivery to each site.
The addition of Lima Sands brings the total amount of pump stations receiving SeaQuest on the Essequibo Coast to seven. .
With this investment being pumped into the improvement of water quality on the Essequibo Coast, GWI is calling on customers to conserve on consumption and to make bill payment a priority.
Customers with questions or concerns can contact GWI's Customer Call Centre on 227-8701/03/04 email: customercallcentre@gwi.gy.
Comments

Fifteen city councillors voted yesterday in favour of accepting the recommendations of the parking meter renegotiation committee, which would see a reduction in parking fees to $150 per hour, exemptions for religious organisations and schools, and Smart City Solutions (SCS) giving up on their claim to garage parking.

A GDF rank was yesterday remanded to prison over three armed robbery charges and alleged possession of an unlicensed gun and ammunition.
Minister of Natural Resources and Leader of the Alliance for Change (AFC), Raphael Trotman on Monday praised ExxonMobil for investing in the oil sector here and said it is now resulting in other important companies wanting to do business here.

The city lance corporal, who on Sunday allegedly shot and killed Marlon Fredericks, a mentally-challenged vendor, after he reportedly attempted to flee custody is to be charged with manslaughter.

Former Magistrate and Univer-sity of the West Indies (UWI) lecturer Christopher Arif Bulkan was yesterday sworn in as a temporary Appellate Judge by President David Granger who said that the appointment is part of efforts to ensure that justice is dispensed in an efficient and timely manner.