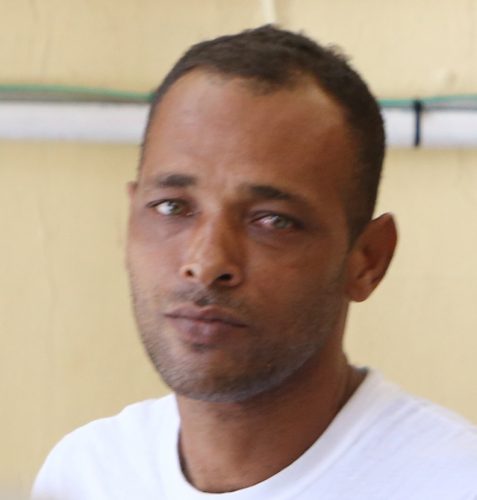 Former murder accused Regan Rodrigues, also known as 'Grey Boy,' was yesterday charged with threatening the mother of the man he was charged with killing, political activist Courtney Crum-Ewing.
Rodrigues, 39, was charged with making use of threatening language to Donna Harcourt on August 12 at Regent and Wellington streets.
The accused denied the charge after it was read to him by Magistrate Dylon Bess in Georgetown.
Prior to entering the plea, Rodrigues told the court that he was only recently released from jail after being cleared of the murder charge. He said that he understood that Harcourt would be hurt that someone murdered her son, but he added that he was also hurt by the fact that she continues to accuse him of the crime although he has been discharged on multiple occasions. He was reminded by the magistrate that one cannot prevent someone from speaking.
Rodrigues, acknowledging what the court said, went on to say that on the day in question, it was the complainant who was behaving disorderly. He said that he was only arrested when a specific officer that he has an issue with showed up on the scene.
The prosecutor subsequently stated that he had no objection to bail being granted but he requested that Rodrigues be placed on a bond to keep the peace.
As a result, Rodrigues was granted his release on $10,000 bail and placed on a bond to keep the peace. His trial is fixed for September 18.
In June, Rodrigues was freed for the third time of the 2015 murder of Crum-Ewing, after presiding Magistrate Judy Latchman found that there was no prima-facie case made out against him by the state during the preliminary inquiry into the charge.
Comments

The GPSU on the left and the government.(Ministry of the Presidency photo) The GPSU has rejected the government's wage increase offer for 2017.

Venezuelan citizens wait in line at a polling station during a nationwide election for new governors in Caracas, Venezuela, October 15, 2017.

Harry Ragoonanan (Trinidad Guardian) Prominent south businessman Harry Ragoonanan says he plans to challenge to his suspension from the People's National Movement (PNM).

Five persons – including a mother and two of her children – were killed yesterday in a head-on collision between a car and a paddy truck along the Number 59 Village Public Road, Corentyne.

A confrontation over the use of land at Cane Grove Backdam, Mahaica, turned deadly yesterday when a father and son were attacked and chopped.