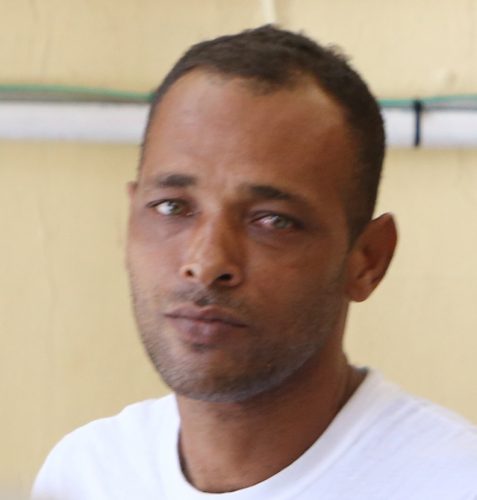 Former murder accused Regan Rodrigues, also known as 'Grey Boy,' was yesterday charged with threatening the mother of the man he was charged with killing, political activist Courtney Crum-Ewing.
Rodrigues, 39, was charged with making use of threatening language to Donna Harcourt on August 12 at Regent and Wellington streets.
The accused denied the charge after it was read to him by Magistrate Dylon Bess in Georgetown.
Prior to entering the plea, Rodrigues told the court that he was only recently released from jail after being cleared of the murder charge. He said that he understood that Harcourt would be hurt that someone murdered her son, but he added that he was also hurt by the fact that she continues to accuse him of the crime although he has been discharged on multiple occasions. He was reminded by the magistrate that one cannot prevent someone from speaking.
Rodrigues, acknowledging what the court said, went on to say that on the day in question, it was the complainant who was behaving disorderly. He said that he was only arrested when a specific officer that he has an issue with showed up on the scene.
The prosecutor subsequently stated that he had no objection to bail being granted but he requested that Rodrigues be placed on a bond to keep the peace.
As a result, Rodrigues was granted his release on $10,000 bail and placed on a bond to keep the peace. His trial is fixed for September 18.
In June, Rodrigues was freed for the third time of the 2015 murder of Crum-Ewing, after presiding Magistrate Judy Latchman found that there was no prima-facie case made out against him by the state during the preliminary inquiry into the charge.
Comments

(BBC) Bollywood superstar Sridevi has died after a cardiac arrest, her family says.
President David Granger will not be attending the Twenty-Ninth Inter-sessional Meeting of The Conference of Heads of Government of the Caribbean Community (CARICOM) in Haiti beginning on Monday.

Mashramani celebrations ground to halt for several families yesterday afternoon, when approximately 30 persons lost their homes after a fire of unknown origin ripped through three Victoria Road, Plaisance properties, including an apartment building.

Minister of State Joseph Harmon says that the US$3 million settlement offer made by Hong Kong Golden Telecom Limited (HKGT) on the outstanding balance for its purchase of government shares in the Guyana Telephone and Telegraph Company (GTT) is being actively considered, but the government's goal is to recover the entire US$5 million that is owed.

Opposition Leader Bharrat Jagdeo on Thursday criticised government and Minister of Finance Winston Jordan on the heels of the announced plan to borrow cash from local banks to reopen two sugar estates and to fund critical current and capital Guyana Sugar Corporation (GuySuCo) programmes.