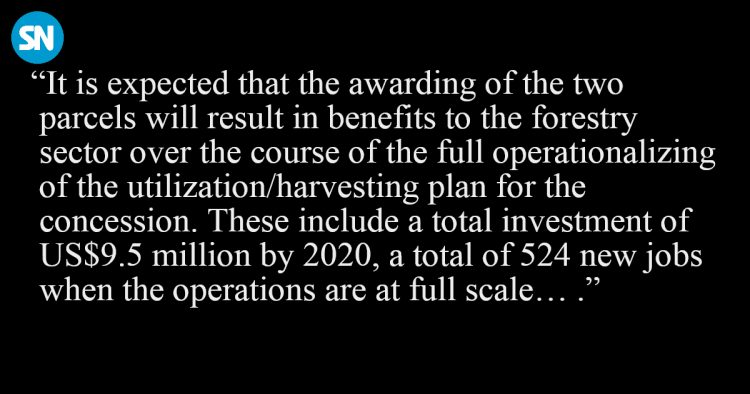 The Guyana Forestry Commission (GFC) has awarded two lots totaling over 800,000 hectares of the former Barama Company Limited concession to two companies, R.L. Sukhram and Sons Sawmill and Chinese company Rong-An Inc, which is expected to yield a total investment of US$9.5 million by 2020 and the creation of 524 jobs when the operations are at full scale.
The announcement was made yesterday by the Ministry of Natural Resources, which also said that the operations would see an increase of national production level by at least 189,000 m3 annually, an increase in export revenue by at least US$7 million, and an increase in harvesting of Lesser Used Species from the current 10 to 15 percent to at least 25 percent of total production.
In October last year, Barama announced that it was not seeking a renewal of its 25-year concession with the government. Minister of Natural Resources Raphael Trotman subsequently announced that the huge forestry concession, located in the north west of Guyana, had been quartered, with one portion set aside for conservation and another for small loggers interested in pursuing sustainable logging activities.
The remaining two portions—Parcel 1 and Parcel 2—were advertised for State Forest Exploratory Permits (SFEP), which entails a three-year assessment process prior to commercial full scale harvesting.
Parcel 1 is a forest area of size 417,809.23 hectares and Parcel 2 is a forest area of size 432,262.59 hectares. They are located in the Essequibo region (North West, Mazaruni Potaro District) and they are both said to have a high occurrence of a number of high-value commercial timber species, including Baromalli, Greenheart, Purpleheart, Mora, Wallaba, Crabwood and Kabukalli, among others.
According to a statement issued by the ministry yesterday, both parcels were opened for Expressions of Interest for the period ending February 10, 2017, with advertisements placed in the local media as well as in the international publications Development Business and The Economist as well as on several websites.
It further noted that ten submissions were made at this deadline, some for both parcels while others were for one or the other.
These firms were invited to submit SFEP applications, pay the non-refundable fee, and complete a Business Plan Summary by April 28, 2017. At this deadline, five applications were received from the following entities: Chemtech (Trinidadian firm) for Parcel 1; R.L. Sukhram and Sons Sawmill for Parcel 2; Rong-An Inc. for both Parcels 1 and 2; Forlene and Sons for Parcel 2; and ACE Resources (Canadian firm) for both parcels.
The Technical Sub Committee of the GFC Board of Directors, the statement explained, conducted a full review of each application and concluded that Parcel 1 should be issued to Rong-An Inc., and Parcel 2 to R.L. Sukhram and Sons Sawmill for a three-year period commencing July, 2017 to July, 2020.
This decision was approved by the full Board and has been implemented by the GFC.
"It is expected that the awarding of the two parcels will result in benefits to the forestry sector over the course of the full operationalizing of the utilization/harvesting plan for the concession.  These include a total investment of US$9.5 million by 2020, a total of 524 new jobs when the operations are at full scale…," the statement said. "The Ministry of Natural Resources congratulates R.L. Sukhram and Sons Sawmill and Rong-An Inc. for successfully competing for the concessions. Further, the Ministry urges that they carry out their operations in a manner that is compliant with the GFC Code of Practice and other laws and regulations, respectful of the environment and beneficial to the People of Guyana," it added.
Barama had announced last year that it was not interested in renewing its 25-year agreement with the government and as such 500 workers have since been retrenched.
Rong-An Inc, which was incorporated in Guyana on September 1, 2006, had applied last year to the Environmental Protection Agency for environmental authorisation to undertake large-scale logging in Berbice in an investment pegged at US$20 million. It had planned to invest more than US$50 million in Guyana in various sectors, including an initial US$20 million in the forestry sector.
The company had received a SFEP from the GFC designated 2/2011 for an area of 57,929 hectares of forest resources in the upper right bank Berbice River.
Both Rong-An Inc and fellow Chinese company, Baishanlin have been the source of much controversy over their forestry operations here.
Comments
President David Granger will not be attending the Twenty-Ninth Inter-sessional Meeting of The Conference of Heads of Government of the Caribbean Community (CARICOM) in Haiti beginning on Monday.

Mashramani celebrations ground to halt for several families yesterday afternoon, when approximately 30 persons lost their homes after a fire of unknown origin ripped through three Victoria Road, Plaisance properties, including an apartment building.

Minister of State Joseph Harmon says that the US$3 million settlement offer made by Hong Kong Golden Telecom Limited (HKGT) on the outstanding balance for its purchase of government shares in the Guyana Telephone and Telegraph Company (GTT) is being actively considered, but the government's goal is to recover the entire US$5 million that is owed.

Opposition Leader Bharrat Jagdeo on Thursday criticised government and Minister of Finance Winston Jordan on the heels of the announced plan to borrow cash from local banks to reopen two sugar estates and to fund critical current and capital Guyana Sugar Corporation (GuySuCo) programmes.
The private sector is upbeat about the nearly three dozen-odd opportunities recently advertised in the oil and gas sector as it goes some way towards meeting local content needs, according to Private Sector Commission (PSC) Chairman Eddie Boyer.