(Jamaica Gleaner) Jamaican prosecutors yesterday indicated that they are not yet in possession of the evidence United States authorities have gathered against controversial Muslim Sheikh Abdullah el-Faisal.
el-Faisal made his first court appearance yesterday after being arrested on a provisional warrant issued by American authorities.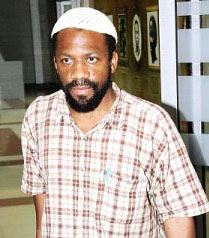 He said nothing during his brief appearance in the Kingston and St Andrew Parish Court, three days since his arrest on terrorism related charges.
The controversial cleric was remanded until October 27 when his case will again be mentioned.
Lead prosecutor Jeremy Taylor says the Office of the Director of Public Prosecutions hopes to have all the evidence US authorities will be relying on in their case against el-Faisal.
Comments

-number of redundant workers at 4,763 The National Assembly yesterday approved nearly $2 billion to facilitate full severance by the end of January for a little more than 1,600 of the 4,763 sugar workers that have been made redundant.

Following criticism over government's handling of the restructuring of the Guyana Sugar Corporation (GuySuCo), President David Granger and members of his Cabinet yesterday met with the leadership of the Guyana Agricultural and General Workers' Union (GAWU) and the National Association of Agricultural, Commercial and Industrial Employees (NAACIE) to discuss the future of the sugar industry.
An 18-year-old woman succumbed on Thursday evening, one day after she was allegedly beaten by her common-law husband during an argument at Baramita, in Region One (Barima-Waini).
In his absence, Ganesh Chaitram, who was charged with raping a 10-year-old girl in 2016, was yesterday sentenced to life in prison after a jury found him guilty of the crime.

City councillor Jameel Rasul says he will shortly be resigning his seat after being berated by his group, Team Benschop for going beyond the agreed six-month stint and voting in favour of the controversial parking meters deal.