(Jamaica Gleaner) Jamaican prosecutors yesterday indicated that they are not yet in possession of the evidence United States authorities have gathered against controversial Muslim Sheikh Abdullah el-Faisal.
el-Faisal made his first court appearance yesterday after being arrested on a provisional warrant issued by American authorities.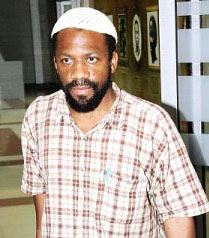 He said nothing during his brief appearance in the Kingston and St Andrew Parish Court, three days since his arrest on terrorism related charges.
The controversial cleric was remanded until October 27 when his case will again be mentioned.
Lead prosecutor Jeremy Taylor says the Office of the Director of Public Prosecutions hopes to have all the evidence US authorities will be relying on in their case against el-Faisal.
Comments

A Pluck Road, Woodland resident takes his cow out of a flooded area yesterday.

WHO Director-General Tedros Adhanom Ghebreyesus GENEVA,  (Reuters) – Zimbabwean President Robert Mugabe has been removed as a goodwill ambassador, the World Health Organization (WHO) said today following an outrage among Western donors and rights groups at the appointment.

UK High Commissioner to Guyana, Greg Quinn says that the impasse that has arisen over the appointment of a Chairman of the Guyana Elections Commission (GECOM) could be addressed via the courts but if that is done a decision must be rendered speedily.

The legality of President David Granger's decision to proceed with the unilateral appointment of the Chairman of the Guyana Elections Commission (Gecom) is being questioned and the Bar Association of Guyana yesterday said his reasons for rejecting the 18 nominees submitted by the Opposition Leader should be publicly stated to defend his actions.

Lethem, in Region Nine (Upper Takutu-Upper Essequibo), was on Friday formally declared a capital town and President David Granger used the occasion to call for cooperation at all levels of government, regardless of political affiliation, for the good of the region.