A couple died early yesterday morning after a collision along the Cummings Lodge Railway Embankment Road.
Dennis Ross and his girlfriend, Jewel Pestano, 19, of Albouystown, who were riding on a motorcycle, collided with a taxi around 3.30 am. The driver of the taxi was later arrested after a breathalyser test found that his breath alcohol content was above the legal limit.
Pestano's family was told that couple had been traveling west along the embankment road on Ross' motorcycle, CE 9653, when the car, HC 4097, which was traveling east along the road, without any lights, collided with them head on.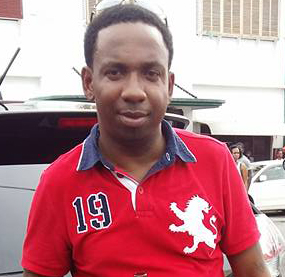 As a result of the impact, Ross and Pestano were sent flying into the air.
They were both subsequently rushed to the Georgetown Public Hospital, where Ross was pronounced dead on arrival. Pestano succumbed to her injuries hours after.
When Stabroek News visited Pestano's family yesterday, her aunt, who did not wanted to be named, explained that she was still in shock and could not believe that her niece was dead.
She related that Pestano had left home on Thursday night with Ross to attend a party at the Plaisance Line Top. Her cousin, who also did not want to be named, explained that he went after her and had met her and Ross at the party.
He said they spent the night drinking together until the party was "closed off by the police" sometime in the morning. The group then split up and that was the last time the cousin saw Pestano before he heard of the accident early yesterday morning.  "Is just sad, you know. I just see she. I was just drinking with she, so I can't understand how it happen. It just hard to believe at this point in time," the man said.
Between January 1, 2017 and July 31, 2017, police recorded 59 fatalities, representing a 25% decrease in comparison with the same period last year.
The fatalities included 13 motorcyclists, which after pedestrians (18) was the second largest group of road users killed.
Last month, four other persons that were travelling on motorcycles died as a result of accidents.
Cleon Perreira, a driver attached to the Guyana Power & Light Inc and a father of three of Lot 119 Middle Walk, Buxton, East Coast Demerara; Arnold Tinnis, 48, a mechanic of East Ruimveldt; Joseph Samuel James, called "Joe" and "Kartel," of Lot 54 Walter Terrace, West La Penitence, Georgetown; and pillion rider Janice Edwards, 38, of Lot 121 'C' Field, Sophia all died as a result of motorcycle accidents.
Comments

HARARE,  (Reuters) – Robert Mugabe resigned as Zimbabwe's president on Tuesday a week after the army and his former political allies moved against him, ending four decades of rule by a man who turned from independence hero to archetypal African strongman.

Travis Cleveland c/d 'Spin and Kill', 31 years , unemployed of 337 South Sophia has been charged with murder of Jamal Munroe which occurred on November 03, 2017 at Black and White Bridge, 'C' Field, Sophia, ECD, the police say.

YANGON/NAYPYITAW, (Reuters) – Members of the U.S. Congress said today operations carried out against the Rohingya Muslims in Myanmar had "all the hallmarks" of ethnic cleansing, while the country's leader Aung San Suu Kyi expressed doubts about allegations of rights abuses.

The leadership of the Alliance For Change (AFC) is to formally write A Partnership for National Unity (APNU) on a revision of the Cummingsburg Accord which birthed the coalition and saw it winning the 2015 general elections.

The Education Ministry is probing a complaint against a teacher of the Bishops' High School, who is accused of sexually grooming and molesting female students during the 10 years he has worked there.