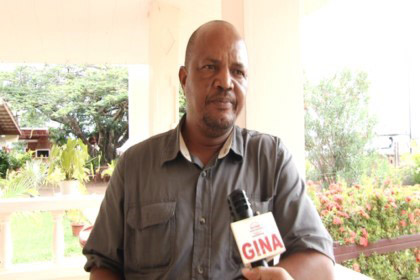 The decision to have embattled Region Nine Regional Executive Officer (REO) Carl Parker receive his full salary while on administrative leave, pending a sexual assault charge, is "out of order," according to Red Thread coordinator Karen de Souza.
She was at the time commenting on the fact that Parker continues to be paid his full salary though he had been instructed to proceed on administrative leave in wake of a charge of sexually assaulting a woman last year June.
However, reports reaching Stabroek News over the past months indicate that though he was sent on leave, he was receiving his full salary, much to the displeasure of some.
One such person was de Souza, who described the decision as one that is "out of order."
"The government should really look at the safety and respect of women in this country…this creates a situation where he is allowed to throw his weight around while he is on trial and is being paid his salary in full and that in itself is out of order," de Souza said.
However, the Ministry of Communities, through its public relations department, reiterated that Parker is entitled to due process. It was further noted that it is in the parameters of the law for Parker to receive his full salary until the determination of the matter. "He has not been found guilty and as such no such sanctions are required," the ministry said.
Parker, 53, was charged in February, during an in-camera hearing in Georgetown, and he was later released on $200,000 bail.
Minister of Communities Ronald Bulkan later announced that Parker would be asked to step down until the conclusion of the criminal proceedings against him.
Parker had vehemently denied the accusations of having sexually assaulted the woman and continues to maintain his innocence.
Comments
An alleged inebriated farmer of 54 Strath Campbell Village, Mahaicony, ECD, died at about 3 pm  yesterday at Chance Village, Mahaicony, after a vehicle he was reportedly not given permission to drive, crashed into a utility pole.

MELBOURNE,  (Reuters) – Rafa Nadal's Australian Open quarter-final curse struck again on Tuesday, an injury forcing the top seed to retire in the fifth set against Croatia's Marin Cilic.

Several hundred more sugar workers are expected to be laid off from the Skeldon, Rose Hall, and East Demerara estates by next month and the Guyana Agricultural and General Workers Union (GAWU) yesterday urged that the decision be reviewed.

The commencement order establishing the Telecommunications Agency was signed last Friday, in anticipation of the liberalisation of the telecoms sector, Minister of Public Tele-communications Cathy Hughes announced yesterday.

Nickela Craig-Singh, the woman who was arrested last Friday after the Customs Anti-Narcotic Unit (CANU) found over 10 pounds of cocaine in the ceiling of her Soesdyke home, was yesterday sentenced to four years in prison and fined over $14 million after pleading guilty to possession of the drug.