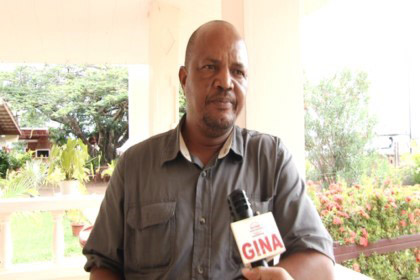 The decision to have embattled Region Nine Regional Executive Officer (REO) Carl Parker receive his full salary while on administrative leave, pending a sexual assault charge, is "out of order," according to Red Thread coordinator Karen de Souza.
She was at the time commenting on the fact that Parker continues to be paid his full salary though he had been instructed to proceed on administrative leave in wake of a charge of sexually assaulting a woman last year June.
However, reports reaching Stabroek News over the past months indicate that though he was sent on leave, he was receiving his full salary, much to the displeasure of some.
One such person was de Souza, who described the decision as one that is "out of order."
"The government should really look at the safety and respect of women in this country…this creates a situation where he is allowed to throw his weight around while he is on trial and is being paid his salary in full and that in itself is out of order," de Souza said.
However, the Ministry of Communities, through its public relations department, reiterated that Parker is entitled to due process. It was further noted that it is in the parameters of the law for Parker to receive his full salary until the determination of the matter. "He has not been found guilty and as such no such sanctions are required," the ministry said.
Parker, 53, was charged in February, during an in-camera hearing in Georgetown, and he was later released on $200,000 bail.
Minister of Communities Ronald Bulkan later announced that Parker would be asked to step down until the conclusion of the criminal proceedings against him.
Parker had vehemently denied the accusations of having sexually assaulted the woman and continues to maintain his innocence.
Comments

(Trinidad Guardian) When everyone felt that the case was closed on the kidnap and murder of United States citizen Balram "Balo" Maharaj, comes news that new motions have been filed in the Federal Court in Washington DC, which could see a new trial for the seven convicted Trinidadians.

HARARE,  (Reuters) – President Robert Mugabe was dismissed as leader of Zimbabwe's ruling ZANU-PF party today in a move to force a peaceful end to his 37 years in power following a de facto military coup.

Former Attorney General Anil Nandlall says that the Attorney General's Chambers' retention of six attorneys to prosecute a number of high profile cases is unconstitutional and he is warning that the right to a fair trial will be compromised by a politically-tainted process.
Guyana's total public debt increased from $317.7 billion to $330.6 billion in 2016 but the total debt as a percentage of Gross Domestic Product (GDP) declined to 46.4% from 48.6% at the end of 2015 due to a nominal increase in the GDP.

Family, friends and well-wishers turned out in their numbers to say their final goodbyes to murdered school teacher Kescia Branche, who was laid to rest yesterday afternoon.