The Ministry of Natural Resources is working with Conservation International-Guyana and regional administrators to ensure that a recently completed water reservoir in the Rupununi is sustainably managed.
The Department of Public Information (DPI) said that on Wednesday, Minister of Natural Resources Raphael Trotman visited the pilot project which is intended to deal with any water shortage in the Rupununi; particularly during the dry season.
The reservoir is situated on  lands belonging to Nappi, DPI said, and will bring relief to that community and surrounding villages. "We have invited Conservation International (CI-G) to give us guidance as to how we could have good management of this resource," Trotman told DPI.
CI-Guyana will be working with the village and regional administration on the sustainability of the reservoir. "CI's interest is very much related to the work we're doing at the regional and indeed the work we're doing with local communities over the years in building the kinds of benefit sharing, management mechanisms, governance mechanisms by which common pool resources, in this case water…is managed," Vice President Dr. David Singh said, according to the DPI release.
Toshao of Nappi, Walter Henrico, had previously indicated to DPI that the village would like to explore aquaculture at the reservoir. DPI said that Trotman is seeking to finalise the management of the reservoir before it is officially handed over. The reservoir is buttressed by a 450 meter dam and can hold 4.5M cubic meters of water at its maximum.
This partnership is the first of its kind and Trotman said it will be used as an indicator as the Ministry explores water harvesting as a resource. A similar reservoir is planned for the South Rupununi.
Comments

The Ministry of the Presidency (MotP) last night labelled as reckless a statement by the Guyana Bar Association (GBA) expressing concern that appointments of a Chancellor of the Judiciary and a Chief Justice (CJ) might be made by the government outside of the constitutional provisions.

The office of the Auditor General (AG) has not been afforded enough access to the City Council's records to judge whether its accounts are "clean," AG Deodat Sharma said yesterday.
The National Industrial and Commercial Investments Limited (NI-CIL) recently accepted an offer made by Hong Kong Golden Telecom Limited (HKGT) to pay US$3M of the outstanding US$5M for the purchase of government shares in the Guyana Telephone and Telegraph Company (GTT), sources say.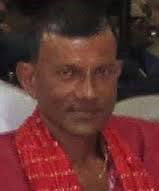 A 16-year-old was yesterday committed to stand trial for the murder of Hemant Persaud, the brother of Police Commissioner Seelall Persaud, who was fatally stabbed last year at the Stabroek Market.

Baishanlin still owes the Guyana Forestry Commission (GFC) some $80 million, according to Commissioner of Forests James Singh, who also says that claims about the company illegally logging at one of the concessions it previously owned are false.