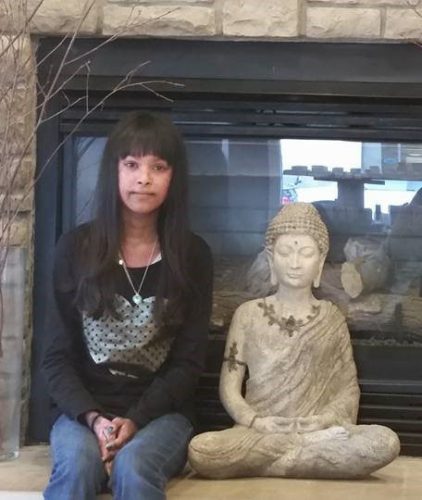 Now aged 14, Sasha Bharrat will finally have the opportunity to attend school as she is receiving treatment for a skin condition, which for years barred her from attended classes; the young teenager says she is anxiously awaiting that opportunity as she hungers to learn.
While Sasha's parents home-schooled her to the best of their ability and she had some lessons on the internet, the young girl said that every morning she would look longingly at the passing children dressed in uniforms and wish for the day when she would be one of them. While she is anxious, Sasha said she is also scared to attend school but she hopes to one day become a doctor as she wants to help children. If that does not materialize, she has a back-up plan, just to "be there" for children in need.
A recent camp experience in the United States and ongoing treatment will now allow her to attend normal school. She is expected to be enrolled in Professional Education, a private institution in Mon Repos which has already agreed to accept her.
Sasha, who celebrated her 14th birthday yesterday, has the condition Autosomal Recessive Congenital Ichthyosis (ARCI) Lamellar Ichthyosis, which occurs in approximately 1 in 300,000 births. Recessive genes, similar to those that result in persons having blue eyes, cause lamellar ichthyosis. The genetic abnormalities ….
To continue reading this article
Comments

India using chilli sprays, stun grenades to dissuade Rohingya influx (Reuters photo)   NEW DELHI, (Reuters) – India has stepped up security along its largely porous eastern border with Bangladesh and is using "chilli and stun grenades" to block the entry of Rohingya Muslims fleeing from violence in their homeland of Myanmar, officials said on Friday.

Following an opposition request for an investigation into the award of the contract for the feasibility study and design for the new Demerara River crossing to LievenseCSO, the Ministry of Public Infrastructure last night said that the Dutch firm was selected after the initial procurement process was annulled and it sought out consultants worldwide.
Facing a cash crunch, the Guyana Sugar Corporation (GuySuCo) will be selling land to the Central Housing and Planning Authority (CH&PA), Minister of State Joseph Harmon announced yesterday, while noting that the corporation has sought a bailout to the tune of $2 billion.
Minister of Citizenship Winston Felix yesterday announced that priority will be given to children in evacuation efforts organized by the Guyana Government to assist Guyanese who remain on hurricane-affected islands, as there remains the risk of an epidemic in some cases.

A 59-year-old woman was yesterday sentenced to four years in prison and fined $6.5 million after she pleaded guilty to the possession of five pounds of cocaine, which she was trying to sneak on board a flight to New York.