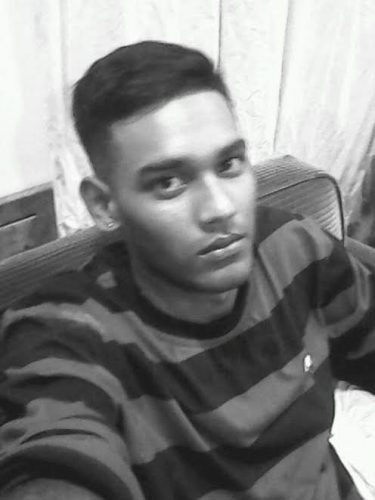 A Sunday morning accident at Meten-meer-Zorg, West Coast Demerara (WCD), has claimed the life of a Hague motorcyclist and left one person hospitalised in a critical condition at the George-town Public Hospital (GPH).
The dead man, Kevin Richard Singh, 21, of Lot 73 Haley Street, Wortman-ville, Georgetown and Hague Backdam, WCD, an electrician, and the injured pillion rider Verna Wills of Lot 24 Anna Catherina, WCD, were travelling to the city when the accident occurred on the public road around 2.55 am yesterday.
Singh crashed into a parked forklift and succumbed to his injuries at the GPH at around 6.30 am.  Police in a statement said that  Singh was riding CH8732 proceeding east along the northern carriageway of the road.
The motorcycle collided with forklift number 890337 which was parked on the edge of the road resulting in the couple falling off the motorcycle and landing on the parapet.
Public-spirited citizens rushed to the victims who they said were both found unconscious. They were picked up and taken to the Leonora Cottage Hospital where they were treated and transported to the GPH.
Singh's family only became aware of the accident after it was posted by an online news agency.
A cousin, Kayann Singh said after they learnt of the accident they telephoned a friend who lives in Meten- meer-Zorg to confirm if an accident did occur there. Upon confirmation the family rushed to the GPH where they were told of Singh's death.
Stabroek News understands that the young man had left his Hague home to visit his friend to view the CPL cricket final.
It was reported that neither Singh nor Wills was wearing a helmet at the time of the accident.
Comments
CJIAC wishes to advise departing passengers effective Sunday, February 18, 2018 at approximately 14:00 h that the Immigration and Security operations will be relocated to the former Greeters Hall to facilitate the ongoing airport expansion project.

In keeping with its commitment to release petroleum and other agreements, the government today released the one with Canadian miner, CGX.

(Trinidad Guardian) Trinidad and Tobago has an ISIS cell. The official confirmation came yesterday from Prime Minister Dr Keith Rowley, who was grilled by Opposition MPs on the recent threatened plot to disrupt Carnival 2018 and the causes.

City Hall is currently executing works at the Le Repentir Cemetery under a contract valued at over $100 million without any evidence of public tendering.

Whether Guyana becomes "immensely rich or just another Trump-hole" from oil revenues depends largely on its ability to attract specialty experience and competencies in industry and sectors here, says business website Bloomberg.