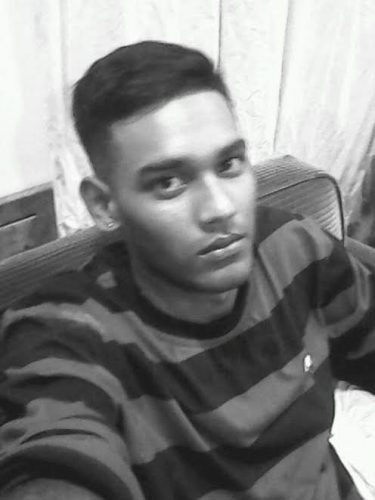 A Sunday morning accident at Meten-meer-Zorg, West Coast Demerara (WCD), has claimed the life of a Hague motorcyclist and left one person hospitalised in a critical condition at the George-town Public Hospital (GPH).
The dead man, Kevin Richard Singh, 21, of Lot 73 Haley Street, Wortman-ville, Georgetown and Hague Backdam, WCD, an electrician, and the injured pillion rider Verna Wills of Lot 24 Anna Catherina, WCD, were travelling to the city when the accident occurred on the public road around 2.55 am yesterday.
Singh crashed into a parked forklift and succumbed to his injuries at the GPH at around 6.30 am.  Police in a statement said that  Singh was riding CH8732 proceeding east along the northern carriageway of the road.
The motorcycle collided with forklift number 890337 which was parked on the edge of the road resulting in the couple falling off the motorcycle and landing on the parapet.
Public-spirited citizens rushed to the victims who they said were both found unconscious. They were picked up and taken to the Leonora Cottage Hospital where they were treated and transported to the GPH.
Singh's family only became aware of the accident after it was posted by an online news agency.
A cousin, Kayann Singh said after they learnt of the accident they telephoned a friend who lives in Meten- meer-Zorg to confirm if an accident did occur there. Upon confirmation the family rushed to the GPH where they were told of Singh's death.
Stabroek News understands that the young man had left his Hague home to visit his friend to view the CPL cricket final.
It was reported that neither Singh nor Wills was wearing a helmet at the time of the accident.
Comments

HARARE,  (Reuters) – Robert Mugabe resigned as Zimbabwe's president on Tuesday a week after the army and his former political allies moved against him, ending four decades of rule by a man who turned from independence hero to archetypal African strongman.

Travis Cleveland c/d 'Spin and Kill', 31 years , unemployed of 337 South Sophia has been charged with murder of Jamal Munroe which occurred on November 03, 2017 at Black and White Bridge, 'C' Field, Sophia, ECD, the police say.

YANGON/NAYPYITAW, (Reuters) – Members of the U.S. Congress said today operations carried out against the Rohingya Muslims in Myanmar had "all the hallmarks" of ethnic cleansing, while the country's leader Aung San Suu Kyi expressed doubts about allegations of rights abuses.

The leadership of the Alliance For Change (AFC) is to formally write A Partnership for National Unity (APNU) on a revision of the Cummingsburg Accord which birthed the coalition and saw it winning the 2015 general elections.

The Education Ministry is probing a complaint against a teacher of the Bishops' High School, who is accused of sexually grooming and molesting female students during the 10 years he has worked there.