A construction worker was remanded to prison yesterday after he was charged with two armed robberies.
City magistrate Judy Latchman read the charges to Dexter Wray.
It was alleged that on September 2, at Houston Public Road, Wray, in the company of another and armed with a gun, robbed Roxanne John of a shoulder bag, a phone, an umbrella and a pair of shades, along with $13,000 and $18,000 in cash and $4,000 in keys, which were the property of Vic Oditt.
The stolen items had a total value of $50,500.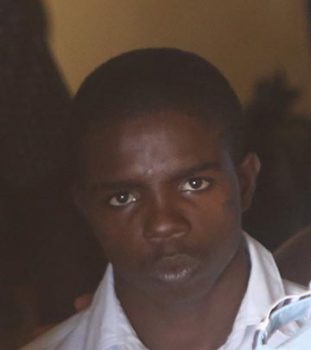 The other charge stated that on the same date and at the very location, Wray, in company of another and armed with a gun, robbed Mark Josiah of $25,000.
Wray, of 95 Second Street, Agricola, denied both charges.
Attorney Paul Fung-A-Fat, who represented him, requested that he be granted bail. But prosecutor Shawn Gonsalves objected to bail being granted, citing the seriousness of the crime and the fact that a firearm was allegedly used. As a result, Wray was subsequently remanded to prison and the proceedings were adjourned until September 25.
Comments

The Customs Anti-Narcotic Unit (CANU) today said that Tiffini Collison, 26-years-old of F 21 Samaan Street Guyhoc Park, Georgetown posted four hammocks suspected to have been saturated with cocaine to an address in the USA through an International Courier Service in Georgetown sometime last week.

President David Granger (centre) today met  President of Chevron Africa and Latin America Exploration and Production Company,  Clay Neff (third from right).

Anthony Weiner   NEW YORK,  (Reuters) – Former U.S. Congressman Anthony Weiner was sentenced to 21 months in prison today for sending sexually explicit messages to a 15-year-old girl, setting off a scandal that played a role in the 2016 U.S.

A family's preparation for a memorial service ended tragically early yesterday morning when bandits stormed into their home in  East La Penitence and discharged several rounds, fatally wounding a man and injuring two of his brothers.

(Trinidad Express) The Trinidad and Tobago Defence Force and Coast Guard have been at the helm of a dramatic rescue of a family of four, including two small children, who lived in a car for four days after their home in Dominica was destroyed last Monday by Hurricane Maria.