A 64-year-old Tain Settlement, Corentyne, Berbice man was left dead on the Tain Public Road, after he was struck by a car on Sunday evening.
Andre Buchan, also known as "Nalvan," who was a former GuySuCo employee of Lot 51 Block 4 Tain Settlement, was heading to deliver food for a friend when he was struck on the road around 7 pm.
Police have since launched an investigation. However, Stabroek News was told that no arrest had been made up to yesterday afternoon.
A police source said that some persons are claiming that Buchan was reportedly intoxicated and lying on the main road at the time of accident.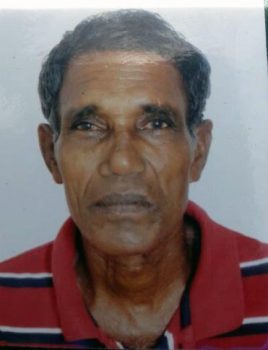 Buchan's brother, Michael Latchaya, 48, told Stabroek News that his family received a message that a car had hit Buchan. The man related that family members then rushed to the scene, where they discovered Buchan's lifeless body in a "pile of blood."
According to Latchaya, the family was told, "One car sway away and one hit him and gone." Residents said Buchan was bleeding from his nose, mouth and ears after he was struck.
Traffic Chief for 'B' Division Boodnarine Persaud along with other traffic police visited the scene yesterday to gather more information on the car that hit Buchan.
Residents related that they heard an impact, after which they saw a white car stop. The driver reportedly exited and looked around. However, it was then that another car reportedly sped past. It is unclear whether both cars would have come in contact with Buchan.
Buchan was a father of one.
Comments

On Friday, the Ministry of Foreign Affairs concluded a five-day orientation programme for newly recruited Foreign Service Officers (FSOs), which was held at the Roraima Duke Lodge in Kingston.

HARARE,  (Reuters) – Robert Mugabe resigned as Zimbabwe's president on Tuesday a week after the army and his former political allies moved against him, ending four decades of rule by a man who turned from independence hero to archetypal African strongman.

Travis Cleveland c/d 'Spin and Kill', 31 years , unemployed of 337 South Sophia has been charged with murder of Jamal Munroe which occurred on November 03, 2017 at Black and White Bridge, 'C' Field, Sophia, ECD, the police say.

YANGON/NAYPYITAW, (Reuters) – Members of the U.S. Congress said today operations carried out against the Rohingya Muslims in Myanmar had "all the hallmarks" of ethnic cleansing, while the country's leader Aung San Suu Kyi expressed doubts about allegations of rights abuses.

The leadership of the Alliance For Change (AFC) is to formally write A Partnership for National Unity (APNU) on a revision of the Cummingsburg Accord which birthed the coalition and saw it winning the 2015 general elections.