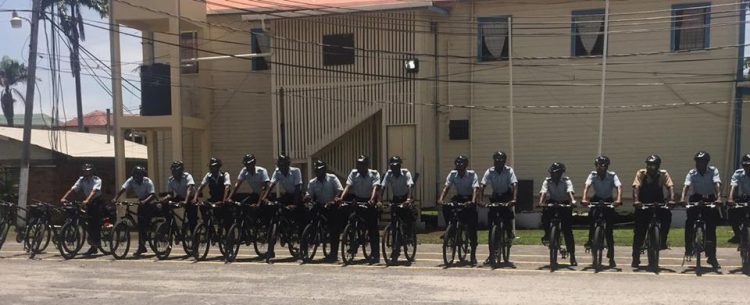 Assistant Commissioner of Police Clifton Hicken on Monday said that out of the 170 bicycles that the US embassy recently donated to the Guyana Police Force, 25 were allotted to 'A' Division and patrols have commenced in the division.
"We will allot cycles and training depending on the needs coming out of the division", he said. All seven administrative divisions will receive bicycles and the location will be decided by the respective commanders.
Hicken said the force has initiated team policing which speaks directly to police in the community understanding and identifying vulnerable areas where there are issues such as gambling, the sales of drugs etc.  "All of this will be part of the whole team policing process. It helps to build our intel network because I think the force is driven by a data base and coming out of the data we inform operations and policy decision", he said. Twelve ranks inclusive of four from the city constabulary last year visited Las Vegas through a police cycling training.
During the training, they were exposed to practical and classroom exercises on how to ride safely and comfortably in traffic. They were also taught enhanced riding skills and given the opportunity to practice in diverse traffic conditions to ensure officers could employ techniques to keep themselves safe and free from accidents while traversing public roads.  The officers were also taught defensive tactics to use while on patrol and how to best maintain and repair their equipment.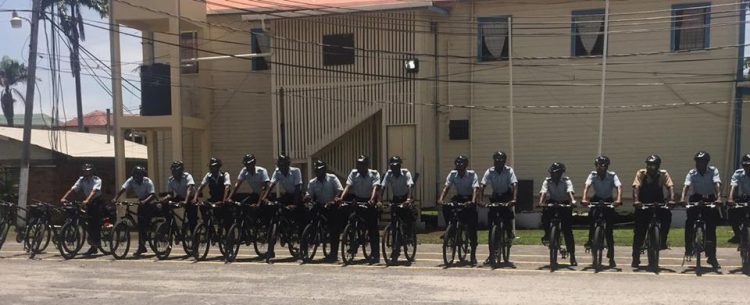 Hicken said the bicycles are easy to navigate through the traffic and will help members of the public to have better access to the police. "This gives us more interaction with members of the public and I think this will work with us because by doing that we will up the level in terms of delivery to the public", he said.
He said, a policy was also developed to ensure that the bicycles are maintained.
Comments

Charlotte, NC – September 18, 2016: San Francisco 49ers quarterback Colin Kaepernick (7) walks off the field at Bank of America Stadium with his fist up in the air after their game against the Panthers.(Gerry Melendez for ESPN) NEW YORK, (Reuters) – President Donald Trump and the sports world engaged in an intensifying spat on Saturday after he called for National Football League owners to fire players who protest during the U.S.

The body of 13-year-old Leonard Archibald, who was raped and then dumped in the Berbice River, was recovered this afternoon.

Lawrence Duprey (Trinidad Express) Former executive chairman of CL Financial Lawrence Duprey was ordered by a Florida judge in July to pay more than US$60 million to British American Insurance Company (BAICO) in damages in relation to the TT$1.9 billion Green Island project in Osceola County, Florida.

Bharrat Jagdeo The PPP/C is committed to constitutional reform, says Opposition Leader Bharrat Jagdeo.

Ray Lengend Ray Lengend who went on a fire-bombing spree of mosques throughout southeast Queens, this week pleaded guilty to the crimes against Muslims who the 45-year-old Guyanese man claimed in 2012 had been "trying to take over his life", according to the Times Ledger in Queens, New York.