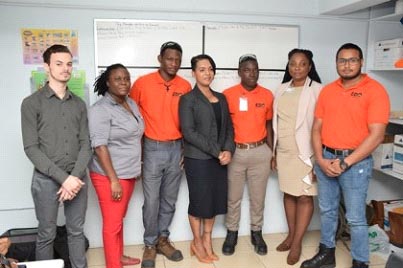 Four Government Technical Institute (GTI) graduates are benefitting from hands-on training in the oil and gas industry through a programme facilitated by El Dorado Offshore (EDO).
According to a press release from the Department of Public Information (DPI), EDO's Country Manager, Kerri Gravesande stated that the programme will run for six months and is aimed at empowering young people and is part of EDO's local content development plan to bring awareness of opportunities in the oil and gas industry. She added that at the end of the programme, two of the participants will secure positions on the Stena Rig which is conducting exploration drilling, while the other two will have an opportunity to work on future vessels.
Principal of GTI, Renita Crandon-Duncan, said partnering with EDO has provided "tons of opportunities for our students".
"Most importantly, our students ….
To continue reading this article
Comments

Charlotte, NC – September 18, 2016: San Francisco 49ers quarterback Colin Kaepernick (7) walks off the field at Bank of America Stadium with his fist up in the air after their game against the Panthers.(Gerry Melendez for ESPN) NEW YORK, (Reuters) – President Donald Trump and the sports world engaged in an intensifying spat on Saturday after he called for National Football League owners to fire players who protest during the U.S.

The body of 13-year-old Leonard Archibald, who was raped and then dumped in the Berbice River, was recovered this afternoon.

Lawrence Duprey (Trinidad Express) Former executive chairman of CL Financial Lawrence Duprey was ordered by a Florida judge in July to pay more than US$60 million to British American Insurance Company (BAICO) in damages in relation to the TT$1.9 billion Green Island project in Osceola County, Florida.

Bharrat Jagdeo The PPP/C is committed to constitutional reform, says Opposition Leader Bharrat Jagdeo.

Ray Lengend Ray Lengend who went on a fire-bombing spree of mosques throughout southeast Queens, this week pleaded guilty to the crimes against Muslims who the 45-year-old Guyanese man claimed in 2012 had been "trying to take over his life", according to the Times Ledger in Queens, New York.