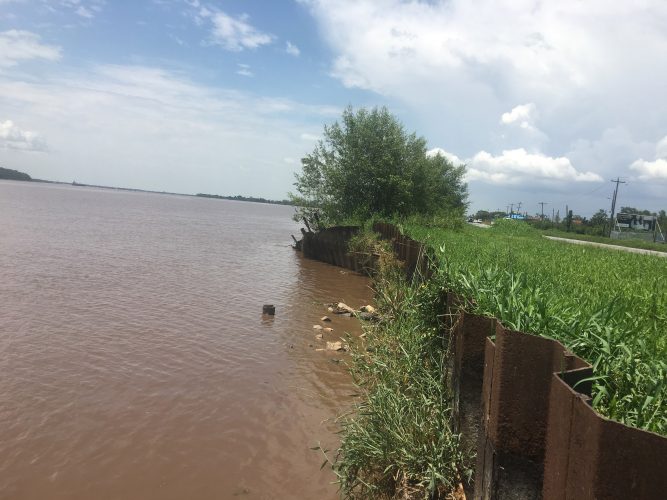 The Ministry of Public Infrastructure has invited bids for the upgrade of the Good Success/New Hope river defences.
A ministry advertisement said that the government has applied for financing from the Caribbean Development Bank (CDB) in the amount of US$25 million, which will be used for the ministry's Sea and River Defence Resilience Project. A portion of the money will be used towards the financing of the project to reconstruct and upgrade the Good Success/New Hope, East Bank Demerara river defences, which were last worked on five years ago.
The project will encompass the realignment of the river defences, excavation and earth work moving for the revetment in tidal zone, installation of steel sheet and screw piles, concrete works in marine environment and the construction of scour protection consisting of sand, geotextile filter fabric, underlayer rock and armour rock.
Bids are expected to be submitted before October 31 at….
To continue reading this article
Comments

Charlotte, NC – September 18, 2016: San Francisco 49ers quarterback Colin Kaepernick (7) walks off the field at Bank of America Stadium with his fist up in the air after their game against the Panthers.(Gerry Melendez for ESPN) NEW YORK, (Reuters) – President Donald Trump and the sports world engaged in an intensifying spat on Saturday after he called for National Football League owners to fire players who protest during the U.S.

The body of 13-year-old Leonard Archibald, who was raped and then dumped in the Berbice River, was recovered this afternoon.

Lawrence Duprey (Trinidad Express) Former executive chairman of CL Financial Lawrence Duprey was ordered by a Florida judge in July to pay more than US$60 million to British American Insurance Company (BAICO) in damages in relation to the TT$1.9 billion Green Island project in Osceola County, Florida.

Bharrat Jagdeo The PPP/C is committed to constitutional reform, says Opposition Leader Bharrat Jagdeo.

Ray Lengend Ray Lengend who went on a fire-bombing spree of mosques throughout southeast Queens, this week pleaded guilty to the crimes against Muslims who the 45-year-old Guyanese man claimed in 2012 had been "trying to take over his life", according to the Times Ledger in Queens, New York.