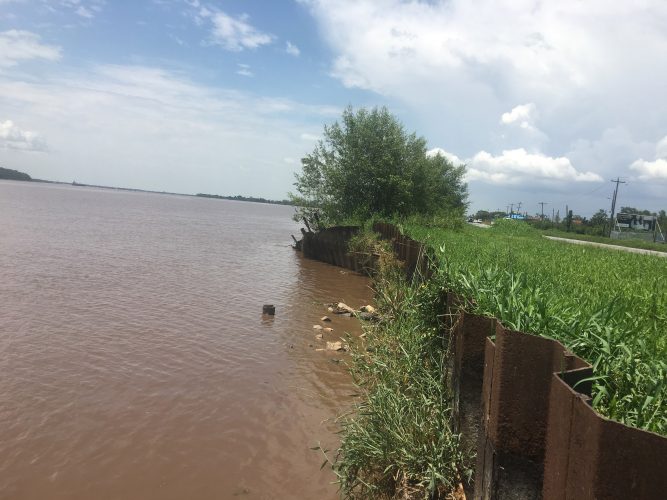 The Ministry of Public Infrastructure has invited bids for the upgrade of the Good Success/New Hope river defences.
A ministry advertisement said that the government has applied for financing from the Caribbean Development Bank (CDB) in the amount of US$25 million, which will be used for the ministry's Sea and River Defence Resilience Project. A portion of the money will be used towards the financing of the project to reconstruct and upgrade the Good Success/New Hope, East Bank Demerara river defences, which were last worked on five years ago.
The project will encompass the realignment of the river defences, excavation and earth work moving for the revetment in tidal zone, installation of steel sheet and screw piles, concrete works in marine environment and the construction of scour protection consisting of sand, geotextile filter fabric, underlayer rock and armour rock.
Bids are expected to be submitted before October 31 at either the Ministry of Public Infrastructure or the National Procurement and Tender Administration Board at the Ministry of Finance.
In 2012, revetment works along the New Hope Public Road were completed after the Demerara River had been eroding the public road in the community for some time. The works started in November, 2011, with two construction companies undertaking them at a cost of some $300 million.
Stabroek News visited the area and residents questioned why there was a need for an upgrade when works were carried out only five years ago. "It brings up the question [as to] whether the work they do before was bad work or it wasn't enough or something. I living here long and I remember how it was before the works five years ago and the drastic changes but I don't see what else needs to be done right now," Henry Rajpaul told Stabroek News on Monday.
Comments

More leaked emails from Alliance for Change (AFC) executives show that several key figures did not agree with President David Granger's unilateral selection of Justice James Patterson as the Guyana Elections Commission Chairman on October 19.

THE HAGUE, (Reuters) – A U.N. tribunal today convicted former Bosnian Serb military commander Ratko Mladic of genocide and crimes against humanity for orchestrating massacres and ethnic cleansing during Bosnia's war and sentenced him to life in prison.

Chinese companies yesterday dominated the submission of tenders to prequalify for the financing, designing and building of the new Demerara River Bridge.

Coen Jackson, the Bishops' High School teacher accused of sexually grooming and preying on female students, yesterday denied the allegations levelled against him, while charging that the complaint now being investigated by the Education Ministry stemmed from a personal grudge.

In restructuring its sugar industry, Guyana has the advantage of being able to learn from the mistakes and successes of those Caribbean territories that have already completed the process, according to consultant Sharma Lalla.