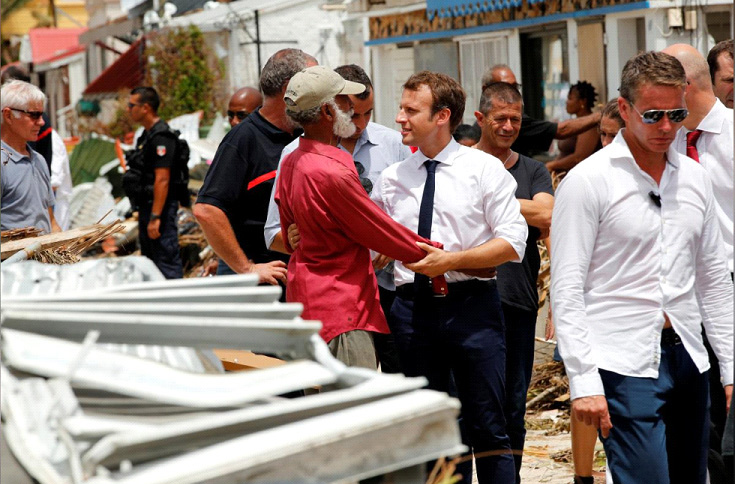 PORT-AU-PRINCE,  (Reuters) – French President Emmanuel Macron vowed to quickly rebuild the islands of the French Caribbean during a visit yesterday meant to dispel anger at his government's response to Hurricane Irma, which killed at least 43 people in the region.
The clutch of Caribbean islands hardest hit by the storm were mainly overseas territories belonging to Britain, France and the Netherlands, whose tens of thousands of residents are European Union citizens. The U.S. Virgin Islands were also hard hit.
European countries and the United States have sent troops to deliver aid and provide security after the storm toppled homes and hospitals, but locals and tourists short of food or shelter say help was slow to arrive.
Macron, who is also facing the first test at home of his resolve to reform the economy with a day of protests against his labour reforms, denied that authorities reacted too slowly.
Basic services in the region were lost after Irma, weakening law and order, and looting erupted on some islands. Haiti's government said yesterday more than 10,000 people were in shelters after heavy rains flooded the former French colony.
Britain was forced to reinforce its marines on the British Virgin Islands after more than 100 "very serious" inmates escaped after a prison was breached in the storm, Alan Duncan, Britain's minister for Europe and the Americas, said on Tuesday.
It was not clear if the prisoners had been captured.
Macron travelled yesterday to St. Martin, an island France shares with the Netherlands that suffered some of the worst devastation from Irma. Most of the 10 people killed by Irma lived on French territories there.
"St. Martin will be reborn, I promise," Macron told reporters in Pointe-a-Pitre, on the French island of Guadeloupe. "I will shake up all the rules and procedures so the job is done as quickly as possible. It will be done quickly, it will be done well, and it will be done better."
Macron said 50 million euros will be made available as soon as possible, and 2,000 security forces have been deployed, including the army, roughly double the original contingent.
The French government has said it would take at least three months for water distribution to normalize. The electricity supply has also been badly hit, authorities said.
British Foreign Secretary Boris Johnson traveled yesterday to the Caribbean to visit British territories devastated by Irma. Among the hardest hit islands were the British Virgin Islands, Anguilla, plus Antigua and Barbuda.
"He is very keen to see for himself the devastation, to reassure governors who have done a magnificent job under quite the most incredible pressure," Duncan said.
Four people died on Anguilla, up from one reported previously, Duncan said, while the death toll on the British Virgin Islands rose by one to five.
Speaking on CNN, Stacey Plaskett, delegate to the U.S. House of Representatives for the U.S. Virgin Islands, said there was no real looting occurring, but rather desperate people scrambling for scarce supplies.
"Our airport, the terminal looks as if grenades have been inside there and bombed the places out," she said. "This is not anything that we could've been prepared for."
Comments

The legal team for former New Building Society (NBS) manager, Maurice Arjoon, who was wrongfully dismissed, have levied on the bank's assets in a bid to recoup the $59,033,000 pension owed to him by the financial institution.
An alleged inebriated farmer of 54 Strath Campbell Village, Mahaicony, ECD, died at about 3 pm  yesterday at Chance Village, Mahaicony, after a vehicle he was reportedly not given permission to drive, crashed into a utility pole.

MELBOURNE,  (Reuters) – Rafa Nadal's Australian Open quarter-final curse struck again on Tuesday, an injury forcing the top seed to retire in the fifth set against Croatia's Marin Cilic.

Several hundred more sugar workers are expected to be laid off from the Skeldon, Rose Hall, and East Demerara estates by next month and the Guyana Agricultural and General Workers Union (GAWU) yesterday urged that the decision be reviewed.

The commencement order establishing the Telecommunications Agency was signed last Friday, in anticipation of the liberalisation of the telecoms sector, Minister of Public Tele-communications Cathy Hughes announced yesterday.