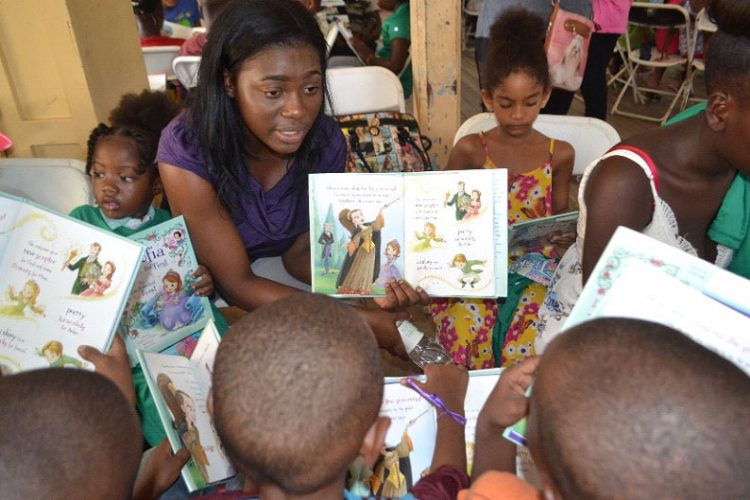 Over 300 children from the communities of Charles-town, Albouystown, Tiger Bay and D'Urban Backlands, turned out on Saturday at the Carmel Secondary School, where they participated in group reading sessions in observance of World Literacy Day.
They were beneficiaries of a project, dubbed "Read, Lead, Exceed," which was spearheaded by the Rotaract Club of Georgetown Central, in collaboration with Latoya Bernard of the Oshi Centre for Health and Social Policy, and Councillor for constituency 10 Malcolm Ferreira.
More than 700 books were available to be distributed to the participants as gifts, thanks to donations made by Bernard through the Centre.
"What we want to do as a part of this project is to stimulate the children's interest for reading. We want to show them that ….
To continue reading this article
Comments

Charlotte, NC – September 18, 2016: San Francisco 49ers quarterback Colin Kaepernick (7) walks off the field at Bank of America Stadium with his fist up in the air after their game against the Panthers.(Gerry Melendez for ESPN) NEW YORK, (Reuters) – President Donald Trump and the sports world engaged in an intensifying spat on Saturday after he called for National Football League owners to fire players who protest during the U.S.

The body of 13-year-old Leonard Archibald, who was raped and then dumped in the Berbice River, was recovered this afternoon.

Lawrence Duprey (Trinidad Express) Former executive chairman of CL Financial Lawrence Duprey was ordered by a Florida judge in July to pay more than US$60 million to British American Insurance Company (BAICO) in damages in relation to the TT$1.9 billion Green Island project in Osceola County, Florida.

Bharrat Jagdeo The PPP/C is committed to constitutional reform, says Opposition Leader Bharrat Jagdeo.

Ray Lengend Ray Lengend who went on a fire-bombing spree of mosques throughout southeast Queens, this week pleaded guilty to the crimes against Muslims who the 45-year-old Guyanese man claimed in 2012 had been "trying to take over his life", according to the Times Ledger in Queens, New York.