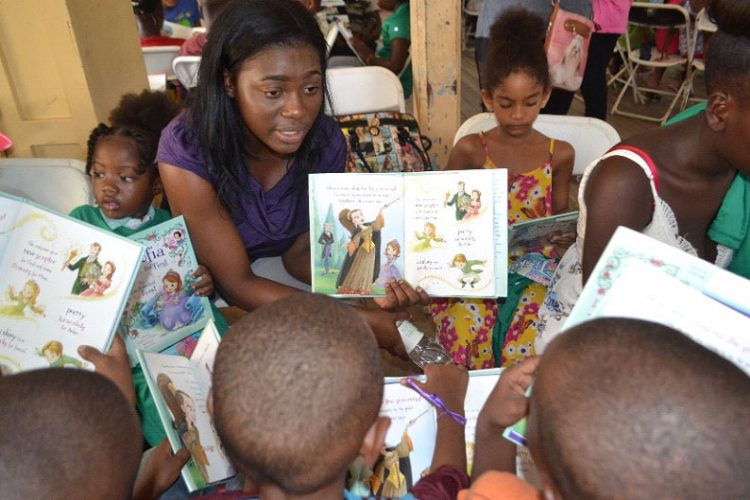 Over 300 children from the communities of Charles-town, Albouystown, Tiger Bay and D'Urban Backlands, turned out on Saturday at the Carmel Secondary School, where they participated in group reading sessions in observance of World Literacy Day.
They were beneficiaries of a project, dubbed "Read, Lead, Exceed," which was spearheaded by the Rotaract Club of Georgetown Central, in collaboration with Latoya Bernard of the Oshi Centre for Health and Social Policy, and Councillor for constituency 10 Malcolm Ferreira.
More than 700 books were available to be distributed to the participants as gifts, thanks to donations made by Bernard through the Centre.
"What we want to do as a part of this project is to stimulate the children's interest for reading. We want to show them that reading is fun, we want to kind of motivate them to continue to do this when they go home," Julene Barrett, the event's coordinator, said on Saturday.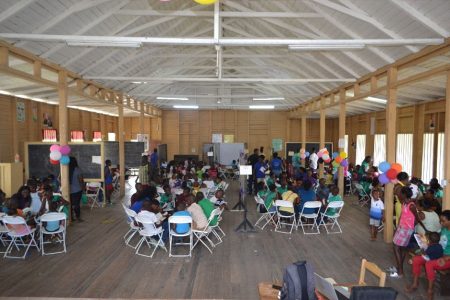 The children were divided into groups by age, with each group focusing on a particular book. Every child was given a book to follow along.
"So what they're doing is they're doing role playing, they're doing voices, they're asking them to read, they're asking questions; just to get them engaged and involved in this whole thing," Barrett added, while noting that the facilitators included Rotarians, Rotaractors, and former pageant personalities.
"The aim was to target children from four to 16 years of age, but we realised today [Saturday] we have young adults up to 20 years old…and something new that we didn't expect is that we have the parents participating in a reading session too," she stated, relating that in those cases the parents were given tips on how to engage with their children to stimulate their passion for reading.
The "grand literacy project" as it was described by Barrett, was phase three of the club's annual literacy project, which this year commenced with a book drive, and continued with a literacy camp held at the Carmel Secondary School in August.
Barrett said that around 80 children attended the camp on a daily basis and received remedial reading lessons. She related that the National Centre for Educational Resource Development (NCERD) was instrumental in this regard, as it provided qualified teachers to conduct classes during the camp.
Comments

More leaked emails from Alliance for Change (AFC) executives show that several key figures did not agree with President David Granger's unilateral selection of Justice James Patterson as the Guyana Elections Commission Chairman on October 19.

THE HAGUE, (Reuters) – A U.N. tribunal today convicted former Bosnian Serb military commander Ratko Mladic of genocide and crimes against humanity for orchestrating massacres and ethnic cleansing during Bosnia's war and sentenced him to life in prison.

Chinese companies yesterday dominated the submission of tenders to prequalify for the financing, designing and building of the new Demerara River Bridge.

Coen Jackson, the Bishops' High School teacher accused of sexually grooming and preying on female students, yesterday denied the allegations levelled against him, while charging that the complaint now being investigated by the Education Ministry stemmed from a personal grudge.

In restructuring its sugar industry, Guyana has the advantage of being able to learn from the mistakes and successes of those Caribbean territories that have already completed the process, according to consultant Sharma Lalla.