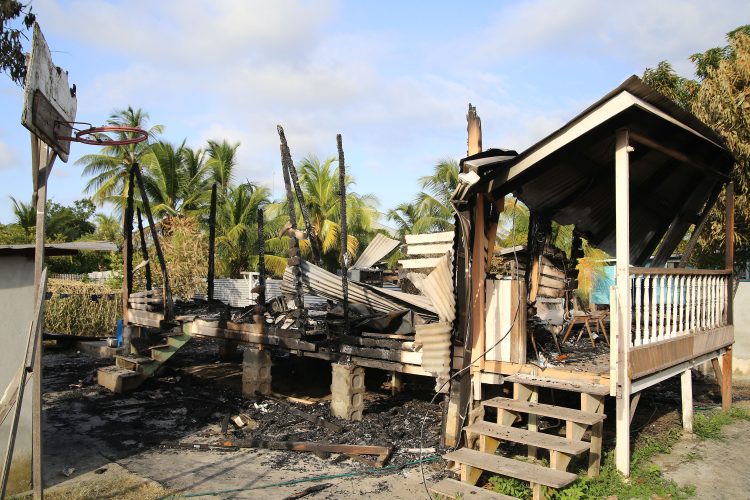 A primary school teacher has gone into hiding after being accused of setting her husband's Sophia house on fire early yesterday morning while he and his 16-year-old son were asleep inside.
The fire began around 12.30 am yesterday and is suspected to be as a result of an argument that Brucene Walters had with her husband, Richard Walters, on Monday afternoon.
At the time of the fire, Richard and his son were asleep in the Lot 1419 Cumming's Park, Sophia single-flat wooden structure. However, after being awakened by the smell of smoke and kerosene, the father and son managed to escape from the burning building.
Richard sustained minor burns about his body and was taken to the Georgetown Public Hospital for medical attention.
Meanwhile, Brucene fled the scene during the fire and was up to last evening yet to be located.
Stabroek News understands that the couple shared a "rocky" relationship and were known for having regular arguments.
A relative, who wished not to be named, told this newspaper that the Walters were involved in an argument around 5 pm on Monday after Brucene reportedly destroyed some items belonging to Richard. A report of this incident was made to the police at the Turkeyen Police Station but the relative said the police failed to turn up. "They had some argument over the burning of some materials that Richard bought and he went to the police and so and after they didn't come and things cool down, I hear the house on fire," he explained.
The relative noted that he was at a friend's house in the area when someone told him that the house was on fire. He said by time he arrived at the scene, the house was completely engulfed by flames. Nothing was saved.
Comments

The Charlestown bond PPP/C MP Juan Edghill yesterday wrote the Chairman of the Public Procurement Commission (PPC), Carol Corbin calling for an inquiry into the government's renting of a property in Charlestown for the storage of drugs.

Frauke Petry   BERLIN,  (Reuters) – The Alternative for Germany's (AfD) co-leader Frauke Petry said on Tuesday she was leaving the far-right party, dealing a major blow to its credibility just two days after it surged to third place in a national election.

Ben Stokes   LONDON,  (Reuters) – England all-rounder Ben Stokes was arrested early today after an incident in Bristol and will miss the fourth one-day international against West Indies, the England and Wales Cricket Board (ECB) said.

Dominica was devastated by Hurricane Maria (Reuters photo) Dominica's police chief says the death toll following the passage of Hurricane Maria has now risen to 27.

In keeping with a proposal made in 2015, the United Nations Office on Drugs and Crime (UNODC) has appointed a UN prosecutor to deal with corruption matters in Guyana but the details of his work have not been made public.