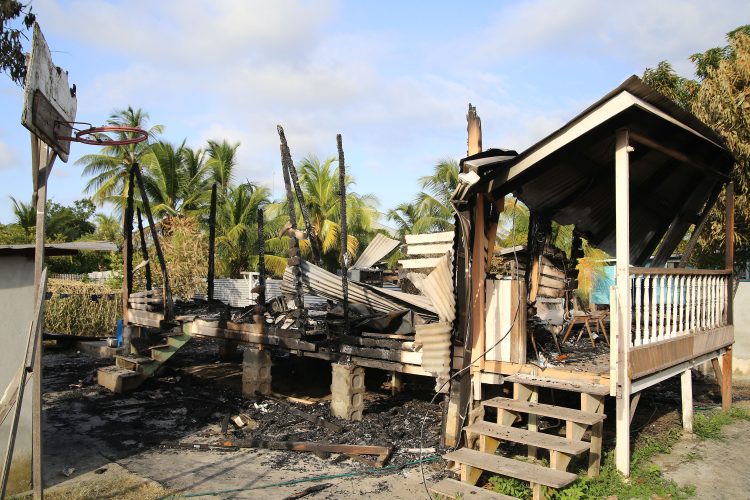 A primary school teacher has gone into hiding after being accused of setting her husband's Sophia house on fire early yesterday morning while he and his 16-year-old son were asleep inside.
The fire began around 12.30 am yesterday and is suspected to be as a result of an argument that Brucene Walters had with her husband, Richard Walters, on Monday afternoon.
At the time of the fire, Richard and his son were asleep in the Lot 1419 Cumming's Park, Sophia single-flat wooden structure. However, after being awakened by the smell of smoke and kerosene, the father and son managed to escape from the burning building.
Richard sustained minor burns about his body and was taken to the Georgetown Public Hospital for medical attention.
Meanwhile, Brucene fled the scene during the fire and was up to last evening yet to be located.
Stabroek News understands that the couple shared a "rocky" relationship and were known for having regular arguments.
A relative, who wished not to be named, told this newspaper that the Walters were involved in an argument around 5 pm on Monday after Brucene reportedly destroyed some items belonging to Richard. A report of this incident was made to the police at the Turkeyen Police Station but the relative said the police failed to turn up. "They had some argument over the burning of some materials that Richard bought and he went to the police and so and after they didn't come and things cool down, I hear the house on fire," he explained.
The relative noted that he was at a friend's house in the area when someone told him that the house was on fire. He said by time he arrived at the scene, the house was completely engulfed by flames. Nothing was saved.
Comments

Prime Minister Moses Nagamootoo yesterday called on the Opposition to put to an end their dilatory tactic because it violates the standing order of the National Assembly.                    

(Trinidad Guardian) Stop embarrassing the Chinese government and people! That was Prime Minister Dr Keith Rowley's rebuke to the Opposition in Parliament yesterday, after being pressed on the change of plans for his China trip.

Despite the AFC's claim that it was not involved in the selection of a Guyana Elections Commission (Gecom) Chairman, its two senior leaders, Khemraj Ramjattan and Raphael Trotman, had advised President David Granger that he could utilise the constitutional proviso and make a unilateral appointment.

The National Assembly last evening approved over $8 billion in total budgetary allocations for 16 constitutional agencies even as the government's failure to properly account for cuts to requested expenditure drew criticism.

Opposition MPs were yesterday reprimanded by Speaker Dr Barton Scotland for their raucous behaviour on November 2nd, when they staged a protest that drowned out most of President David Granger's address to the National Assembly.