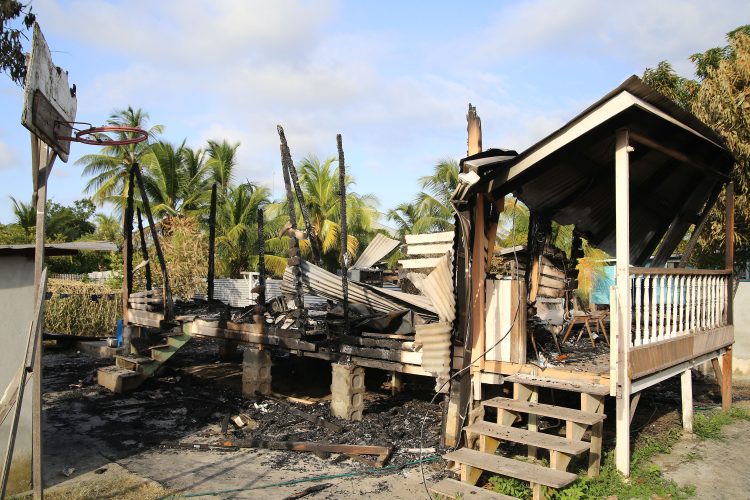 A primary school teacher has gone into hiding after being accused of setting her husband's Sophia house on fire early yesterday morning while he and his 16-year-old son were asleep inside.
The fire began around 12.30 am yesterday and is suspected to be as a result of an argument that Brucene Walters had with her husband, Richard Walters, on Monday afternoon.
At the time of the fire, Richard and his son were asleep in the Lot 1419 Cumming's Park, Sophia single-flat wooden structure. However, after being awakened by the smell of smoke and kerosene, the father and son managed to escape from the burning building.
Richard sustained minor burns about his body and was taken to the Georgetown Public Hospital for medical attention.
Meanwhile, Brucene fled the scene during the fire and was up to last evening yet to be located.
Stabroek News understands that the couple shared a "rocky" relationship and were known for having regular arguments.
A relative, who wished not to be named, told this newspaper that the Walters were involved in an argument around 5 pm on Monday after Brucene reportedly destroyed some items belonging to Richard. A report of this incident was made to the police at the Turkeyen Police Station but the relative said the police failed to turn up. "They had some argument over the burning of some materials that Richard bought and he went to the police and so and after they didn't come and things cool down, I hear the house on fire," he explained.
The relative noted that he was at a friend's house in the area when someone told him that the house was on fire. He said by time he arrived at the scene, the house was completely engulfed by flames. Nothing was saved.
Comments

WASHINGTON,  (Reuters) – A U.S. government shutdown will enter its third day today as Senate negotiators failed to reach a deal late on Sunday on Democrats' demand for legislation protecting "Dreamers," young people brought to the country illegally as children.

GEORGETOWN, Guyana,  CMC – Jason Mohammed completed his seventh first class hundred but there was little joy for Trinidad and Tobago Red Force as Guyana Jaguars needed a mere 45 deliveries to pull off an innings and 81-run win in their final round match here today.

LIMA, (Reuters) – Pope Francis wrapped up his trip to Chile and Peru today by warning that Latin America was in a deep crisis from corruption, with politics in most countries "more sick than well." Speaking in improvised remarks to bishops, he mentioned the scandal involving construction company Odebrecht, which has admitted to paying billions in bribes, as an example of greed run amok across the continent of his birth.

SYDNEY,  (Reuters) – England's Jos Buttler struck a belligerent unbeaten 100 to set up a 16-run win over Australia in the third one-day international on Sunday, as the touring side took an unassailable 3-0 lead in the five-match series.

The Public Procurement Commission (PPC) hopes that by the end of this year debarment legislation would be in place as it will soon begin meeting with stakeholders on a draft.