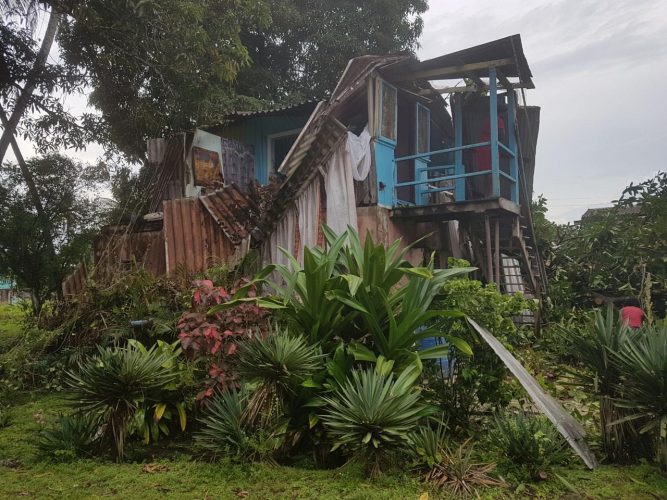 The Christianburg/Wismar Multilateral School and the Mackenzie Market were among the structures that were damaged after a freak storm hit Linden yesterday afternoon.
Stabroek News understands that heavy winds and rains began just after three yesterday afternoon.
Linden Mayor Carwyn Holland said that the town and outlying areas had experienced an estimated three-hour-long thunderstorm during the wee hours of yesterday.
According to Holland, a similar situation occurred yesterday afternoon just after 3 pm. The storm reportedly lasted for at least an hour and a half and had prompted many persons to ….
To continue reading this article
Comments
Following an opposition request for an investigation into the award of the contract for the feasibility study and design for the new Demerara River crossing to LievenseCSO, the Ministry of Public Infrastructure last night said that the Dutch firm was selected after the initial procurement process was annulled and it sought out consultants worldwide.
Facing a cash crunch, the Guyana Sugar Corporation (GuySuCo) will be selling land to the Central Housing and Planning Authority (CH&PA), Minister of State Joseph Harmon announced yesterday, while noting that the corporation has sought a bailout to the tune of $2 billion.
Minister of Citizenship Winston Felix yesterday announced that priority will be given to children in evacuation efforts organized by the Guyana Government to assist Guyanese who remain on hurricane-affected islands, as there remains the risk of an epidemic in some cases.

A 59-year-old woman was yesterday sentenced to four years in prison and fined $6.5 million after she pleaded guilty to the possession of five pounds of cocaine, which she was trying to sneak on board a flight to New York.
At present the need for constitutional compliance trumps the need for constitutional reform in Guyana.