Social media singer 'Tear Drop' yesterday broke down in tears in the Georgetown Magistrate's Court when he was arraigned on a robbery charge in which he is accused of stealing over $1.1 million.
`Tear Drop', whose real name is Leon Clarke, 23, a hospital attendant of 64 West La Penitence, appeared before Magistrate Fabayo Azore and pleaded not guilty to the charge.
According to the charge, on September 8, Clarke along with others robbed Vincent Howard of East La Penitence Boulevard of $980,000 cash, GTT phone cards valued at $75,000, Digicel phone cards valued at $50,000, and $80,000 worth of scratch tickets; a grand total of $1,185,000.
He was granted bail in the sum of $75,000 after no objection from the police prosecutor.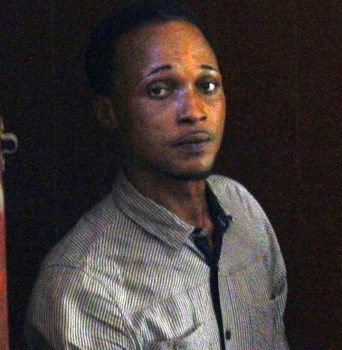 After the charge was read Clarke broke down in court, and when the Magistrate enquired of the reason, he said that he had been falsely accused and his reputation would be tarnished.
Clarke explained to the Magistrate that he is well known on "smart phones, and [on] social media I have thousands of followers."
`Tear Drop' told the Magistrate that he uses his image to influence youths to inspire and engage in positive activities. "I work at the Georgetown Hospital your honour, I don't get myself involved in these things. When people sick and come to the hospital I would be the one to bring a stretcher and take them into the hospital. I don't thief," he said in tears.
Clarke added that when he heard the police were looking for him he willingly went to the station and the shop owner's daughter pointed him out to the police as one of the persons who had committed the robbery.
Meanwhile, his attorney Keoma Griffith told the court that his client is well known on the social media platform and uses his talent to inspire persons to follow their dreams. He asked the court for reasonable bail and if any condition should be attached to the bail, it should be fortnightly since his client works.
Clarke was told to return to court on October 11th.
Comments

On Friday, the Ministry of Foreign Affairs concluded a five-day orientation programme for newly recruited Foreign Service Officers (FSOs), which was held at the Roraima Duke Lodge in Kingston.

HARARE,  (Reuters) – Robert Mugabe resigned as Zimbabwe's president on Tuesday a week after the army and his former political allies moved against him, ending four decades of rule by a man who turned from independence hero to archetypal African strongman.

Travis Cleveland c/d 'Spin and Kill', 31 years , unemployed of 337 South Sophia has been charged with murder of Jamal Munroe which occurred on November 03, 2017 at Black and White Bridge, 'C' Field, Sophia, ECD, the police say.

YANGON/NAYPYITAW, (Reuters) – Members of the U.S. Congress said today operations carried out against the Rohingya Muslims in Myanmar had "all the hallmarks" of ethnic cleansing, while the country's leader Aung San Suu Kyi expressed doubts about allegations of rights abuses.

The leadership of the Alliance For Change (AFC) is to formally write A Partnership for National Unity (APNU) on a revision of the Cummingsburg Accord which birthed the coalition and saw it winning the 2015 general elections.