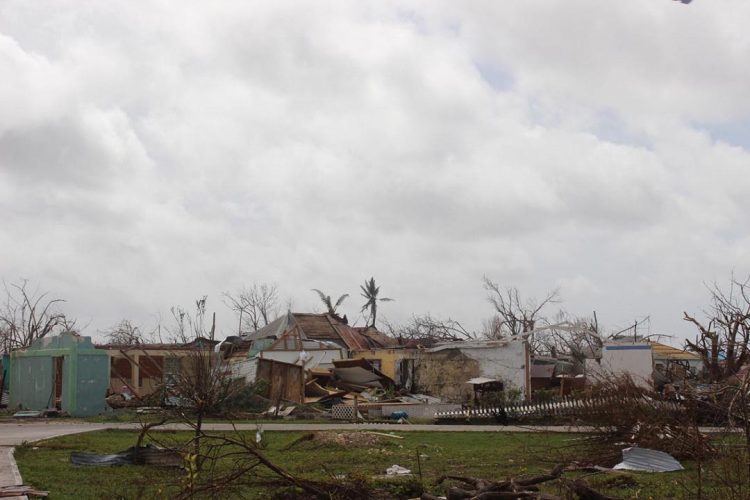 A week after Hurricane Irma devastated several Caribbean islands with large Guyanese communities killing at least one man, the government here yesterday announced that it will send an assessment team tomorrow to two of the hardest-hit locations and it has now doubled its monetary contribution.
Following the Category Five destruction wrought by Irma on Barbuda, Anguilla, St Maarten and Tortola in particular, there have been numerous reports of Guyanese living in hazardous circumstances and in need of food, water and other basic supplies.
Many Guyanese here and abroad have been trying to contact relatives in these hard-hit islands but have not had much success. Trinidad has airlifted some of its nationals back home and so has Barbados.  The French and Dutch governments have mounted high level visits. On Wednesday, a CARICOM delegation led by its Chairman, Grenadian Prime Minister Dr Keith Mitchell and CARICOM Secretary General Irwin LaRocque visited the hammered territories. Barbuda has since been completely evacuated as around 90% of its houses have been declared uninhabitable.
A statement yesterday from the government said that it is "intensifying efforts to coordinate relief for Guyanese nationals affected by Hurricane Irma in a number of Caribbean islands, particularly St Maarten and British Virgin Islands which both suffered serious devastation following the passing of the Category 5 hurricane".
The statement said that Chairman of the Ministerial Task Force on the Caribbean Disaster, Prime Minister Moses Nagamootoo along with Minister of Citizenship Winston Felix who is also a member of the task force,  held a consultation yesterday with the Civil Defence Commission (CDC), the Ministry of Foreign Affairs and Major General (Rtd) Joe Singh and other officials.
Col. (Rtd) Chabilall Ramsarup, Director General of the CDC, briefed the Task Force on the initial plans for Guyana's response, following a briefing from the Ministry of Foreign Affairs officials on the situation faced by Guyanese nationals in the various islands.
Following the three-hour long meeting it was decided that Minister Felix would head a Guyana Needs Assessment Team that will travel to Tortola in the British Virgin Islands and St Maarten via Antigua for an initial assessment of the needs of Guyanese nationals on the islands and report to the Ministerial Task Force which was appointed by President David Granger to coordinate Guyana's efforts.
The Task Force also includes Vice President and Minister of Foreign Affairs Carl Greenidge, Harmon, Minister of Finance Winston Jordan, Minister of Public Infrastructure David Patterson, Minister of Public Affairs, Dawn Hastings-Williams and Minister of Public Service Dr. Rupert Roopnaraine.
The release said that the Government of Guyana has also decided to double the initial contribution towards relief efforts from US$50,000 to US$100,000. The US$50,000 had been derided in some quarters as paltry. Dominica has already pledged more than the US$50,000
Nagamootoo expressed deep concern for the welfare of Guyanese, particularly in Tortola and surrounding islands, Virgin Gorda, Anegada and Jost Van Dyke and expressed relief at reports that Guyanese who were evacuated from Barbuda to Antigua are being accommodated by relatives and friends on the main island there.
The Guyana Needs Assessment Team is tentatively scheduled to depart Guyana tomorrow and return after conducting assessments in Tortola and St Maarten.
Comments
GEORGETOWN – The following letter was sent to President David Granger on behalf of the people of the United States.

In a much watched case, Magistrate Alex Moore today recommitted Muslim scholar, Nezaam Ali, to stand trial for the alleged rape of nine boys.

(Trinidad Guardian) Former T&T and Manchester United footballer Dwight Yorke yesterday denied he entered into any contract with Chutney Monarch Neval Chatelal to loan him money to pay off a debt following his Island Vibe fete last year.

The Ministry of Finance this afternoon clarified that the proposed sum to be borrowed for use by the Special Purpose Unit (SPU) as reported in today's Stabroek News, Guyana Times and Guyana Chronicle, is not solely for the reopening of the Skeldon and Enmore Sugar Estates.

A 38-year-old electrical contractor narrowly escaped death yesterday after he was shot and robbed of $600,000 by two motorcycle bandits who trailed him from a bank before cornering him at his Enmore, East Coast Demerara (ECD) worksite.