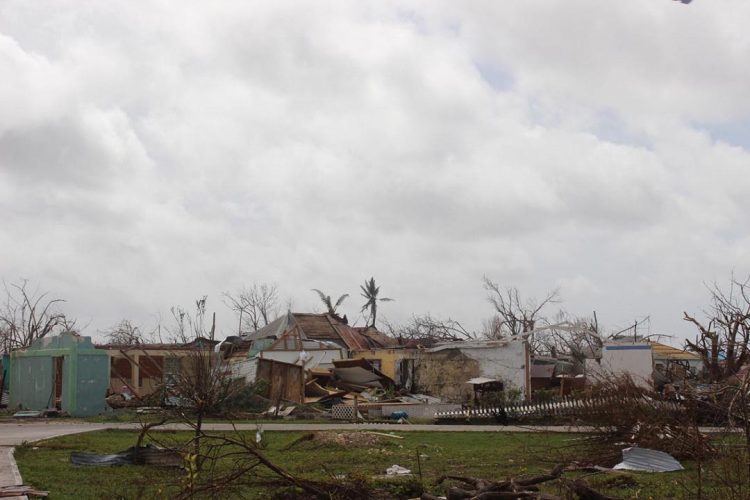 A week after Hurricane Irma devastated several Caribbean islands with large Guyanese communities killing at least one man, the government here yesterday announced that it will send an assessment team tomorrow to two of the hardest-hit locations and it has now doubled its monetary contribution.
Following the Category Five destruction wrought by Irma on Barbuda, Anguilla, St Maarten and Tortola in particular, there have been numerous reports of Guyanese living in hazardous circumstances and in need of food, water and other basic supplies.
Many Guyanese here and abroad have been trying to contact relatives in these hard-hit islands but have not had much success. Trinidad has airlifted some of its nationals back home and so has Barbados.  The French and Dutch governments have mounted high level visits. On Wednesday, a CARICOM delegation led by its Chairman, Grenadian Prime Minister Dr Keith Mitchell and CARICOM Secretary General Irwin LaRocque visited the hammered territories. Barbuda has since been completely evacuated as around 90% of its houses have been declared uninhabitable.
A statement yesterday from the government said that it is "intensifying efforts to coordinate relief for Guyanese nationals affected by Hurricane Irma in a number of Caribbean islands, particularly St Maarten and British Virgin Islands which both suffered serious devastation following the passing of the Category 5 hurricane".
The statement said that Chairman of the Ministerial Task Force on the Caribbean Disaster, Prime Minister Moses Nagamootoo along with Minister of Citizenship Winston Felix who is also a member of the task force,  held a consultation yesterday with the Civil Defence Commission (CDC), the Ministry of Foreign Affairs and Major General (Rtd) Joe Singh and other officials.
Col. (Rtd) Chabilall Ramsarup, Director General of the CDC, briefed the Task Force on the initial plans for Guyana's response, following a briefing from the Ministry of Foreign Affairs officials on the situation faced by Guyanese nationals in the various islands.
Following the three-hour long meeting it was decided that Minister Felix would head a Guyana Needs Assessment Team that will travel to Tortola in the British Virgin Islands and St Maarten via Antigua for an initial assessment of the needs of Guyanese nationals on the islands and report to the Ministerial Task Force which was appointed by President David Granger to coordinate Guyana's efforts.
The Task Force also includes Vice President and Minister of Foreign Affairs Carl Greenidge, Harmon, Minister of Finance Winston Jordan, Minister of Public Infrastructure David Patterson, Minister of Public Affairs, Dawn Hastings-Williams and Minister of Public Service Dr. Rupert Roopnaraine.
The release said that the Government of Guyana has also decided to double the initial contribution towards relief efforts from US$50,000 to US$100,000. The US$50,000 had been derided in some quarters as paltry. Dominica has already pledged more than the US$50,000
Nagamootoo expressed deep concern for the welfare of Guyanese, particularly in Tortola and surrounding islands, Virgin Gorda, Anegada and Jost Van Dyke and expressed relief at reports that Guyanese who were evacuated from Barbuda to Antigua are being accommodated by relatives and friends on the main island there.
The Guyana Needs Assessment Team is tentatively scheduled to depart Guyana tomorrow and return after conducting assessments in Tortola and St Maarten.
Comments

Photos by Keno George The start of the consideration of the estimates of the revenue and expenditure for 2018 descended into chaos yesterday when opposition MPs faced off against police over a bid to physically remove member Juan Edghill from the parliament chamber and PPP/C members claim they were assaulted in the ensuing melee.

The body of an 18-year-old Qualfon employee was yesterday morning discovered in a cemetery at Triumph, East Coast Demerara with her face mutilated and the police have since arrested five persons for questioning.

Acting Chief Justice Roxane George has ruled that President David Granger acted unlawfully when he revoked the leases for lands belonging to a group of Seafield, West Coast Berbice farmers.


Jason Abdulla, one of the three men charged with dousing newspaper columnist Freddie Kissoon with human faeces, was sentenced to six months in jail yesterday, while his two co-accused in the crime, fellow PPP member Kwame McCoy and former bodyguard Sean Hinds, were found not guilty.

Former acting Chancellor of the Judiciary Carl Singh yesterday rejected claims by the Attorney General's Chambers linking him to a purported about-face by the Council of Legal Education (CLE) on the establishment of a local law school.