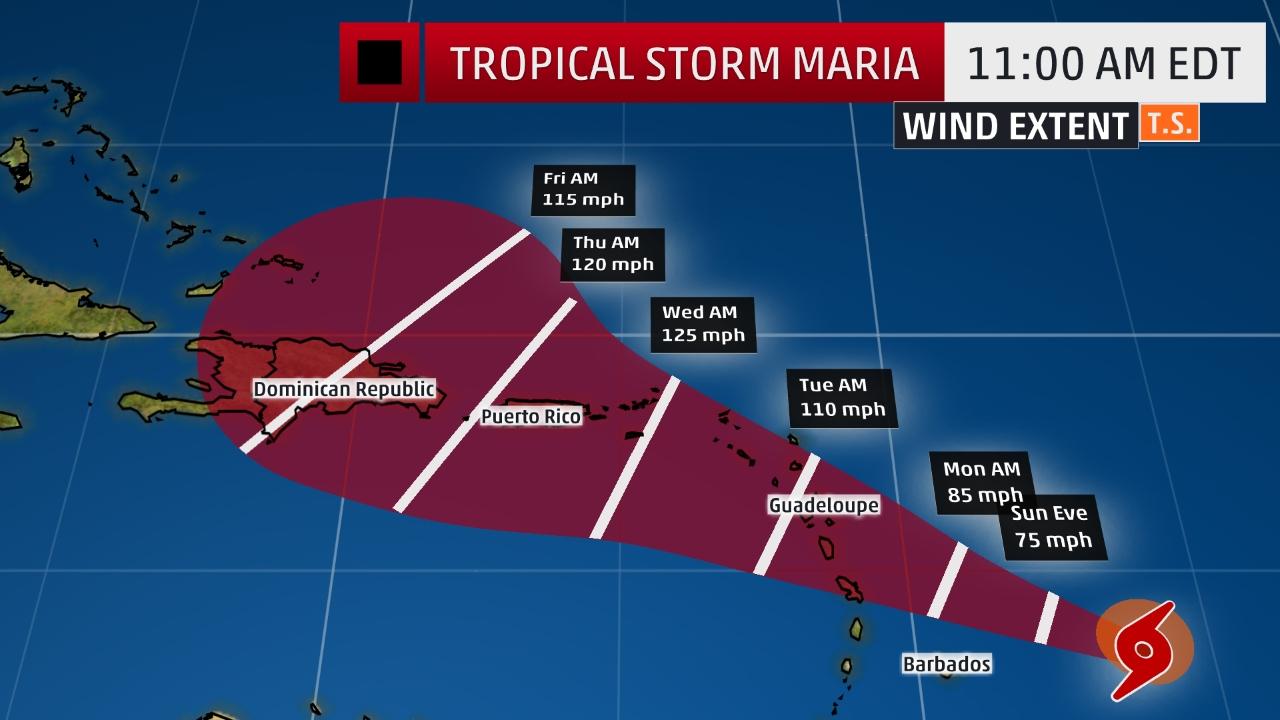 (Reuters) – Tropical Storm Maria is likely to reach hurricane strength today, prompting U.S. weather forecasters to issue warnings and watches for a string of Caribbean islands, some of which were battered by powerful Irma less than two weeks before.
Maria was about 405 miles (655 km) southeast of the Leeward islands with maximum sustained winds of 65 (100 km) per hour at 2 p.m. EDT (1800 GMT), the U.S. National Hurricane Center said.
"Strengthening is forecast during the next 48 hours and Maria is expected to become a hurricane later today or tonight," the forecaster said.
The hurricane center warned that the U.S. and British Virgin Islands and the U.S. territory of Puerto Rico should monitor the storm's progress. The government of Puerto Rico has already begun preparations for Maria, which is expected to make landfall there on Tuesday, officials said.
The storm is moving west-northwest at about 15 miles (24 km) per hour and is expected to cross the Leeward Islands on Monday night, the NHC said.
Hurricane warnings were in place for the French island of Guadeloupe and for Dominica.
Hurricane conditions also are possible by Tuesday for Antigua, Barbuda, St. Kitts, Nevis, Montserrat, Saba, St. Eustatius, Sint Maarten, St. Martin, St. Barthelemy and Anguilla, the NHC said.
Tropical storm conditions were possible on Monday or Tuesday for St. Lucia, Martinique, Barbados, St. Vincent and the Grenadines.
Maria is approaching the eastern Caribbean less than two weeks after Irma hammered the region before overrunning Florida. The powerful Category 4 storm killed at least 84 people, more than half of them in the Caribbean.
A second storm, Hurricane Jose, was in the Atlantic Ocean about 355 miles (575 km) southeast of Cape Hatteras, North Carolina, with top sustained winds of 90 miles (150 km) per hour, the NHC said. Jose is heading north, and its eye is expected to remain off the U.S. East Coast.
Comments

(ICC) Antigua and Barbuda, Guyana and St Lucia were today announced by the International Cricket Council (ICC) as the venues for the ICC Women's World Twenty20 2018, which will be staged from 9-24 November.

The sugar union, GAWU today said that more sugar workers are to be made redundant.

(Trinidad Guardian) Education Minister Anthony Garcia says the University of Trinidad and Tobago (UTT) is of the view that the organisation is "overstaffed and to run the university efficiently it will mean they have to trim fat." But former Tertiary Education Minister Fazal Karim is warning that the decision to retrench 287 staff members, will "compromise the quality of teaching and learning and administration at the university," and may impact its accreditation with the Accreditation Council of Trinidad and Tobago (ACTT).

In preparation for Guyana's emerging oil and gas sector and the bustling business usually synonymous with the industry, the Pegasus Hotel is expected to undergo a huge expansion which includes office and residential rental spaces.

Police Commissioner Seelall Persaud is to resume his duties today after spending approximately six months on leave, Public Security Minister Khemraj Ramjattan yesterday confirmed to Stabroek News.