The mother of Anastacia Kerr, who died on Sunday evening following an accident on the Ogle Public Road, cannot afford to bury her and is seeking assistance from the policeman whom she says is responsible for her daughter's death.
Kerr, 20, a salesgirl of Lot 5 Hope Estate, East Coast Demerara, died on Sunday evening after she was struck down by motor vehicle, PSS 3984, which was being driven by a Lance Corporal attached to the police force's headquarters.
She was picked up in an unconscious state and taken to the Georgetown Public Hospital (GPH), where she died while receiving medical attention.
The police said the Lance Corporal, who was proceeding within the stipulated speed limit, was found to be above the legal alcohol limit.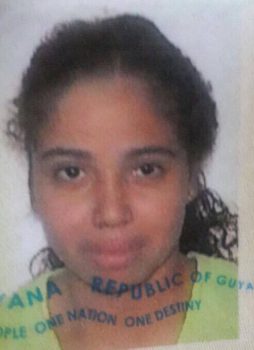 A police statement said he was proceeding east on the southern side of the northern carriageway of the public road when Kerr ran across from north to south into the path of the vehicle. The policeman remains under close arrest and is likely to be charged soon.
The police are awaiting the results of a post-mortem examination, which is scheduled to be performed today.
Simona Persaud, Kerr's mother, yesterday told Stabroek News that she learnt of her daughter's demise on Monday evening, when she heard of the accident on the news.
She said it was customary for Kerr to return home from work between 5.30 pm and 6 pm every day. However, after time elapsed on Sunday, her relatives became worried and tried to contact her. However, calls to her phone went unanswered.
"She grow up without a father and since she was six she grandmother does take care of she", Persaud said. "Everybody was trying to call she on she phone and I came here (Kitty) and I ask if they heard anything from she (Anastacia) but they said, 'No, she phone turn off,'" she added.
Persaud was at her brother's residence when she learnt of the accident. "We get to hear on the news that she get into accident at Ogle road and she passed away," she recalled.
The woman said she immediately left for the hospital mortuary, where she positively identified her daughter's remains.
"I mind her without a father. She father died since she was small and left three of them. She dead and she leave a one-year-old child," Persaud added as she broke down in tears.
Kerr's daughter only celebrated her birthday yesterday.
Persaud said based on what she understands, Kerr had just finished paying for a birthday cake she had ordered for her daughter and was heading up to Hope, where her partner lives, when the accident occurred.
"Right now I don't know what to say really. I just want help because I can't afford to bury my own daughter right now. I don't have money," she related, while asking that the driver who hit the woman offer assistance
The woman said Kerr is her second child she lost in such a manner. A few years ago, she said, she lost her eight-year-old daughter.
Comments

MUMBAI, (Reuters) – Opener Rohit Sharma smashed his third one-day international double century to set up India's comprehensive 141-run win against Sri Lanka in the second match of the series at Mohali today.

President David Granger this morning said that he is responsible for the US$18M ExxonMobil signing bonus being put into an escrow account at the Bank of Guyana, a decision he believes was necessary at the time so that Guyana could be prepared for a National Security Emergency.

(Trinidad Guardian) Ramraj Samaroo yesterday appeared in the Couva Magistrates Court charged with the murder of his younger brother.

Auditor General Deodat Sharma has started investigating the failure by government to transfer the US$18 million signing bonus paid by ExxonMobil last year to the Consolidated Fund, in keeping with the Constitution.

Suspended PPP/C Member of Parliament (MP) Bishop Juan Edghill was yesterday arrested after an attempt to enter the compound of the Public Buildings, where the resumption of the consideration of the national budget estimates saw a brief opposition walkout over House Speaker Dr Barton Scotland's decision to allow the approval without scrutiny of allocations slated to be examined at the previous day's disrupted session.