The mother of Anastacia Kerr, who died on Sunday evening following an accident on the Ogle Public Road, cannot afford to bury her and is seeking assistance from the policeman whom she says is responsible for her daughter's death.
Kerr, 20, a salesgirl of Lot 5 Hope Estate, East Coast Demerara, died on Sunday evening after she was struck down by motor vehicle, PSS 3984, which was being driven by a Lance Corporal attached to the police force's headquarters.
She was picked up in an unconscious state and taken to the Georgetown Public Hospital (GPH), where she died while receiving medical attention.
The police said the Lance Corporal, who was proceeding within the stipulated speed limit, was found to be above the legal alcohol limit.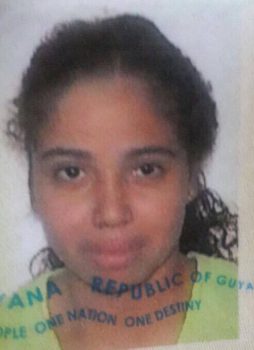 A police statement said he was proceeding east on the southern side of the northern carriageway of the public road when Kerr ran across from north to south into the path of the vehicle. The policeman remains under close arrest and is likely to be charged soon.
The police are awaiting the results of a post-mortem examination, which is scheduled to be performed today.
Simona Persaud, Kerr's mother, yesterday told Stabroek News that she learnt of her daughter's demise on Monday evening, when she heard of the accident on the news.
She said it was customary for Kerr to return home from work between 5.30 pm and 6 pm every day. However, after time elapsed on Sunday, her relatives became worried and tried to contact her. However, calls to her phone went unanswered.
"She grow up without a father and since she was six she grandmother does take care of she", Persaud said. "Everybody was trying to call she on she phone and I came here (Kitty) and I ask if they heard anything from she (Anastacia) but they said, 'No, she phone turn off,'" she added.
Persaud was at her brother's residence when she learnt of the accident. "We get to hear on the news that she get into accident at Ogle road and she passed away," she recalled.
The woman said she immediately left for the hospital mortuary, where she positively identified her daughter's remains.
"I mind her without a father. She father died since she was small and left three of them. She dead and she leave a one-year-old child," Persaud added as she broke down in tears.
Kerr's daughter only celebrated her birthday yesterday.
Persaud said based on what she understands, Kerr had just finished paying for a birthday cake she had ordered for her daughter and was heading up to Hope, where her partner lives, when the accident occurred.
"Right now I don't know what to say really. I just want help because I can't afford to bury my own daughter right now. I don't have money," she related, while asking that the driver who hit the woman offer assistance
The woman said Kerr is her second child she lost in such a manner. A few years ago, she said, she lost her eight-year-old daughter.
Comments

The Alliance For Change (AFC) this evening said that President David Granger's appointment of a chairman of the Guyana Elections Commission "has averted a looming constitutional crisis".

The PSC Secretariat on Waterloo Street. The Private Sector Commission (PSC) today said that the President's decision to unilaterally appoint a Chairman of GECOM poses a clear threat to democracy.

Zimbabwean President Robert Mugabe and his wife Grace attend a meeting of his ruling ZANU PF party's youth league in Harare, Zimbabwe, October 7, 2017.

Vladimir Inuma, a deputy leader of an association of the 92 families who vow to stay put in the Cantagallo slum, poses for a portrait in downtown Lima, Peru, September 9, 2017.

President David Granger yesterday unilaterally chose retired justice James Patterson, 84, to be Chairman of GECOM, rejecting a third list that had been submitted by Opposition Leader Bharrat Jagdeo and plunging the country into its worst political crisis since APNU+AFC came to power in 2015.