The Beharry Group of Companies, through the Private Sector Commission (PSC), yesterday donated approximately $7 million in food and cleaning supplies to the Civil Defence Commission (CDC) to be distributed to the hurricane-ravaged territories.
The donation included 33,000 pounds of food, valued at $5 million, and 382 metric tonnes of cleaning supplies, from Sterling Products Limited, worth just under $2 million, the Company's Chairman, Edward Anand Beharry stated during a press briefing.
Beharry said that the donation was made in direct response to a request made by the government during a meeting with the commission.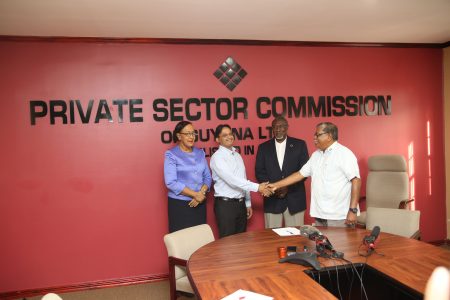 "I know that's probably not going to go anywhere near what is necessary for places like Dominica, Antigua, Barbuda, St Maarten—wherever else the CDC is helping out. But it's certainly going to be a start. And we're proud to be a part of the Private Sector Commission's imitative through the government of Guyana," Beharry said.
CDC Director General Chabilall Ramsarup thanked the members of the PSC for the work they have been doing to support the efforts.
PSC Vice Chairman Desmond Sears said that contributions were also made by other members of the sector.
The CDC has established an Irma Recovery Fund, which will supplement the government's donation of US$100,000 to the devastated island states, through donations from the public. The accounts will now also accept donations for those affected by Hurricane Maria.
Accounts have so far been set up at the Republic Bank Guyana Limited (651-993-8) and the Guyana Bank for Trade and Industry (011802489012).
In addition to the bank accounts that have been set up for those affected by Hurricanes Irma and Maria, other accounts will be established at all commercial banks locally.
Also, on Saturday from 8pm to 10pm, there will be a telethon at NCN to raise funds for the hurricane victims.
Comments

A recent US$5M investment in Trinidad by condiments and sauces producer, Baron Foods should have been Guyana's venture but owner Ronald Ramjattan believes politics got into the way and he was forced to turn to the Twin-Island Republic.

Canje sugar workers yesterday afternoon were told by  Opposition Leader, Bharrat Jagdeo that if the PPP/C is re-elected in 2020 to office the workers will benefit from the budget by way of a monthly payment until they are re-employed.

A construction worker was on Thursday evening robbed of his Toyota Premio motorcar and assaulted by a lone gunman shortly after arriving at his brother's East Street, Georgetown premises.

The Guyana Police Force is currently awaiting advice from the Director of Public Prosecutions on the way forward on one of the matters involving Bishops' High School teacher Coen Jackson.

The father of Rainella Benfield, the girl found murdered in a cemetery, is convinced that she was a victim of an armed robbery who was more than likely killed after resisting her attacker/s.