Despite promises and the spending of millions of taxpayers' dollars, the David Granger administration has failed to ensure the official release of most of the final reports of more than a dozen inquiries and this has been condemned by Opposition Leader Bharrat Jagdeo.
The non-release of the reports means that the public is unaware of the findings of the inquiries and the recommendations that have been made and the progress made by the administration in implementing the recommendations. It has also not been clear which entity or government functionary has been entrusted with the responsibility of addressing the findings and recommendations of the reports.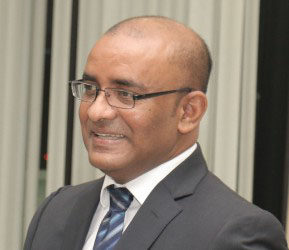 Nowhere has this been more glaring than in the case of the Commission of Inquiry (CoI) that had been set up into the March 3rd, 2016 fire that claimed the lives of 17 inmates at the Camp Street prison. That report was not released to the public. When the Camp Street prison was burnt to the ground by prisoners on July 9th this year, questions were asked about the recommendations from the 2016 inquiry. It turned out that several of the recommendations were not acted on, including those that addressed the overcrowding of the prison and the presence of dangerous prisoners…..
To continue reading this article
Comments

Gopee Ramsewak of Logwood Trace, Mafeking, Mayaro stands in flood waters at the front of his home yesterday.

Rohingya refugees line up to receive humanitarian aid in Kutupalong refugee camp near Cox's Bazar, Bangladesh, October 23, 2017.

An accident yesterday on the Vreed-en-Hoop Public Road, West Coast Demerara (WCD)  has claimed the lives of three persons including a student from the Diamond Secondary School.

Leader of the Opposition Bharrat Jagdeo will today ask the High Court to quash President David Granger's unilateral appointment of retired justice James Patterson as Chairman of Gecom on the grounds of unconstitutionality.

People's Progressive Party Executive Anil Nandall has questioned the Curriculum Vitae that President David Granger submitted for handpicked Gecom Commis-sioner James Patterson saying that Patterson fails to meet even requirements set by Granger himself.