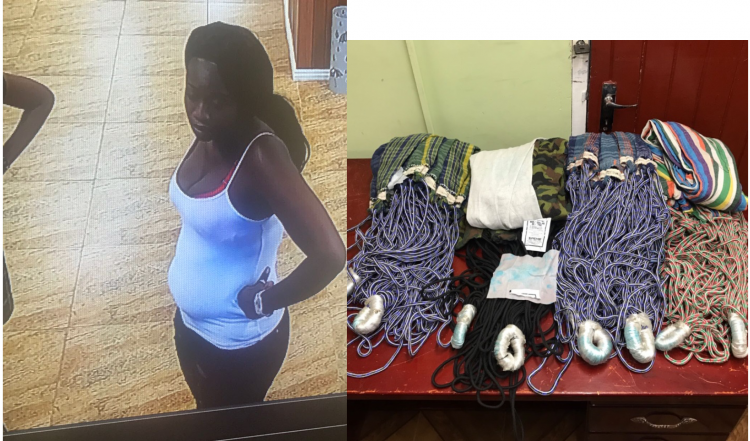 The Customs Anti-Narcotic Unit (CANU) today said that Tiffini Collison, 26-years-old of F 21 Samaan Street Guyhoc Park, Georgetown posted four hammocks suspected to have been saturated with cocaine to an address in the USA through an International Courier Service in Georgetown sometime last week.
The suspicious package was discovered by a CANU Rank at the Eugene F Correia International Airport, Ogle, ECD whilst checking outgoing cargo on Thursday 21st September 2017.
CANU said that checks for Collison have since proven fruitless. It supplied an image of Collison and the hammocks.
Comments

The Alliance For Change (AFC) this evening said that President David Granger's appointment of a chairman of the Guyana Elections Commission "has averted a looming constitutional crisis".

The PSC Secretariat on Waterloo Street. The Private Sector Commission (PSC) today said that the President's decision to unilaterally appoint a Chairman of GECOM poses a clear threat to democracy.

Zimbabwean President Robert Mugabe and his wife Grace attend a meeting of his ruling ZANU PF party's youth league in Harare, Zimbabwe, October 7, 2017.

Vladimir Inuma, a deputy leader of an association of the 92 families who vow to stay put in the Cantagallo slum, poses for a portrait in downtown Lima, Peru, September 9, 2017.

President David Granger yesterday unilaterally chose retired justice James Patterson, 84, to be Chairman of GECOM, rejecting a third list that had been submitted by Opposition Leader Bharrat Jagdeo and plunging the country into its worst political crisis since APNU+AFC came to power in 2015.