The Government of the Kingdom of Norway has said the "ball is in Guyana's court" to produce a renewable energy transition plan that is a prerequisite for the release of US$80 million in payments for forest services being held for the country by the Inter-American Development Bank (IDB).
"Guyana needs to establish a credible pathway to a clean and renewable energy transition in line with its NDC [Nationally Determined Contributions] and our original agreement," Director of the Norwe-gian International Climate and Forest Initiative (NICFI) Per Fredrik Pharo told Stabroek News, in response to inquiries about the delay in the release of the money.
"This must be done through a public policy document with formal status.  In this document Guyana also needs to reiterate that the general approach of keeping Guyana's forests protected against intrusion remains government policy," he added, while noting that a plan is yet to be received.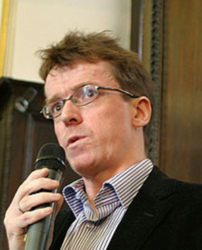 Norway's position comes even as Minister of State Joseph Harmon has said that the Guyana Government believes that it has satisfied the requirements to have the money released and is hoping that in current discussions with Oslo the issue will be rectified and it can soon begin tapping the funds.
Harmon told Stabroek News in a recent interview that President David Granger met with Norway's new Minister of Climate and Environment Vidar Helgesen in November last year on the sidelines of the United Nations Climate Change Convention, in Marrakech, Morocco and committed to continued environmental works. "Norway was impressed with the move to pursue a green economy pathway and vowed to work with Guyana until 2030," Harmon said, before explaining that a significant move in this direction was evidenced in the extension of the Guyana REDD Investment Fund (GRIF) Trustee Account at the World Bank from December, 2016 to December, 2021.
Both countries also agreed to have in place a work plan for detailing Guyana's clean energy transition this year, including a fact-based consideration of the Amaila Falls Hydro Project and all other possible renewable energy options. Norway also wanted to make sure that elements of low carbon development are reflected in the government's Green State Development Strategy (GSDS).
The GSDS and the energy transition roadmap comprise conditions for the fifth payment from Norway under the bilateral climate deal between the two countries and the release of the US$80 million, which will be used to support renewable energy initiatives.
Harmon informed that the GSDS had been completed already and submitted to Norway. The country's draft energy transition roadmap was completed, he noted, with help from the IDB and the Ministry of Public Infrastructure.
"Guyana completed its GSDS framework document in March, 2017, and has since established the Green Multi-Stakeholder Steering Committee. To further advance the process for elaboration of the GSDS, in early September," he informed. He pointed out that a fulltime project coordinator, Dr. Asha Singh, was hired to lead the initiative under the leadership of the Department of the Environment. A partnership has also been formed with the United Nations Environment Programme and other UN agencies, with national consultations expected to begin sometime next month.
The GRIF steering committee in July of this year approved financing for "elaboration" of the GSDS and all related consultations.
Pharo said that while Norway has seen the Project Document for the GSDS, Guyana has not officially shared an energy plan with it as yet. He pointed too that since the Marrakech meeting, "the status is unchanged" as it pertains to the GSDS and both countries understand that "the ball is in Guyana's court."
"The status is unchanged since our conversations in Marrakech. Our minister met foreign minister (Carl) Greenidge at UNGA [The United Nations General Assembly] and reiterated our previously stated policy messages. The two agreed that the ball is in Guyana's court," Pharo said.
And when asked if Guyana's natural gas initiatives would be accepted as part of the "Green Plan," he would only say, "We are waiting for Guyana's proposals. Guyana's stated goal is a very quick transition to near 100% clean and renewable energy by as early as 2025."
But he maintained that Norway is committed to working with Guyana to achieve its proposed 2025 objectives pertaining to its energy plan.
"Norway is, through the GRIF fund, supporting the development of the Green State Development Strategy that Guyana develops in partnership with UN Environment. If the conclusions from that process from the government is in line with the fundamentals of our partnership, we are dedicated to standing by the terms of our partnership," Pharo said.
Comments

GEORGETOWN, Guyana,  CMC – Jason Mohammed completed his seventh first class hundred but there was little joy for Trinidad and Tobago Red Force as Guyana Jaguars needed a mere 45 deliveries to pull off an innings and 81-run win in their final round match here today.

LIMA, (Reuters) – Pope Francis wrapped up his trip to Chile and Peru today by warning that Latin America was in a deep crisis from corruption, with politics in most countries "more sick than well." Speaking in improvised remarks to bishops, he mentioned the scandal involving construction company Odebrecht, which has admitted to paying billions in bribes, as an example of greed run amok across the continent of his birth.

SYDNEY,  (Reuters) – England's Jos Buttler struck a belligerent unbeaten 100 to set up a 16-run win over Australia in the third one-day international on Sunday, as the touring side took an unassailable 3-0 lead in the five-match series.

The Public Procurement Commission (PPC) hopes that by the end of this year debarment legislation would be in place as it will soon begin meeting with stakeholders on a draft.

A bill to provide a legal framework for the protection of witnesses was passed without amendment by the National Assembly on Friday evening despite arguments by the parliamentary opposition that it failed to take into account modern challenges.