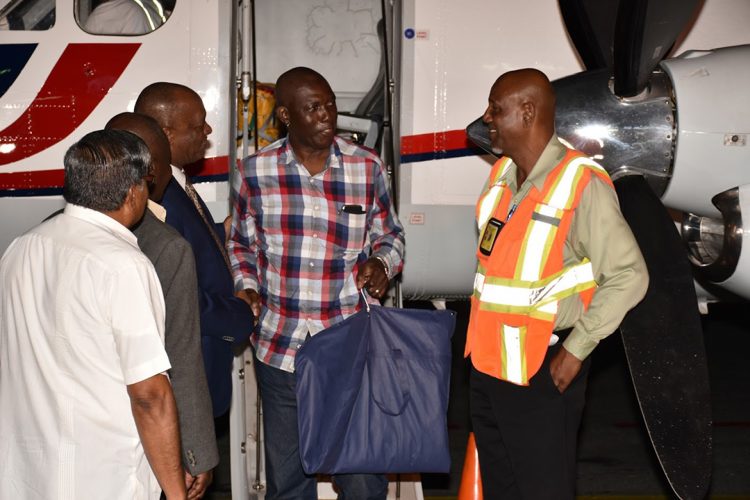 Sixteen more hurricane-affected nationals returned to Guyana yesterday on Trans Guyana Airways.
They arrived from the Dutch-controlled St Maarten and deplaned at the Eugene F. Correia International Airport at Ogle, the Department of Public Information (DPI) said.
Ten had arrived from the British Virgin Islands on Monday night and more were due this evening.
Minister of State, Joseph Harmon said that the joint effort between the government, private sector and Civil Defence Commission along with several local citizens aims to assist Guyanese in the severely damaged territories.
"We believe that anywhere Guyanese are, and anything befalls them, once it is in the power of the state to do something for them, that we will extend a welcoming arm," Harmon said, according to DPI.
He added that several other flights will be sent to other hurricane-ravaged territories to assist Guyanese who have indicated their need to return home. "…I believe we were working with 43 persons and that number rose to 116, tomorrow it will be even larger than that," he said.
The Correia Company was commended for its co-operation in dispatching flights to those territories.
DPI spoke to several of the evacuees.
Arita Woodroffe said, she chose to return, because as a cosmetologist her operation has been severely affected due to a lack of electricity and water. Schools have also not restarted, as such, she plans to enroll her daughter in a local institution.
Yashpaul Sewnarine explained that he was a tourist but was unable to leave before the storm landed. He described the experience as harrowing.
"I have seen mothers looking for children, I saw persons losing their houses, friends lost their lives, so it was a rough situation over there."
Alita Khandhai, a mother of two, explained that she lived in St Maarten for seven years and while she has experienced two previous hurricanes, the recent one has been the worst. Her return is in the interest of her two daughters and their schooling.
Fifty-five-year-old, Keith Phillips has resided on the island for 17 years and it was his first hurricane experience. "I do not want another experience like it. I am happy to be home", he told DPI.
Comments

MUMBAI, (Reuters) – Opener Rohit Sharma smashed his third one-day international double century to set up India's comprehensive 141-run win against Sri Lanka in the second match of the series at Mohali today.

President David Granger this morning said that he is responsible for the US$18M ExxonMobil signing bonus being put into an escrow account at the Bank of Guyana, a decision he believes was necessary at the time so that Guyana could be prepared for a National Security Emergency.

(Trinidad Guardian) Ramraj Samaroo yesterday appeared in the Couva Magistrates Court charged with the murder of his younger brother.

Auditor General Deodat Sharma has started investigating the failure by government to transfer the US$18 million signing bonus paid by ExxonMobil last year to the Consolidated Fund, in keeping with the Constitution.

Suspended PPP/C Member of Parliament (MP) Bishop Juan Edghill was yesterday arrested after an attempt to enter the compound of the Public Buildings, where the resumption of the consideration of the national budget estimates saw a brief opposition walkout over House Speaker Dr Barton Scotland's decision to allow the approval without scrutiny of allocations slated to be examined at the previous day's disrupted session.