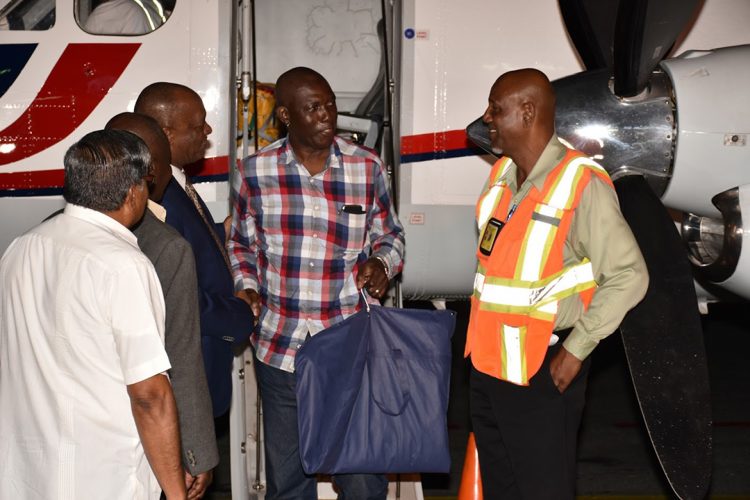 Sixteen more hurricane-affected nationals returned to Guyana yesterday on Trans Guyana Airways.
They arrived from the Dutch-controlled St Maarten and deplaned at the Eugene F. Correia International Airport at Ogle, the Department of Public Information (DPI) said.
Ten had arrived from the British Virgin Islands on Monday night and more were due this evening.
Minister of State, Joseph Harmon said that the joint effort between the government, private sector and Civil Defence Commission along with several local citizens aims to assist Guyanese in the severely damaged territories.
"We believe that anywhere Guyanese are, and anything befalls them, once it is in the power of the state to do something for them, that we will extend a welcoming arm," Harmon said, according to DPI.
He added that several other flights will be sent to other hurricane-ravaged territories to assist Guyanese who have indicated their need to return home. "…I believe we were working with 43 persons and that number rose to 116, tomorrow it will be even larger than that," he said.
The Correia Company was commended for its co-operation in dispatching flights to those territories.
DPI spoke to several of the evacuees.
Arita Woodroffe said, she chose to return, because as a cosmetologist her operation has been severely affected due to a lack of electricity and water. Schools have also not restarted, as such, she plans to enroll her daughter in a local institution.
Yashpaul Sewnarine explained that he was a tourist but was unable to leave before the storm landed. He described the experience as harrowing.
"I have seen mothers looking for children, I saw persons losing their houses, friends lost their lives, so it was a rough situation over there."
Alita Khandhai, a mother of two, explained that she lived in St Maarten for seven years and while she has experienced two previous hurricanes, the recent one has been the worst. Her return is in the interest of her two daughters and their schooling.
Fifty-five-year-old, Keith Phillips has resided on the island for 17 years and it was his first hurricane experience. "I do not want another experience like it. I am happy to be home", he told DPI.
Comments

(BBC) Bollywood superstar Sridevi has died after a cardiac arrest, her family says.
President David Granger will not be attending the Twenty-Ninth Inter-sessional Meeting of The Conference of Heads of Government of the Caribbean Community (CARICOM) in Haiti beginning on Monday.

Mashramani celebrations ground to halt for several families yesterday afternoon, when approximately 30 persons lost their homes after a fire of unknown origin ripped through three Victoria Road, Plaisance properties, including an apartment building.

Minister of State Joseph Harmon says that the US$3 million settlement offer made by Hong Kong Golden Telecom Limited (HKGT) on the outstanding balance for its purchase of government shares in the Guyana Telephone and Telegraph Company (GTT) is being actively considered, but the government's goal is to recover the entire US$5 million that is owed.

Opposition Leader Bharrat Jagdeo on Thursday criticised government and Minister of Finance Winston Jordan on the heels of the announced plan to borrow cash from local banks to reopen two sugar estates and to fund critical current and capital Guyana Sugar Corporation (GuySuCo) programmes.