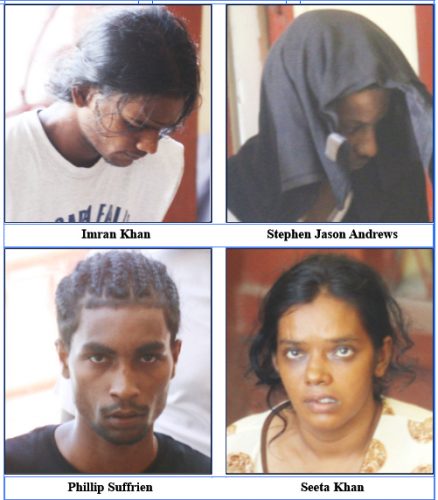 Three men were yesterday taken before a city court charged with the murders of Constance Fraser, and Phyllis Caesar, who were killed during a robbery at their South Road and Albert Street home last week.
Charged were Imran Khan, called Christopher Khan, 25, of Independence Boulevard; Stephen Jason Andrews, of Albouystown, and Phillip Suffrien, 23, of 66 Hunter Street, Albouystown.
The first charge read to the three men stated that between October 2 and October 3, at Lot 243 South Road and Albert Street, they murdered Constance Fraser…..
To continue reading this article
Comments

The Georgetown District of the People's National Congress Reform (PNCR) today called for tougher action by the Ministry of Public Security and the Judiciary against crime in the wake of the murder of two elderly women.

Moruga/Tableland MP Dr Lovell Francis chats with two of his constituents whose yard was flooded following heavy overnight rains into yesterday.

India-born South African businessmen brothers, Atul, Rajesh and Ajay Rajesh Gupta. The Gupta family, one of South Africa's wealthiest, has been accused of wielding undue influence behind the scenes.

Although government's advisor on oil and gas, Jan Mangal, has argued that competitive bidding should be employed in the award of future oil exploration leases, Minister of Foreign Affairs Carl Greenidge says such an approach may not benefit Guyana's interests in the long term.

Police investigators will be focusing on the alleged sexual abuse of a 15-year-old boy committed by a city constabulary officer two months ago and not on the failure of the Mayor of City Council (M&CC) of Georgetown to report the case in a timely manner, 'A' Division Commander Marlon Chapman said yesterday.