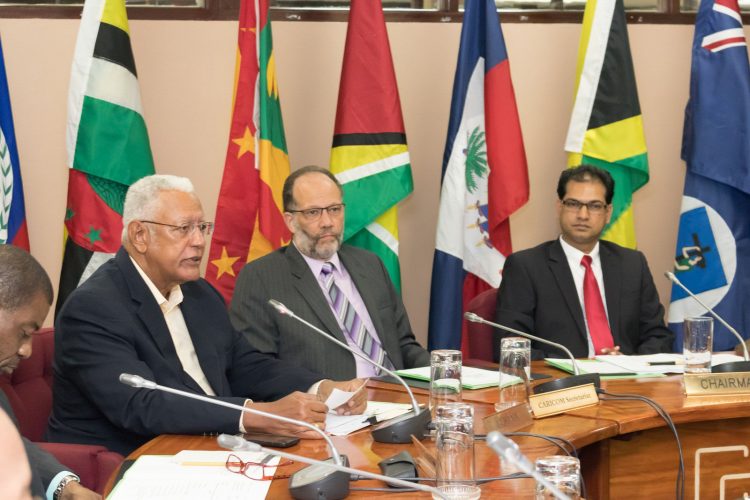 In a bid to improve food security among the Caribbean Community (CARICOM) member states, nine poultry processing plants in the Region have been approved to trade among Member States.
This announcement was made by the CARICOM Secretariat yesterday via a press release that stated the approval among the Member States came at the 71st Special Meeting of the Council for Trade and Economic Development (COTED) on Agriculture last Friday.
As such, poultry plants from Barbados, Belize, Guyana, Jamaica, Suriname, and Trinidad and Tobago were given the go ahead to sell poultry products intraregionally after they were evaluated by the Regional Risk Assessments Teams and have met the sanitary requirements to enter the CARICOM Market.
According to the release, the assessment of the nine poultry processing plants was coordinated by the Caribbean Agricultural Health and Food Safety Agency (CAHFSA) and was reviewed and finalized by the CARICOM Committee of Chief Veterinary Officers.
The statement said that the Ministers lauded the development and urged the Member States to adopt the Specifications for Poultry and Poultry Products which were developed by the Caribbean Regional Organisation for Standards and Quality (CROSQ) and approved by the COTED in 2013.
Additionally, COTED has also resolved the matter of duck meat trade between Trinidad and Tobago and Suriname, which will allow Trinidad and Tobago to approve Suriname as one of the countries that has met all the SPS requirements for exporting duck meat within 30 days.
Comments
After two years, President David Granger will on Friday hold a press conference,  only the second since his APNU+AFC party came into government in May 2015.

Juan Edghill (left) in the Brickdam Police Station this morning. (Keno George photo) PPP/C Members of Parliament this morning walked out of the Committee of Supply following Chairman Dr.

WELLINGTON, (Reuters) – New Zealand's bowlers steadily chipped away at the West Indies lineup to record a ruthless 240-run victory shortly before tea on the fourth day of the second test at Seddon Park in Hamilton on Tuesday to wrap up a 2-0 series sweep.

(Trinidad Guardian) Special Reserve police officer Richard Babwah was killed last evening during an attempted robbery at a Chinese restaurant in Arouca.

Photos by Keno George The start of the consideration of the estimates of the revenue and expenditure for 2018 descended into chaos yesterday when opposition MPs faced off against police over a bid to physically remove member Juan Edghill from the parliament chamber and PPP/C members claim they were assaulted in the ensuing melee.