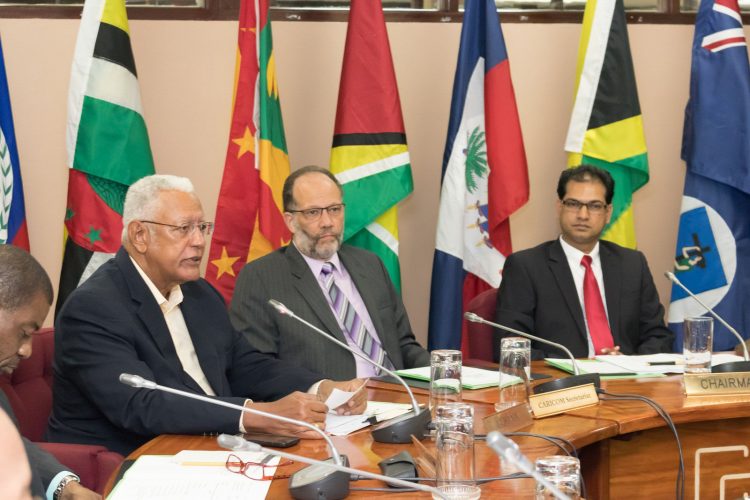 In a bid to improve food security among the Caribbean Community (CARICOM) member states, nine poultry processing plants in the Region have been approved to trade among Member States.
This announcement was made by the CARICOM Secretariat yesterday via a press release that stated the approval among the Member States came at the 71st Special Meeting of the Council for Trade and Economic Development (COTED) on Agriculture last Friday.
As such, poultry plants from Barbados, Belize, Guyana, Jamaica, Suriname, and Trinidad and Tobago were given the go ahead to sell poultry products intraregionally after they were evaluated by the Regional Risk Assessments Teams and have met the sanitary requirements to enter the CARICOM Market.
According to the release, the assessment of the nine poultry processing plants was coordinated by the Caribbean Agricultural Health and Food Safety Agency (CAHFSA) and was reviewed and finalized by the CARICOM Committee of Chief Veterinary Officers.
The statement said that the Ministers lauded the development and urged the Member States to adopt the Specifications for Poultry and Poultry Products which were developed by the Caribbean Regional Organisation for Standards and Quality (CROSQ) and approved by the COTED in 2013.
Additionally, COTED has also resolved the matter of duck meat trade between Trinidad and Tobago and Suriname, which will allow Trinidad and Tobago to approve Suriname as one of the countries that has met all the SPS requirements for exporting duck meat within 30 days.
Comments

HARARE, Zimbabwe, CMC – West Indies received a rousing welcome at the Robert Gabriel Mugabe International Airport here Sunday evening as they became the first team to arrive for the ICC World Cup Qualifiers starting next month.
A corporal of the Joint Services and another male  have been taken into custody following an investigation into the alleged robbery under arms committed on a 43-year-old Chief Prison Officer which occurred about 01:00h yesterday on the  Soesdyke Public Road, EBD by four males, one of whom was armed with a knife.

(Trinidad Guardian) Networks of the ISIS cell in T&T which Prime Minister Dr Keith Rowley referred to in Parliament are spread from Aranjuez, Charlieville and Enterprise to Rio Claro among other locations, a national security official has said.

Government yesterday released the Production Sharing Agreement (PSA) signed by the former Donald Ramotarled PPP/C administration with Canadian miner CGX Resources Inc, the terms of which appear to be almost identical to those of the much maligned 2016 agreement signed by the current administration with ExxonMobil's local subsidiary and its partners.

Seeking advances on future revenue from ExxonMobil should be under discussion, according to United States-based Guyanese business professor and accountant Floyd Haynes, who says the benefits for a developing nation like ours are incalculable and can outweigh the disadvantages "I think it should be considered.