Brian Singh was yesterday committed to stand trial for the murder of Adrian Duncan called 'Timehri Man'.
Singh was committed to stand trial for the crime by Magistrate Fabayo Azore, after the closure of the Preliminary Inquiry into the charge.
The charge stated that Singh on February 2, at Robb and Alexander streets, murdered Duncan.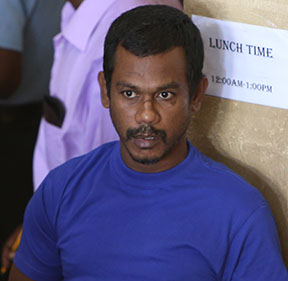 Magistrate Azore told the court yesterday that based on the whole of the evidence a prima facie case was made out against the accused, and as such he was committed to stand trial at the next practicable sitting of the Demerara Assizes.
Singh will remain on remand until that time.
Comments

GEORGETOWN, Guyana,  CMC – Jason Mohammed completed his seventh first class hundred but there was little joy for Trinidad and Tobago Red Force as Guyana Jaguars needed a mere 45 deliveries to pull off an innings and 81-run win in their final round match here today.

LIMA, (Reuters) – Pope Francis wrapped up his trip to Chile and Peru today by warning that Latin America was in a deep crisis from corruption, with politics in most countries "more sick than well." Speaking in improvised remarks to bishops, he mentioned the scandal involving construction company Odebrecht, which has admitted to paying billions in bribes, as an example of greed run amok across the continent of his birth.

SYDNEY,  (Reuters) – England's Jos Buttler struck a belligerent unbeaten 100 to set up a 16-run win over Australia in the third one-day international on Sunday, as the touring side took an unassailable 3-0 lead in the five-match series.

The Public Procurement Commission (PPC) hopes that by the end of this year debarment legislation would be in place as it will soon begin meeting with stakeholders on a draft.

A bill to provide a legal framework for the protection of witnesses was passed without amendment by the National Assembly on Friday evening despite arguments by the parliamentary opposition that it failed to take into account modern challenges.