Justice Jo Ann Barlow on Monday imposed a life sentence on Yoganand Ramnarine who raped a three-year-old girl, who had been entrusted, by her mother, into his family's care.
The prisoner wept as the  sentence was passed on him at the Berbice Assizes on Monday afternoon.
Moments earlier, the mother of the victim, in response to questions by the judge, said that her now five-year-old daughter cannot recall the ordeal and is living a normal life.
Before sentence was imposed , Ramnarine said he was 22 years old, and was innocent of the offence.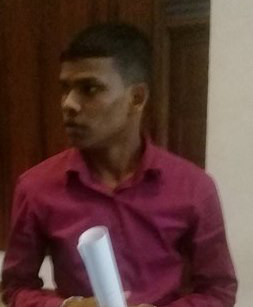 But, imposing the sentence , the judge, reminded the prisoner of portions of the evidence which had revealed that the three-year-old child was entrusted to his family, while her mother went to face a bereavement in hers.
"The child was trembling and crying , when she was seen. Such a traumatic experience. I cannot condone … The court is the society's voice, and it is sending a strong message to would-be offenders.
"You will not be eligible for parole until you would have served 25 years of the sentence. You are to display to society that you have been changed.
"It is the order of this court, that the prison establishment provide facilities for counselling, so you can be relieved of whatever ills you may have in you.
"Further, from your manner of speaking, you are not illiterate. It is the order of this court that you must be exposed to learning facilities, so if you are released, you can make a meaningful contribution to the society."
The particulars of the offence stated that on April 17, 2015, at Number 60 Village, Corentyne, Berbice, he engaged in sexual penetration of a girl under 16 years old.
The case was heard in-camera.
Comments

Former Attorney General Anil Nandlall says that the Attorney General's Chambers' retention of six attorneys to prosecute a number of high profile cases is unconstitutional and he is warning that the right to a fair trial will be compromised by a politically-tainted process.
Guyana's total public debt increased from $317.7 billion to $330.6 billion in 2016 but the total debt as a percentage of Gross Domestic Product (GDP) declined to 46.4% from 48.6% at the end of 2015 due to a nominal increase in the GDP.

Family, friends and well-wishers turned out in their numbers to say their final goodbyes to murdered school teacher Kescia Branche, who was laid to rest yesterday afternoon.

A recent Biodiversity Assessment Team (BAT) survey of the Kaieteur National Park (KNP) and the Upper Potaro area has led to the discovery of up to 31 new or potentially new species to science.

A Mon Repos, East Coast Demerara resident died on Thursday after he was attacked by a swarm of bees while returning home.