Justice Jo Ann Barlow on Monday imposed a life sentence on Yoganand Ramnarine who raped a three-year-old girl, who had been entrusted, by her mother, into his family's care.
The prisoner wept as the  sentence was passed on him at the Berbice Assizes on Monday afternoon.
Moments earlier, the mother of the victim, in response to questions by the judge, said that her now five-year-old daughter cannot recall the ordeal and is living a normal life.
Before sentence was imposed , Ramnarine said he was 22 years old, and was innocent of the offence.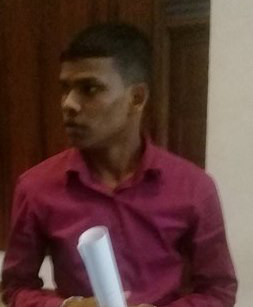 But, imposing the sentence , the judge, reminded the prisoner of portions of the evidence which had revealed that the three-year-old child was entrusted to his family, while her mother went to face a bereavement in hers.
"The child was trembling and crying , when she was seen. Such a traumatic experience. I cannot condone … The court is the society's voice, and it is sending a strong message to would-be offenders.
"You will not be eligible for parole until you would have served 25 years of the sentence. You are to display to society that you have been changed.
"It is the order of this court, that the prison establishment provide facilities for counselling, so you can be relieved of whatever ills you may have in you.
"Further, from your manner of speaking, you are not illiterate. It is the order of this court that you must be exposed to learning facilities, so if you are released, you can make a meaningful contribution to the society."
The particulars of the offence stated that on April 17, 2015, at Number 60 Village, Corentyne, Berbice, he engaged in sexual penetration of a girl under 16 years old.
The case was heard in-camera.
Comments

Several hundred more sugar workers are expected to be laid off from the Skeldon, Rose Hall, and East Demerara estates by next month and the Guyana Agricultural and General Workers Union (GAWU) yesterday urged that the decision be reviewed.

The commencement order establishing the Telecommunications Agency was signed last Friday, in anticipation of the liberalisation of the telecoms sector, Minister of Public Tele-communications Cathy Hughes announced yesterday.

Nickela Craig-Singh, the woman who was arrested last Friday after the Customs Anti-Narcotic Unit (CANU) found over 10 pounds of cocaine in the ceiling of her Soesdyke home, was yesterday sentenced to four years in prison and fined over $14 million after pleading guilty to possession of the drug.

Almost two weeks after he made a Facebook post in which he questioned whether the Indian High Commission was interfering in Guyana's internal affairs, Director of Public Information Imran Khan yesterday said that he regretted the "furore" his post created and admitted that it should have benefitted from "greater elegance or not have been made".
A young man seen in a recent viral video being brutally murdered in neighbouring Venezuela has been identified as a Port Kaituma miner.