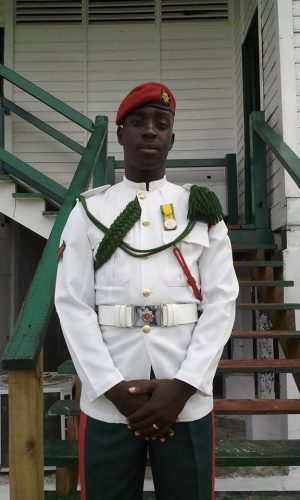 The Police say they are investigating a fatal accident which occurred about 2.20 this morning on the Lethem Public Road that resulted in the death of pedestrian Devon Fraser, 28, a Guyana Defence Force Lance Corporal of Buxton, East Coast Demerara.
Investigations revealed that the now deceased man was in the company of another walking on the eastern side heading south when Motorcycle CG (Number Unknown) proceeding allegedly at a fast rate heading in the same direction collided with the him from behind.
As a result of the impact, the pedestrian and the motorcyclist sustained injuries about their body. They were taken to the Lethem Regional Hospital where Fraser was pronounced dead on arrival and the motorcyclist was admitted a patient.
The body is presently at the said Hospital's Mortuary awaiting a post-mortem examination.
The motorcyclist, 39, of Central Lethem was tested and found to be above the legal limit of alcohol consumption is assisting in this investigation.
The GDF today issued the following release:
The Chief of Staff, Brigadier Patrick West, Officers and Ranks of the Guyana Defence Force were, this morning, saddened by the news of one of its Ranks (Lance Corporal Devon Fraser) who passed in the early hours of the morning.
Lance Corporal Devon Fraser was a member of the Military Band and at the time was in Lethem to provide musical accompaniment for the activities in observance of Lethem becoming a Township.
It was reported that LCPL Fraser was walking along the corner of the roadway, in the vicinity of Camp Kanuku, (the GDF Base in Lethem) when he was hit from behind by 39 year old Motor Cyclist Elroy Pedro, who was riding a black and red 250cc Honda. LCPL Fraser and Pedro were both taken to the Lethem hospital, Fraser who was suffering from blunt force trauma succumbed from his injuries at approximately 0330 hours.
LCPL Fraser was 28 years old and is survived by his wife; who is expecting the delivery of their daughter; an eighteen month old son, his mother and siblings. The Body of the Late LCPL Devon Fraser will be flown to Georgetown later today.
An inquiry into the circumstance surrounding the death of LCPL Fraser has been ordered.
Comments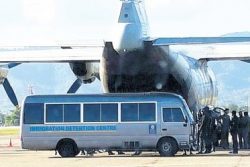 (Trinidad Guardian) A Venezuelan military aircraft landed at Piarco International Airport yesterday to take back 82 nationals to their homeland.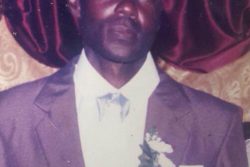 Just before swerving off of the Klien-Pouderoyen, West Bank Public Road and crashing into a resident's house early this morning, a drunk driver struck and killed a 60-year-old cyclist.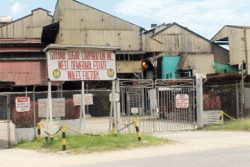 Three companies, including two regional conglomerates, have expressed interest in taking over the shuttered Wales, West Bank Demerara sugar estate in a deal that is expected to see the development of significant agro-processing operations here.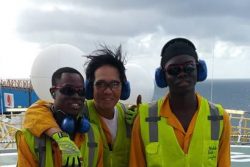 Twenty-three Guyanese, including a doctor, have been working on a drill ship contracted to ExxonMobil for oil operations and yesterday the company flew seven journalists to the site for a firsthand look at operations.