A Guyana Defence Force (GDF) officer, who was in Lethem as part of the Military Band set to perform for upcoming township activities, died early yesterday morning after he was hit by a speeding motorcycle.
Lance Corporal Devon Fraser, 28, was struck from behind while walking at the side of the road, in the vicinity of the GDF's Camp Kanuku base, the army said in a statement.
Elroy Pedro, 39, of Central Lethem, was the rider of the black and red 250cc Honda at the time of the accident. He was later found to be above the legal alcohol limit, according to police.
A statement from the police indicated that at 2.20 am, Fraser was walking with another person, and the two were on the eastern half of the roadway, headed south.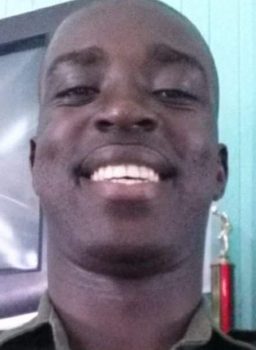 After the collision, both Fraser and Pedro were taken to the Lethem Regional Hospital. Fraser, who sustained blunt force trauma as a result of the collision, died at around 3.30am from his injuries. Pedro was admitted to the hospital for treatment. He is said to be assisting with investigations.
Fraser, who originates from Bartica, is survived by his pregnant wife, an eighteen-month-old son, his mother and siblings.
His body was to be flown to Georgetown yesterday, and an inquiry into the circumstances surrounding his death has been ordered, the GDF said.
GDF Chief-of-Staff Brigadier Patrick West and officers and ranks were saddened by the news of Fraser's death, the army noted.
Comments

President David Granger (left) and Prime Minister Moses Nagamootoo unveiling the plaque today to officially commission 'Radio Bartica' as Chairman of the Region, Gordon Bradford and Sita Nagamootoo look on.

Prime Minister Moses Nagamootoo yesterday called on the Opposition to put to an end their dilatory tactic because it violates the standing order of the National Assembly.                    

(Trinidad Guardian) Stop embarrassing the Chinese government and people! That was Prime Minister Dr Keith Rowley's rebuke to the Opposition in Parliament yesterday, after being pressed on the change of plans for his China trip.

Despite the AFC's claim that it was not involved in the selection of a Guyana Elections Commission (Gecom) Chairman, its two senior leaders, Khemraj Ramjattan and Raphael Trotman, had advised President David Granger that he could utilise the constitutional proviso and make a unilateral appointment.

The National Assembly last evening approved over $8 billion in total budgetary allocations for 16 constitutional agencies even as the government's failure to properly account for cuts to requested expenditure drew criticism.