A Guyana Defence Force (GDF) officer, who was in Lethem as part of the Military Band set to perform for upcoming township activities, died early yesterday morning after he was hit by a speeding motorcycle.
Lance Corporal Devon Fraser, 28, was struck from behind while walking at the side of the road, in the vicinity of the GDF's Camp Kanuku base, the army said in a statement.
Elroy Pedro, 39, of Central Lethem, was the rider of the black and red 250cc Honda at the time of the accident. He was later found to be above the legal alcohol limit, according to police.
A statement from the police indicated that at 2.20 am, Fraser was walking with another person, and the two were on the eastern half of the roadway, headed south.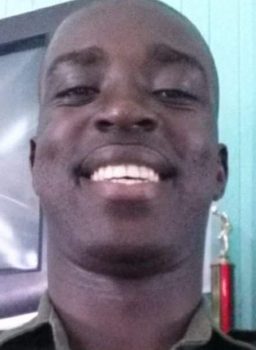 After the collision, both Fraser and Pedro were taken to the Lethem Regional Hospital. Fraser, who sustained blunt force trauma as a result of the collision, died at around 3.30am from his injuries. Pedro was admitted to the hospital for treatment. He is said to be assisting with investigations.
Fraser, who originates from Bartica, is survived by his pregnant wife, an eighteen-month-old son, his mother and siblings.
His body was to be flown to Georgetown yesterday, and an inquiry into the circumstances surrounding his death has been ordered, the GDF said.
GDF Chief-of-Staff Brigadier Patrick West and officers and ranks were saddened by the news of Fraser's death, the army noted.
Comments

LIMA, (Reuters) – Pope Francis wrapped up his trip to Chile and Peru today by warning that Latin America was in a deep crisis from corruption, with politics in most countries "more sick than well." Speaking in improvised remarks to bishops, he mentioned the scandal involving construction company Odebrecht, which has admitted to paying billions in bribes, as an example of greed run amok across the continent of his birth.

SYDNEY,  (Reuters) – England's Jos Buttler struck a belligerent unbeaten 100 to set up a 16-run win over Australia in the third one-day international on Sunday, as the touring side took an unassailable 3-0 lead in the five-match series.

The Public Procurement Commission (PPC) hopes that by the end of this year debarment legislation would be in place as it will soon begin meeting with stakeholders on a draft.

A bill to provide a legal framework for the protection of witnesses was passed without amendment by the National Assembly on Friday evening despite arguments by the parliamentary opposition that it failed to take into account modern challenges.

The ownership of over $7 million in local and foreign currencies and several vehicles that were all seized during a raid by the Customs Anti-Narcotics Unit (CANU) at Soesdyke, East Bank Demerara on Friday has raised questions and a separate probe is expected to be launched.