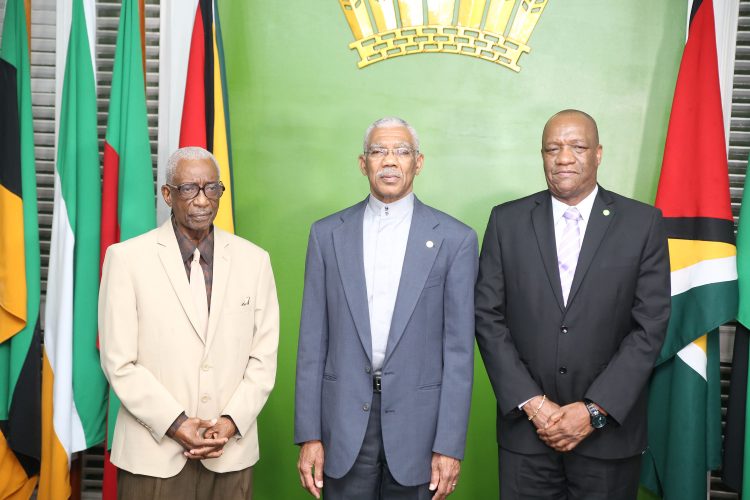 President David Granger yesterday unilaterally chose retired justice James Patterson, 84, to be Chairman of GECOM, rejecting a third list that had been submitted by Opposition Leader Bharrat Jagdeo and plunging the country into its worst political crisis since APNU+AFC came to power in 2015.
Patterson was last night sworn in as the new Chairman of the Guyana Elections Commission (GECOM) hours after he was first contacted by Granger and just after Jagdeo declared a campaign of non-cooperation with the government over the decision. It would appear that the hasty swearing in was held to avoid a legal challenge. Patterson will be 87 when the next general elections are due in 2020.
"Being desirous of fulfilling the requirements of the constitution and given the need to appoint a Chairman …and in light of the failure of the Leader of the Opposition to present me with a list that was not unacceptable I have decided that it would be in the public's interest to resort to the proviso in the Constitution Article 161 (2) which permits the President….
To continue reading this article
Comments

Prime Minister Moses Nagamootoo yesterday called on the Opposition to put to an end their dilatory tactic because it violates the standing order of the National Assembly.                    

(Trinidad Guardian) Stop embarrassing the Chinese government and people! That was Prime Minister Dr Keith Rowley's rebuke to the Opposition in Parliament yesterday, after being pressed on the change of plans for his China trip.

Despite the AFC's claim that it was not involved in the selection of a Guyana Elections Commission (Gecom) Chairman, its two senior leaders, Khemraj Ramjattan and Raphael Trotman, had advised President David Granger that he could utilise the constitutional proviso and make a unilateral appointment.

The National Assembly last evening approved over $8 billion in total budgetary allocations for 16 constitutional agencies even as the government's failure to properly account for cuts to requested expenditure drew criticism.

Opposition MPs were yesterday reprimanded by Speaker Dr Barton Scotland for their raucous behaviour on November 2nd, when they staged a protest that drowned out most of President David Granger's address to the National Assembly.