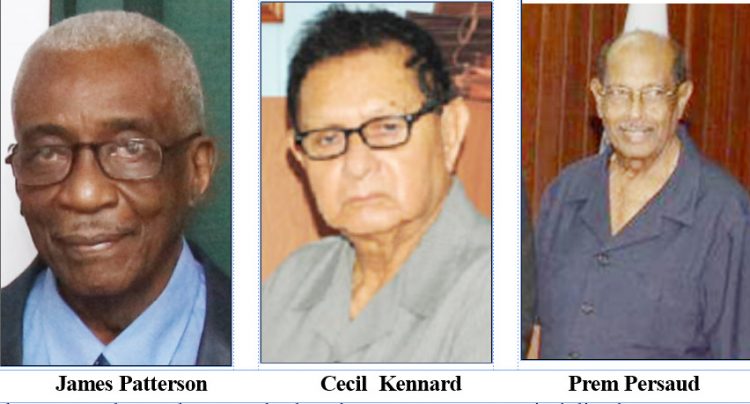 With the appointment of 84-year-old Justice James Patterson as the new Chairman of the Guyana Elections Commission (Gecom), President David Granger has done an about-face on his administration's move to establish an age limit for membership to state boards, agencies and commissions.
In February, following the government's decision to ask both Justice Cecil Kennard and Justice Prem Persaud to step down from the Police Complaints Authority and the Public Utilities Commission, respectively, Granger had announced that the government was paving the way for younger persons to take the lead.
"So it is not a criticism of his [Kennard's] service but there will be a general order explaining our policy on age and retirement for agencies, boards and commissions but at the same time we hope to give other persons an opportunity to serve so that over a period of time we build up expertise in the younger generations too. So it is not a criticism of Justice Kennard. There will be further information but nobody is being purged. We are simply trying to give other persons the ability to serve," President Granger was quoted as saying in a Ministry of the Presidency statement after being questioned then about Kennard's removal.
The president, the statement said, told the media that ….
To continue reading this article
Comments

Former Attorney General Anil Nandlall says that the Attorney General's Chambers' retention of six attorneys to prosecute a number of high profile cases is unconstitutional and he is warning that the right to a fair trial will be compromised by a politically-tainted process.
Guyana's total public debt increased from $317.7 billion to $330.6 billion in 2016 but the total debt as a percentage of Gross Domestic Product (GDP) declined to 46.4% from 48.6% at the end of 2015 due to a nominal increase in the GDP.

Family, friends and well-wishers turned out in their numbers to say their final goodbyes to murdered school teacher Kescia Branche, who was laid to rest yesterday afternoon.

A recent Biodiversity Assessment Team (BAT) survey of the Kaieteur National Park (KNP) and the Upper Potaro area has led to the discovery of up to 31 new or potentially new species to science.

A Mon Repos, East Coast Demerara resident died on Thursday after he was attacked by a swarm of bees while returning home.