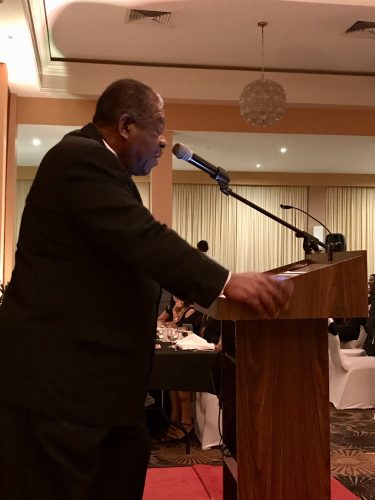 President of the Caribbean Court of Justice (CCJ) Sir Dennis Byron has described Guyana's failure to appoint substantive office-holders for the country's two top legal posts for over a decade as unacceptable.
Delivering the keynote address at the 37th Annual Bar Dinner on Saturday, the judge bemoaned the inability of successive presidents and opposition leaders to agree on appointing a substantive Chancellor of the Judiciary, while warning that prolonged acting appointments pose a genuine "risk" to the promise to citizens of an independent and impartial judiciary.
"With the passage of 12 years the undesirability of further delay could no longer be controversial. This is a very serious issue because attacking the problems of delay and all other issues that need reform requires strong leadership," Sir Dennis said. "It is simply obvious that a leader who is not appointed is under a disadvantage, and criticisms of the sector need to be received with the knowledge of the impediment that is placed on the leadership of the institution, an impediment which the Constitution specifically frowns on," he added. ….
To continue reading this article
Comments

Former Attorney General Anil Nandlall says that the Attorney General's Chambers' retention of six attorneys to prosecute a number of high profile cases is unconstitutional and he is warning that the right to a fair trial will be compromised by a politically-tainted process.
Guyana's total public debt increased from $317.7 billion to $330.6 billion in 2016 but the total debt as a percentage of Gross Domestic Product (GDP) declined to 46.4% from 48.6% at the end of 2015 due to a nominal increase in the GDP.

Family, friends and well-wishers turned out in their numbers to say their final goodbyes to murdered school teacher Kescia Branche, who was laid to rest yesterday afternoon.

A recent Biodiversity Assessment Team (BAT) survey of the Kaieteur National Park (KNP) and the Upper Potaro area has led to the discovery of up to 31 new or potentially new species to science.

A Mon Repos, East Coast Demerara resident died on Thursday after he was attacked by a swarm of bees while returning home.