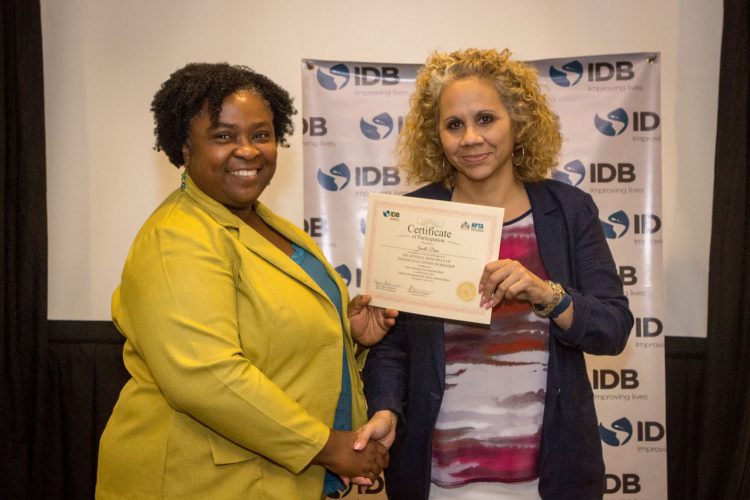 The Inter-American Development Bank (IDB) and the National Procurement and Tender Administration Board (NPTAB) have concluded a three-part series of workshops aimed at improving the evaluation of tenders.
According to an IDB press release yesterday, the third and final workshop which was held under the theme "Evaluating Financial Information in Bids", focused on the evaluation of the financial information requested from the bidders. The aim was to provide the tools for a better selection of financially sound contractors, suppliers and firms. Using a learning-by-doing methodology, the workshop concentrated essentially on the interpretation of financial information, risks in financial evaluation, avoiding pitfalls through financial evaluation and best practices.
Speaking at the closing ceremony, Country Representative of the IDB, Sophie Makonnen, reminded the participants that "the IDB is here for support; we are here to work with you, and here to find solutions," the release quoted. She said that often procurement is where many projects get slowed down. Evaluation support is critical to keep the project flow moving along.
Berkley Wickham, the Chairman of NPTAB in his message to the participants said that they must now seek to implement what they have learnt. The release quoted him as noting that "the evaluation step is the most critical step in most projects, it is not just about getting it done, rather it is about getting it right."
The first workshop focussed on the General Principles of Tender Evaluation (held in June). The second looked at "What happens when procurement goes wrong" (held in September).
Comments
An alleged inebriated farmer of 54 Strath Campbell Village, Mahaicony, ECD, died at about 3 pm  yesterday at Chance Village, Mahaicony, after a vehicle he was reportedly not given permission to drive, crashed into a utility pole.

MELBOURNE,  (Reuters) – Rafa Nadal's Australian Open quarter-final curse struck again on Tuesday, an injury forcing the top seed to retire in the fifth set against Croatia's Marin Cilic.

Several hundred more sugar workers are expected to be laid off from the Skeldon, Rose Hall, and East Demerara estates by next month and the Guyana Agricultural and General Workers Union (GAWU) yesterday urged that the decision be reviewed.

The commencement order establishing the Telecommunications Agency was signed last Friday, in anticipation of the liberalisation of the telecoms sector, Minister of Public Tele-communications Cathy Hughes announced yesterday.

Nickela Craig-Singh, the woman who was arrested last Friday after the Customs Anti-Narcotic Unit (CANU) found over 10 pounds of cocaine in the ceiling of her Soesdyke home, was yesterday sentenced to four years in prison and fined over $14 million after pleading guilty to possession of the drug.