A businessman was yesterday remanded to prison after he was charged with the possession of cannabis and ecstasy.
Kapildeo Ramsaywack, 34, of 13 Delph Street, Campbellville, denied two narcotics charges that were read to him in the courtroom of Magistrate Fabayo Azore in Georgetown.
Ramsaywack, a taxi service owner, is alleged to have had 496 grammes of cannabis for trafficking in his possession on November 10, at Lodge.
It was further alleged that the accused had 2.6 grammes of ecstasy pills on the same date at Campbellville.
The court heard from the prosecutor that on the day in question, around 1 pm, ranks from the Criminal Investigation Department (CID), acting on information, went to Lot 155 Campbellville. When the police arrived at the location, Ramsaywack, according to the prosecutor, was seen running out the shop and he was stopped and searched. The search allegedly resulted in the discovery of leaves, seeds and stems, suspected to be cannabis.
The police then took the accused to his home, where a search was conducted and the ecstasy pills were allegedly found.
According to the prosecutor, the accused stated that he used the pills for sexual purposes.
The prosecutor objected to bail being granted, while noting the nature and gravity of the offence and the penalty it attracts.
Attorney George Thomas, who represented the accused, told the court that the police carried out a raid on a shop where the accused was making a purchase. He noted that the owner of the shop ran off and the police arrested his client.
Thomas then made an application for reasonable bail for his client.
Magistrate Azore, taking into consideration all that was said, granted Ramsaywack $25,000 bail for the ecstasy offence but remanded him to prison on the cannabis charge.
Both matters will be called by Chief Magistrate Ann McLennan today for assignment.
Comments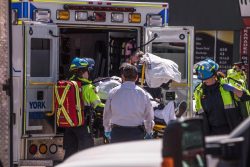 TORONTO,  (Reuters) – A driver plowed his white Ryder rental van into a crowd, killing nine people and injuring 16 along a roughly mile-long stretch of busy Toronto sidewalk during lunch hour on a sunny Monday afternoon, police said.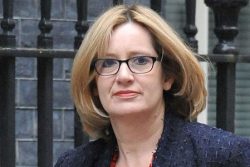 LONDON, (Reuters) – Britain will compensate some Caribbean immigrants who have lived legally in Britain for decades and have wrongly been labelled illegal immigrants because of trouble documenting their status, interior minister Amber Rudd said today.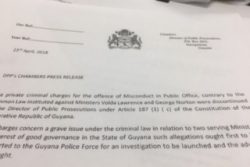 The private criminal charges instituted by two PPP/C MPs against Minister of Public Health Volda Lawrence and the former minister in the ministry, Minister George Norton have been discontinued by the Director of Public Prosecutions (DPP), Shalimar Ali-Hack.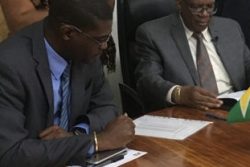 Private criminal charges have been filed against three more Ministers of Government, this time over the D'Urban Park project.