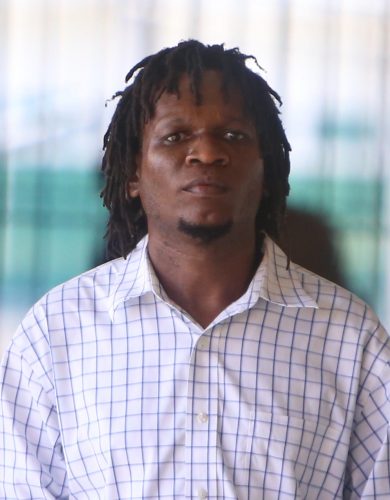 Brian Haywood will be spending the next 21 years in jail for killing his sister, whom he set alight, over an argument about missing sandals.
Initially indicted with the capital offence, the man opted to plead guilty to the lesser count of manslaughter for the killing of Samantha Schwartz on November 21, 2013 at Sophia, which was accepted by the court and state some two weeks ago.
At his sentencing yesterday at the High Court in Georgetown, Haywood begged for mercy, while stating that he was sorry for the loss of life.
He told Justice James Bovell-Drakes that words could not express how sorry he was. He also expressed remorse for injuries caused to his niece, Stephany Felix, who also sustained burns as she was standing in close proximity to Samantha Schwartz at the time of the attack. For this, he was charged with inflicting grievous bodily harm.
Haywood, who lost the elder of his two children while behind bars, said that he would like to be given a light sentence so that he would have an opportunity to see his remaining child.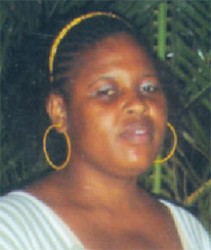 A probation report, presented prior to sentencing, stated that Haywood, a two-time convicted drug user, was described by family and members of the community, as arrogant.
According to Probation Officer Claudia Munroe, persons in the area said he was "someone to be afraid of."
She said that during his incarceration, he has gotten involved in fights with other inmates and had sustained several chops about the body.
From the probation report, the court heard that the man's grandmother said that while he had some issues, she was baffled by the killing, given that he shared a good relationship with his now deceased sister.
According to the report, Haywood described Samantha as "his best sister."
The mother of four was 35-years-old at the time of her death.
The court further heard from the report that the incident, which was witnessed by the woman's eldest son, has left him and a smaller sister traumatised to the point where they no longer visit the Sophia residence where their mother was killed.
Munroe said that the woman's son, who dropped out of school as a result of the killing, now resides in Berbice with other relatives.
The accused, whom the court had previously ordered to be psychologically evaluated, was deemed to be fit by psychiatrist Dr. Bhiro Harry, who also testified before the sentencing yesterday afternoon.
The probation officer noted that although the father of one has entered a guilty plea, he continued to maintain his innocence during their interview.
Refusing to accept responsibility for his actions, Munroe said Haywood related to her, that the only reason he copped to the lesser offence was because his grandmother told him he would be released from prison earlier.
His attorney, Mark Conway, in mitigation, asked the court for leniency and requested that whatever sentences were handed down run concurrently.
According to counsel, in spite of the "unfortunate issues" in his client's life, he has been making strides to improve himself and is now a well behaved prisoner. He noted that he was instrumental in
lending much needed assistance during the prison fire in July.
Additionally, Conway said he assists with chores around the prison and is a cobbler at the penitentiary. The lawyer said too, that his client has been enlisted in anger management classes and attends church.
In handing down his sentence, Justice Bovell-Drakes expressed shock that Haywood killed his sister over a pair of sandals he could not find. From the deposition, the judge noted the testimony of witnesses who saw Haywood open a bottle he had in his hand, throw it on his sister and light her afire.
The woman, who began screaming for burns to her head, fell over the verandah. She was rushed to the hospital, where she later died.
Quoting from the evidence of police witnesses, the judge said that Haywood related, "She trouble me slippers, that's why I do she so."
Justice Bovell-Drakes started the sentence at 65 years. He thereafter deducted 35 years which represented Samantha's age when she died. From the remaining 30 years, he deducted four years for time served and an additional five years for the guilty plea.
Among the 21 years visited upon Haywood was the sentence for the injuries his niece sustained.
The state's case was presented by Orinthia Schmidt.
Comments

Government yesterday released the Production Sharing Agreement (PSA) signed by the former Donald Ramotarled PPP/C administration with Canadian miner CGX Resources Inc, the terms of which appear to be almost identical to those of the much maligned 2016 agreement signed by the current administration with ExxonMobil's local subsidiary and its partners.

Seeking advances on future revenue from ExxonMobil should be under discussion, according to United States-based Guyanese business professor and accountant Floyd Haynes, who says the benefits for a developing nation like ours are incalculable and can outweigh the disadvantages "I think it should be considered.

The Supra International factory, located at Coldingen, East Coast Demerara (ECD), was yesterday afternoon destroyed by a fire of unknown origin, leaving millions of dollars in losses and approximately 50 employees jobless.

The mother of a mentally-ill man, who hanged himself in 2015 while in police custody, has filed a $100 million lawsuit against the Attorney General (AG) Basil Williams and the Police Commissioner Seelall Persaud, claiming negligence.

Renowned Guyanese jurist Dr. Mohamed Shahabuddeen SC, who served as the Attorney General of Guyana as well as a judge on the International Criminal Court, has died.