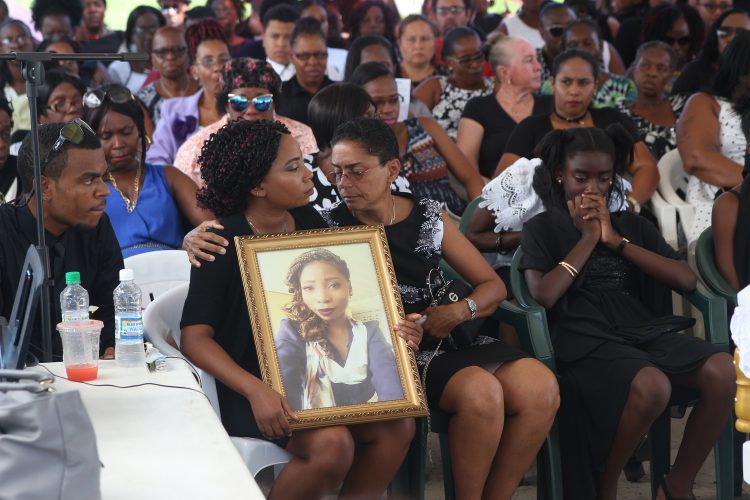 Family, friends and well-wishers turned out in their numbers to say their final goodbyes to murdered school teacher Kescia Branche, who was laid to rest yesterday afternoon.
The viewing of her body was held at the Lyken Funeral Home followed by a home-going service at the Guyana Teachers' Union (GTU) Hall on Woolford Avenue. Her remains were subsequently interred in Buxton, East Coast Demerara. At the service, the tributes were mostly in the form of poetry and song and were done by persons from various aspects of Branche's life, including the local theatre fraternity, the GTU and staff and students of the Richard Ishmael Secondary School, where she taught.
"Kescia, I am sure if she had a choice, would have chosen to continue living…but even though she spent a short time on this earth, she would have made an impact; she mothered, she molded, she nurtured, she befriended and her huge personality and her performances on stage can in no way be measured by the little frame that held this person together. We will miss her terribly," a representative of the theatre fraternity said.
"The teaching fraternity….
To continue reading this article
Comments

Opposition Leader Bharrat Jagdeo needs to address behavioural challenges among  his party's parliamentarians as their actions in disrupting his speech to the National Assembly last month and last Monday's ruckus in the House are disrespectful and vulgar, President David Granger says.

Finance Minister, Winston Jordan says the US$10M purportedly paid by Canadian oil company, CGX Energy, to lawyers for the state in the maritime boundary dispute between Guyana and Suriname, under the PPP/C administration, should have been recorded in the public accounts.

Two plainclothes policemen were at the press table at parliament yesterday apparently pretending to be reporters and one was ordered away by his superiors after several journalists complained to the Clerk of the National Assembly.

A 30-year-old machine operator is currently battling for his life in a city hospital after he was shot minutes after midnight yesterday by armed bandits who invaded his Kaneville, East Bank Demerara house where a birthday dinner had just been held for his wife.

Eighteen-year-old Ranella Benfield whose body was discovered in a cemetery at Triumph, East Coast Demerara on Monday died as a result of crushing injuries to her face which were inflicted by a blunt object.