A young Albouystown mechanic, who police say was seen riding a stolen motorcycle, was yesterday placed on $150,000 bail by a city court after he denied a theft charge.
Mohammed Edun, 20, pleaded not guilty to the charge that between August 6th and August 7th, at La Penitence Public Road, he stole a $185,000 motorcycle, which was the property of Samuel Scotland.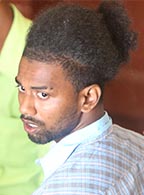 Edun's lawyer, Paul Fung-A-Fat, stated that the motorcycle was taken to his client to work on.
However, the police prosecutor's case is that on August 6th, Scotland parked the motorcycle CH 8651, and on August 7th he made a check for the vehicle and discovered that it was missing. He later saw Edun riding the motorcycle and made a report to the police, the prosecutor noted.
Magistrate Judy Latchman subsequently placed Edun on $150,000 bail and adjourned the case until December 4th.
Comments

Floyd Andrew Primo, 34,  is wanted by the police for obtaining money by false pretence which occurred between 2017-11-01 and 2017-11-30, committed on Leslie Glen, the police say.

BUENOS AIRES, (Reuters) – Countries concerned with the crisis in Venezuela will propose that the International Monetary Fund set up a pool of resources to assist the tens of thousands of Venezuelan refugees that have fled, Brazil Finance Minister Henrique Meirelles said today.

The chairman of Trinidad's transparency group says that it  is imperative that an independent third party check revenues from the company extracting oil and the subsequent flows to the government.
Even as ExxonMobil announced that it doesn't expect to pay any corporate taxes to the Australian government until 2021 after an already five-year tax hiatus, the company has  been accused of generating billions in revenue in that country  but using subsidiaries in a scheme designed to avoid paying its dues.

In the wake of the state-owned Guyana Chronicle's termination of David Hinds and Lincoln Lewis as columnists, WPA executive member Tacuma Ogunseye says that party should urgently put on its agenda whether it should stay in the APNU alliance and the coalition government.