The Education Ministry is probing a complaint against a teacher of the Bishops' High School, who is accused of sexually grooming and molesting female students during the 10 years he has worked there.
The accused Economics teacher, Coen Jackson, 38, through his lawyer Jerome Khan, yesterday denied the allegations. The school administration, which has been accused of covering up past complaints against Jackson, indicated that it could not speak, although Principal Winifred Ellis confronted students at an assembly over posts on Facebook over the weekend about the teacher's activities and she criticised female students for "slack" and "loose" conduct.
The formal complaint against Jackson was submitted to the Chief Education Officer (CEO) Marcel Hutson by Cultural Policy Advisor at the Education Ministry Ruel Johnson, who called, among other things, for the teacher's suspension.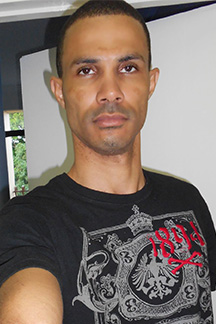 Jackson did not turn up for work yesterday.
Stabroek News could not reach the CEO for comment.
Johnson's letter of complaint was copied to the Minister of Education, Nicolette Henry; the Minister of Public Security Khemraj Ramjattan; the Minister of Social Protection, Amna Ally; the Minister of Public Health, Volda Lawrence; the Minister of Legal Affairs Basil Williams; and the Minister of Social Cohesion, Dr George Norton.
"…five months ago, I initially heard anecdotal representation of Mr. Jackson's inappropriate relationships with students at the school.  A month later, I received incidental repetition of this information, inclusive of his sexualization of lessons, inappropriate conversations with female students, and claims of multiple sexual relationships with female students," it stated.
It is claimed that Jackson has had sexual relations with multiple female students, and had targeted scores of others throughout his entire teaching career. Before his tenure at the Bishops' High School, Jackson was reported to be attached to the Central High School, Christ Church Secondary School, Richard Ishmael, The Business School, and School of the Nations over a ten-year period. He also conducted private lessons.
Aside from suspension, Johnson's recommendations are for a complaint to be turned over to the Child Care and Protection Agency and the Guyana Police Force; for Jackson's passport to be secured or that his exit from the country be barred; that there be an inquiry into the treatment of student complaints at the administrative level of the Bishops' High School, especially in relation to Jackson's actions as well of the actions of any other teacher found to be involved in similar activities; and the "establishment of a mechanism to ensure the safe and confidential testimony of victims and witnesses to Mr. Jackson's behavior."
He stated that when the latter is established, he would consult with the victims to seek their permission to share their stories.
"Several have already pre-consented for this to be done.  A public advisory should also be sent out inviting persons to testify to this mechanism, and parents of female students of Mr. Jackson throughout his entire tenure at Bishops' should be advised to consult with their children about anything they may or may not know," the letter stated.
'Accusation'
When Stabroek News managed to make contact with Jackson last evening to respond to the claims, he referred this newspaper to his lawyer. "First of all, this is an accusation being made by Ruel Johnson against my client. It is what it is, it's an accusation…," Khan stated. "My client denies any of the allegations made. Those are my instructions."
Khan said he would make a direct response to the allegations after being privy to the contents of the letter, and committed to providing that response by today. However, he accused Johnson of not following procedure and allowing the system to work as it should.
"It is very curious that the person who's making the complaint is Mr Johnson. Now, there is a process that's involved… if there's a complaint at a government school or any school, the procedure is to file that complaint and allow the system to work, not leak information to the press or to run to the press. You know, it is unfair to not allow the system to work. This is high-tech lynching," Khan declared.
"…you don't go try, convict, sentence a person without a process being allowed to take place, and I'm very surprised that this is happened," he said.
In his letter, Johnson describes an extensive history of targeting and grooming of female students by Jackson, whom he alleges would wait until they were near the age of consent before making a move.
Attached to the correspondence sent by Johnson was also a statement from one of those victims.
"After inquiries, a former student confirmed for me that she had entered a sexual relationship with Mr. Jackson while she was in 5th form at the school.  She related that he made sexually inappropriate contact with her a month before her 16th birthday, reminded her a few days before her birthday that she was approaching the age of consent and a few weeks after that, began a sexual relationship with her inclusive of penetrative sex.  This would be a pattern I would come to recognize from multiple victims who have confided in me since," Johnson wrote.
He noted that the incident in question took place after the Sexual Offences Act of 2010 was passed and which, under Section 18, states that any person who is in a position of trust in an educational institution (Section 19, 1(c)) and engages in penetrative sex with a child under the age of 18 (Section 18, 1) is liable under 18, 3 (a) to "on conviction on indictment to imprisonment for life."
'Cover-up'
Significantly, Johnson noted that there have been reports from multiple sources that the administration of the Bishops' High School had shielded Jackson over the years and in instances even dismissed the complaints of students.
"Not only do most of his victims seem to come from this institution but I have received multiple reports, some posted publicly on social media, that accusations of harassment and predation by Mr. Jackson have been systematically met by mockery, disapproval, and even condemnation by the school administration. Some students have contacted me privately identifying key persons responsible for this systemic repulsion of complaints against Mr. Jackson – I am willing to provide such information on the basis of strict confidentiality," he stated in his letter.
He went on to stated that he has "no confidence in the school administration" to deal with the issue internally at any level.
Johnson stated that the issue seems not to be confined to Bishops' but appeared to be a "psychosocial phenomenon," one that was not identified during the Commission of Inquiry (COI) held into the education system, and which warrants the establishment of a Sexual Predation Investigative Committee.
"As someone who was instrumental in the crafting of the TORs [Terms of Reference] of the Commission of Inquiry into the state of the Education System in Guyana, and who has reviewed the preliminary report coming out of the COI, I believe this situation has exposed a tremendous and tragic blind spot of teacher sexual predation and its systematic covering up, one the COI did not account for.  It is up to us, as a government, to take urgent steps to correct it – we owe the victims of our lapses that much," he stated.
"I am willing to assist with the creation of the TORs and am recommending a multistakeholder mechanism comprising but not limited to the following persons:  Head of the CCPA [Child Care and Protection Agency], Ann Greene; MP Priya Manickchand; Dr. Mellissa Ifill; Vidyaratha Kissoon: Anita Madray: Mosa Telford; Akola Thompson; and Ayo Dalgetty-Dean.  The Teaching Service Commission and the Guyana Teachers' Union should also be invited to take part," the letter said.
'Loose'
Meanwhile, the head teacher of Bishops' High held an assembly yesterday with students, where she addressed the allegations and attributed blame by berating the female students for their conduct. An audio recording capturing a part of the interaction was shared with this newspaper.
Ellis can be heard making reference to alleged reports by students that they were warned to stay away from "the economics teacher," and proceeded to ask the students which one of them were responsible for spreading those claims.
She would then move on to attack their conduct, citing cases in the past where they had to be upbraided by staff.
"…You are out of line. The teachers gotta be constantly correcting you because you tell yourself you have lived it and you have seen it all. I remember once I was coming down the corridor and I had to step back and ask a child to close her legs—a male teacher was teaching…," she was heard saying.
"…The law is on your side but you have a responsibility to be decent and disciplined. And I've said to you repeated times: don't touch the boys. Don't hug the boys. How many times I'm standing at that office door and when y'all see me then y'all running inside cause you hugging and touching the boys. You all are slack as well. Very loose with yourselves," Ellis told the students.
She went on to ask whether the students knew who "Mr Jackson" was, making specific mention of the students in a particular class. The Principal then proceeded to ask them to "step out of the line" if they were ever made to feel uncomfortable by his actions.
The request was repeated several times, except the questions posed ranged from whether they were ever touched inappropriately, to whether they were ever "taken for a beer in his car."
"These people already scared, you just tell them they slack and expect them to come out…these children scared as hell, nobody ain wan come out," someone could be heard saying in the background.
Ellis then asked if any of the students had ever made any reports of such to the administrative staff.
At this point she went straight to the assault allegations, asking whether they had seen the claims made on Facebook, and whether they could corroborate it.
"You all read this on Facebook right? You all know what I'm talking about right? Can you corroborate that story? I didn't see any one of you going up to defend your teacher… but you're standing here saying no," she stated sternly, before later exhorting them to "Tell the truth! Stop lying! Tell the truth!"
Persons with knowledge of what took place during the assembly took to social media to voice their concerns, with one individual posting, "So your school is facing a crisis where a male teacher is accused of grooming and sexually assaulting several female students. Your response is to hold a general assembly and inform the students of how disappointed you are with them for not defending the accused who supposedly did a lot for the school. Letting them know that they have allowed a highly qualified teacher's reputation to be butchered based on a Facebook post and now he will never be able to get another job teaching. Even reminded the children that the school was already understaffed."
Comments

Government yesterday released the Production Sharing Agreement (PSA) signed by the former Donald Ramotarled PPP/C administration with Canadian miner CGX Resources Inc, the terms of which appear to be almost identical to those of the much maligned 2016 agreement signed by the current administration with ExxonMobil's local subsidiary and its partners.

Seeking advances on future revenue from ExxonMobil should be under discussion, according to United States-based Guyanese business professor and accountant Floyd Haynes, who says the benefits for a developing nation like ours are incalculable and can outweigh the disadvantages "I think it should be considered.

The Supra International factory, located at Coldingen, East Coast Demerara (ECD), was yesterday afternoon destroyed by a fire of unknown origin, leaving millions of dollars in losses and approximately 50 employees jobless.

The mother of a mentally-ill man, who hanged himself in 2015 while in police custody, has filed a $100 million lawsuit against the Attorney General (AG) Basil Williams and the Police Commissioner Seelall Persaud, claiming negligence.

Renowned Guyanese jurist Dr. Mohamed Shahabuddeen SC, who served as the Attorney General of Guyana as well as a judge on the International Criminal Court, has died.